Tools & Materials
Demolition Tools
You'll need a full complement of demo tools if you're tearing apart old tile jobs.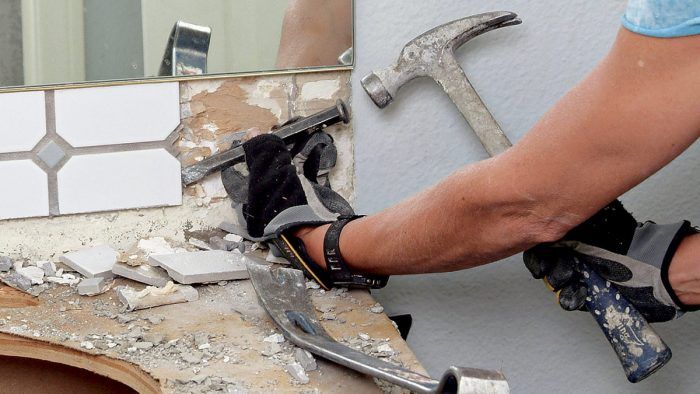 Depending on what you plan to remove or tear apart, you'll need a complement of hand and power tools. In addition to the tools described here, you'll also need a utility knife (with retractable blade and lots of extra blades), screwdrivers, adjustable slip-joint pliers, 16-ounce claw hammer, a hacksaw (with a fine-toothed blade), a wet/dry shop vacuum, a broom and dustpan (for cleanup chores), and extension cords for power equipment.
Chisels and prybars
Special chisels designed for tile work have a very hard carbide tip welded at the end of their shaft. The carbide tip resists dulling when working with any kind of tile. Struck by a regular hammer, a carbide chisel is useful for removing dried thinset from a floor, knocking tiles off a backsplash during demolition, and removing tile for small repairs.
Flat or broad-bladed prybars are ideal for lifting up old tack strip and flooring, pulling apart old countertops, and doing most of the heavy lifting you need during demo. The nail claw on the prybar or a cat's paw is very handy for pulling out old nails and staples.
| | | |
| --- | --- | --- |
| The hardened tip of a carbide chisel helps break up tiles and separate them from their thinset bed. | Use a prybar in conjunction with a hammer to remove old tile. | A prybar is used here to pull up carpet tack strips and remove nails and staples. |
Floor scraper
Before you tile over concrete, you must do a thorough job of removing old flooring, glue, and paint to prepare the surface properly for tile. Floor scrapers are perfect for the task. Long-handled scrapers are useful for removing vinyl over concrete, but the short ones (called wall scrapers) give you better leverage when you have a tough area to strip or scrape. With either one, get lots of extra blades as you will go through them fast.
Trade Secret: When scraping glue and flooring residue that are particularly difficult to remove, use a heat gun (like a blow dryer, but much hotter) to soften the old adhesives or vinyl before scraping.
Reciprocating saw
A reciprocating saw has a motor-driven blade that moves back and forth like a handsaw, only much faster. This saw makes short work of cutting apart cabinets, cutting out bad sections in subflooring, and so on. When fitted with a metal-cutting blade, it will cut through plumbing and frozen bolts; with a special attachment called a Grout Grabber® (available from www.groutgrabber.com), it'll even remove old grout.
| | |
| --- | --- |
| Versatile and powerful, a reciprocating saw accepts blades for cutting wood or metal, | as well as special accessories like this one for sawing through grout. |
Rotary hammer
An electric rotary hammer is similar to a jackhammer, just smaller, lighter, and better suited to DIY work. The reciprocal action of its replaceable chisel makes short work of chipping away high spots on concrete and removing thinset, tile, and stone from an old floor or countertop during demolition. While you might wish to purchase one for a large project, they're readily available at most rental places.
---
Excerpted from Tiling Complete, 2nd Edition by Robin Nicholas and Michael Schweit.
Available in the Taunton Store and at Amazon.com.
Previous:
Personal Safety Gear for Tiling
Next:
Tile Preparation and Repair Tools