The Wood Look
Interceramic's Black Forest line of rectified porcelain floor tile is moisture and scratch resistant, and looks just like hardwood.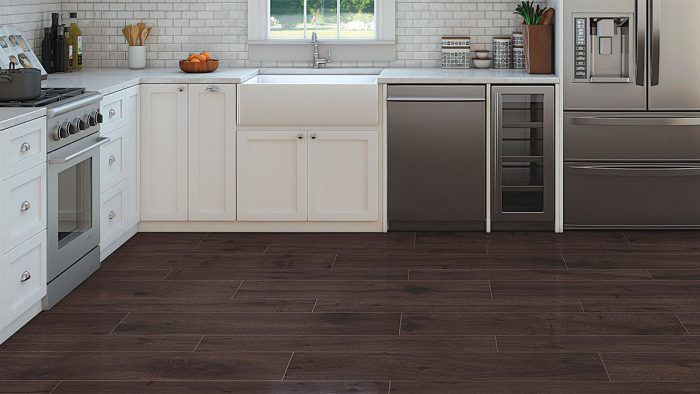 During a recent phone conversation with an architect about a kitchen remodel, I asked about the species of wood used for the floor. She told me I was looking at a product from Interceramic's Black Forest line of glazed porcelain rectified floor tile, not wood. She noted, too, how people actually bent down to feel the floor after being told the same thing during a house tour. It's that convincing. I've since learned that tile made to look like wood is a hot trend. I can see why: It's sharp, and it's said to be much more durable than traditional hardwood (especially when it comes to dogs). The manufacturer claims moisture, scratch, and stain resistance. I've laid a few sample planks down in my bath to test how it stands up in a wet environment, and so far, it has proved flawless. I also like how easy it is to clean; a slightly dampened dry mop is all it takes. I have read that installation can be challenging because of lippage, which results from the fact that tile made to look like wood tends to be uneven, so getting the floor prep and mortar mix right are key to a level install. The orientation of the tiles, the grout-joint size, and the thinset can be manipulated to aid success, and using a tile-leveling system is a no-brainer. Available colors include Kandel Brown and Blauen Black, the tile comes in 11 1/2-in. by 47-in. and 7 1/2-in. by 47-in. lengths, and prices start at $4.80 per sq. ft.
—K.J.
From Fine Homebuilding #289
More on tile:
Add Dimension with Tile – These 3D concrete tiles are subtle artistic departures from the norm with their unique texture and shapes.
Project Gallery: Four Fabulous Floors – Beauty underfoot: custom concrete, whimsical paint, rug-patterned wood, and rug-like tile make for unusual, amazing floor options.
How to Tile Everything – Use the right substrate and mortar for a long-lasting tile installation.
Previous:
Textured and Graphic Tiles
Next:
Scientifically Designed Tiles