Tools & Materials
Hardware and Tape for Tile Installation
Miscellaneous items that you may need for a tile job include backerboard screws, joint tape, and painter's tape.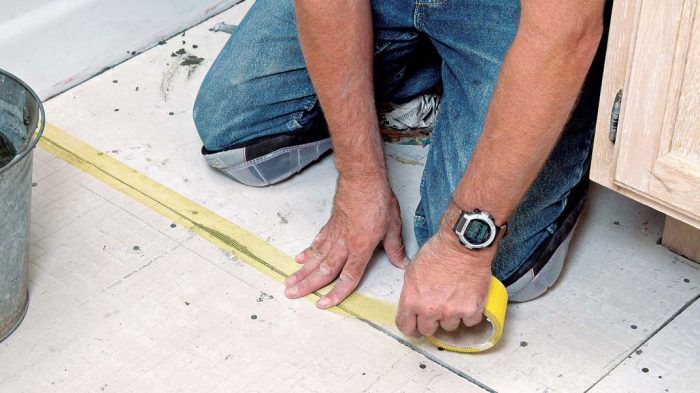 Up until now, this chapter has outlined the most important materials you'll need for a typical tile installation, such as backerboard, thinset, grout, caulk, and sealer. However, there are other hardware items that you'll likely need for a tile job: joint tape, nails and screws, and wedges and spacers A. You may also need edge trim designed to work specifically with tile. These transition materials will put the finishing touches on your installation.
Unlike regular screws and nails, the fasteners designed for attaching backerboard to walls and counters are strong and alkali resistant. In contrast, standard drywall screws tend to break, and vinyl-coated construction nails can rust. Backerboard screws have a bugle head with ridges that cut into the board to recess the head B. You can also use nails to attach backerboard C, but screws are more secure, and there is less likelihood of cracking the board with a misplaced blow.
Joint tape
Made of a fiberglass mesh, joint tape is applied over joints between sheets of backerboard to bridge the gaps. It helps consolidate different pieces of the substrate into a single structure that will not crack or move. There are two choices in joint tape. One is sold specifically for use with backerboard but has no adhesive. Instead, we prefer to use the self-adhesive yellow tape that's a favorite of drywall installers. It doesn't always stick firmly by itself (especially when you try to wrap it around counter edges). But once it's set in place with thinset D we find that it's easier to use than the nonadhesive tape.
| | |
| --- | --- |
| | A. Fiberglass tape with adhesive helps bridge gaps, for a long lasting backerboard installation. |
| | B. Screws for attaching backerboard are alkali resistant and have ridges to recess the head. |
| | C. Use special nails to secure backerboard. |
| | D. Apply tape smoothly without bumps or ridges. |
Painter's tape
Although not specifically a tiling material, painter's tape has a wide variety of uses in a tile installation. Use it to mask areas you don't want covered with caulk or grout E, secure rosin paper or plastic tarps, or prevent splitting or damage around the cut surfaces of backerboard. Use blue tape specifically meant for painting rather than regular masking tape. Painter's tape is more resistant to moisture and pulls away without damaging surfaces.
| | |
| --- | --- |
| | E. Painter's tape masks deep ridges in deco tile when grouting. |
---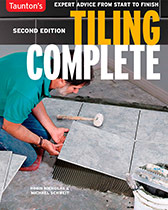 Excerpted from Tiling Complete, 2nd Edition by Robin Nicholas and Michael Schweit.
Available in the Taunton Store and at Amazon.com.
Previous:
Caulk for Tile
Next:
Tile Spacers, Wedges, and Leveling Clips