Tools & Materials
Tile-Cutting Tools
Tile nippers, cutting boards, and electric-powered wet saws are three types of tools you'll need for cutting tile.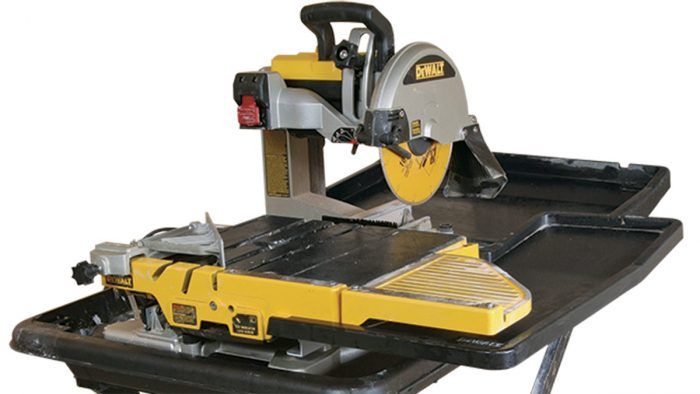 There are many ways of cutting or drilling tile, each using a different tool. Tile nippers, cutting boards, and electric-powered wet saws make straight, angled, and curved cuts. An electric drill fitted with a carbide-tipped bit cleanly bores holes through tile for pipes and wires. Each tool has its pros and cons, and your choice depends on the type of tile you're cutting and the kinds of cuts you need to make. Whichever tool you use, always wear eye protection when cutting tile because chips and shards can fly far and fast and do considerable damage.
Tile nippers
Tile nippers (or tile biters) work like pliers with carbide-tipped jaws. They cut tile by nibbling it away, one little piece at a time; you close the jaws on the tile while applying a downward twisting motion. They're especially handy for curved and L- or U-shaped cuts; but with some practice, you can do just about any cut. Some nippers use a compound leverage system, which makes cutting porcelain and other hard tiles easier.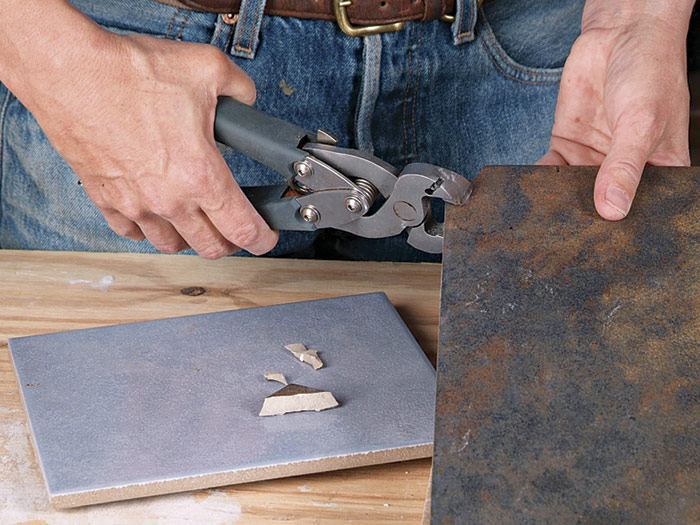 Wet saws
For many tile jobs, biters and a manual tile cutter are more than adequate. But when making miters and inside cuts or working with stone or glass tiles, only a wet saw, or water saw, will do. These motorized saws have a narrow diamond-impregnated blade that grinds its way through the tile. The tile is held on top of a sliding table and moved past the stationary blade during a cut. Water supplied by a small submerged pump flushes out debris and keeps the blade running cool. A sealed pan under the table and motor acts as a water reservoir. Wet saws are messy to use but they leave cleaner, smoother cut edges than any other type of cutter.
Wet saws may be rented at your local rental store or purchased at a home supply store. The saw comes with a blade for cutting standard ceramic tile; you'll have to buy special blades for cutting glass and harder materials like granite. Take a sample of the tile you'll be cutting to make sure the saw's sliding tray is large enough to accommodate it.
Angle Grinders
An angle grinder with a diamond blade on it works essentially the same way as a wet saw—but on a smaller scale and with the ability to make more intricate freehand cuts. It can take a bit of care to make clean, straight cuts with this handheld tool, but anyone can master it with a bit of practice. Cutting tile or stone with a grinder will kick up a lot of dust, so just be sure to wear proper personal protective gear to protect your eyes and lungs. And keep a hose or bucket of water nearby to wet down the tile when cutting to minimize the dust.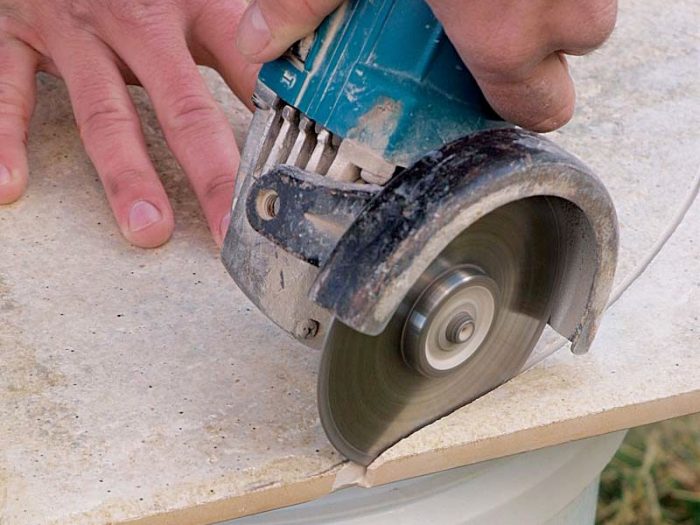 Manual Tile Cutters
Quick and quiet to use, manual tile cutters—or cutting boards—are marvelous tools for trimming tile to size. Manual tile cutters use a carbide wheel that slides over the tile and scores the surface. The tools' breaker bar then snaps the tile in two along the score line. Manual tile cutters come in a variety of sizes, from compact to huge. Purchase the cutter that'll handle the largest tile cuts you need to make.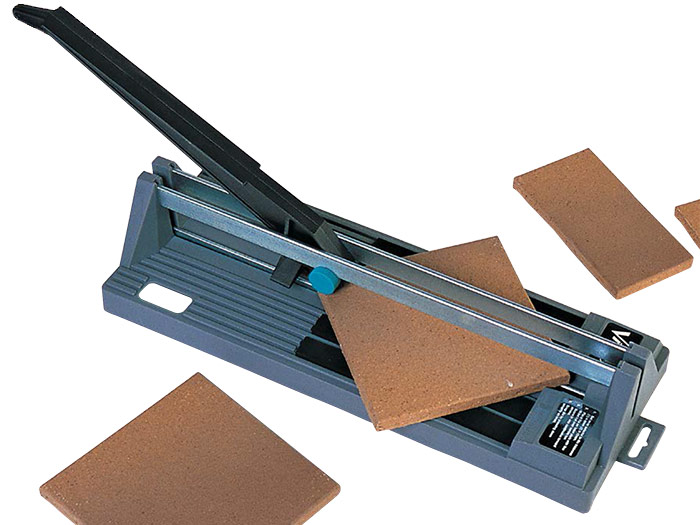 Rubbing stone
Cut tile edges are sharp and hazardous (they'll cut you like a knife) as well as unsightly, compared to factory tile edges. Therefore, it's advisable to smooth the edges of cut tiles with a rubbing stone. Hold the stone at a 45° angle to the face of the tile and rub parallel to the cut edge. This rounds over the edge slightly and even blends out small chips in the glaze.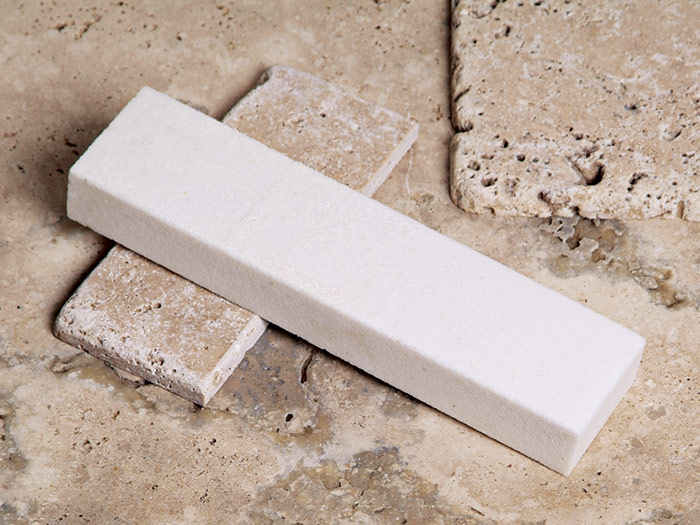 Hole saw
Some bathroom, laundry room, and kitchen installations may require holes for plumbing fixtures and pipes. The easiest way to bore these is with a hole saw chucked in an electric drill. Relton Corporation makes long-lasting hole saws that bore through the hardest of tiles (available at: http://www.mytoolstore.com/relton/tubsaw.html). Buy a saw that's slightly larger in diameter than the hole you need to bore.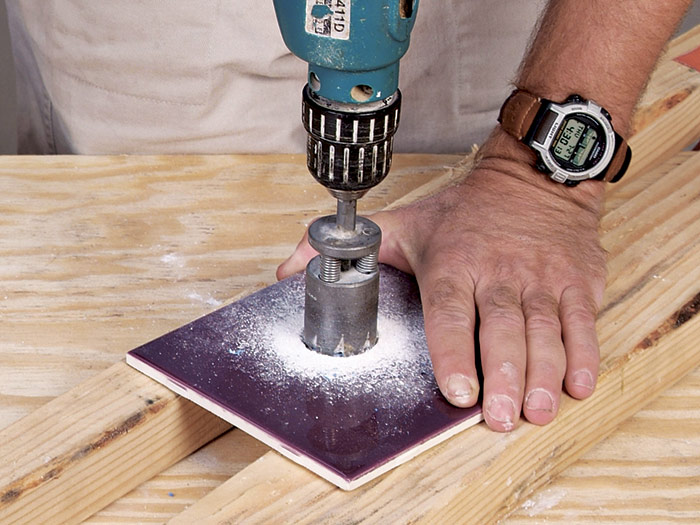 ---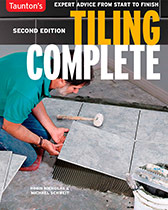 Excerpted from Tiling Complete, 2nd Edition by Robin Nicholas and Michael Schweit.
Available in the Taunton Store and at Amazon.com.
Previous:
Tile Preparation and Repair Tools
Next:
Marking Cuts for Tile