Tiling over Different Substrates
Use expansion joints and an uncoupling membrane to prevent cracks in the tile installation where different substrates meet.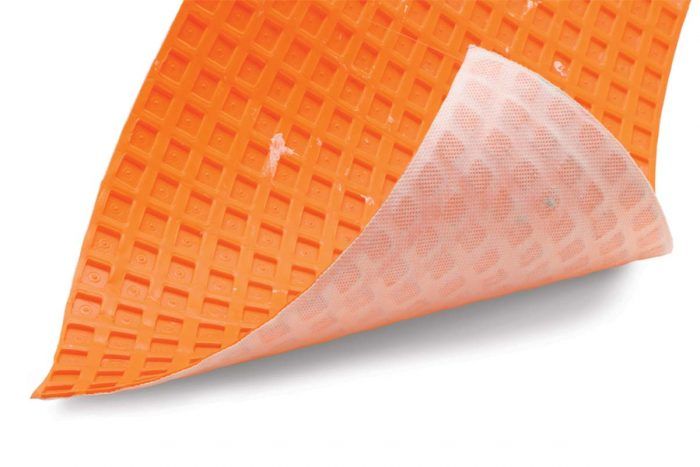 Q:
I'm ready to lay about 800 sq. ft. of 12-in. by 12-in. slate over a wood-frame floor, then onto a concrete slab. Both surfaces are heated by radiant tubing. I plan to use DensShield backerboard over the plywood subfloor to make it flush with the slab. Do I need expansion joints on a floor this big?
James V. Ryan, Putnam, NY
A:
Jane Aeon, a tilesetter in  Berkeley, California, replies: According to the Tile Council of North America handbook (available for sale at the group's Web site, www.tileusa.com), interior floor tile needs expansion joints every 24 ft. to 30 ft. in each direction or wherever tile butts against a wall surface. A great place to put one of those expansion joints is over the concrete/wood interface, because cracks are most likely to occur where one substrate material ends and another begins.
Another way to minimize cracks is to use an uncoupling membrane that is placed over the entire floor, between the tile and the substrate (see A New Way to Tile a Big Floor).
DensShield placed over the radiant floor is probably fine. The specs that are listed on Georgia-Pacific's Web site say that usage is OK, but that DensShield shouldn't be used "where there is prolonged exposure to temperatures exceeding 125°F." You may want to confirm this with your heating contractor.
To set the tile directly to the concrete, use a high-quality latex-modified thinset. I like to use Custom Building Products thinset. For large floors with low budgets, I sometimes skim-coat the concrete with a high-quality (expensive) thinset to get a good bond, then set the tiles with a medium-price thinset. Don't use the cheap stuff; it might not contain a latex additive, which adds flexibility.
| | |
| --- | --- |
| | 1. Uncoupling membranes separate the tile from the substrate, allowing them to move independently of each other. The membrane above is made by Schlüter-Systems (www.schluter.com) |
| | |
| --- | --- |
| | 2. Expansion joints let tile expand and contract without cracking the grout. Expansion joints are a good idea on big floors and on locations where different substrates meet. |
Previous:
Backsplash Repair and Prep
Next:
Cutting Backerboard