How-To
Routine Tile Maintenance
Regular, light cleaning keeps dust and grime from building up on tile surfaces.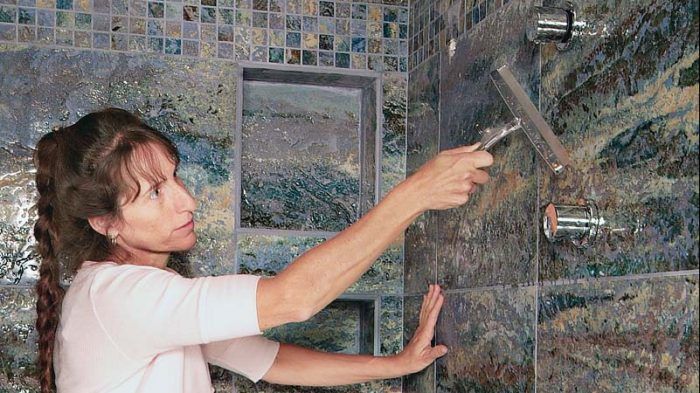 The easiest way to keep tile clean and looking like new is regular, light cleaning to keep dust and grime from building up—especially in the grout. Cleaning methods vary a little, depending on whether the surface you're maintaining is a floor, counter, or tub enclosure.
Floors
To keep dust at bay on a tile floor, you can sweep with a broom, but an electric broom or hard-flour vacuum cleaner will be more effective. When you need to scrub grime from a tile floor, always use a mild cleaner that does not contain dyes or bleach. We encourage you to stay away from the traditional mopping methods, as they tend to dissolve the dirt into a solution that ends up in the grout joints. For large and small floors, electric devices such as hard-floor vacuums, with or without steam or mopping capabilities, will be your first line of defense to keep your tile and grout like new.
Counters and backsplashes
To keep your tiled counters in a kitchen or bathroom free of dirt, crumbs, and other small debris, vacuum them occasionally with a small portable vacuum. For heavier cleaning of counters and tiled walls in a bathroom or tub enclosure, use a damp nonabrasive foam sponge to wipe surfaces down with water or, when necessary, a mild clear or white dish detergent free from dyes.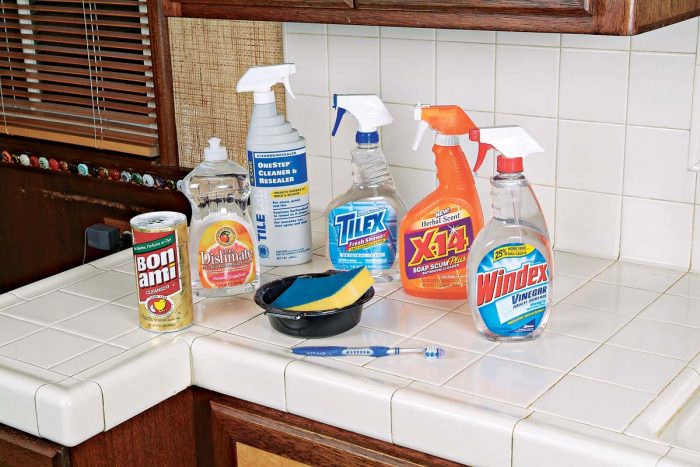 Hoover React vacuums are designed for use on various floor types—from tile to wood or carpet—as they adjust to each type by "reacting" automatically.
Cleaning Glass Tile
You'll be happy to know that cleaning glass tile is as simple as cleaning your windows. A spray-on glass cleaning solution keeps all your glass tile surfaces shiny and clear. Just be sure to stay away from using a colored cleaner (such as blue Windex®) as it may stain or color the grout. And do not use any product containing abrasives or acids because they could scratch or etch the glass. It's best to spray a soft cloth or cleaning mitt with the cleaner and then wipe down the surface rather than spraying the solution directly onto the tile.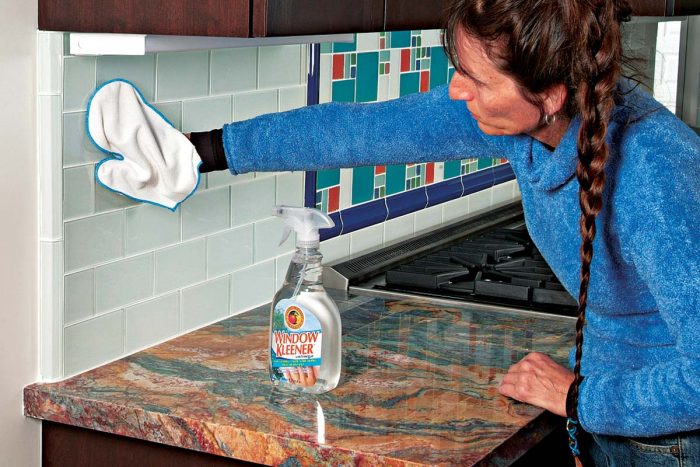 Showers and tub surrounds
Cleaning and maintaining bathrooms require much of the same routine care as mentioned for other areas of the home. You can use the same products and methods for routine cleaning of the floor, counter, and wall areas. However, since tub and shower areas can hold lots of moisture, they need daily attention or mildew will proliferate and hard water deposits can build up.
TRADE SECRET:
Consumer magazines often give low ratings to the "miracle" automatic shower cleaning products you see on television. You'll get better results with regular cleaning and by wiping down the shower walls after every use.
The simplest way to keep these areas clean is to either squeegee the walls or wipe them down with a towel after you shower or bathe. By removing excess moisture, mildew will have trouble getting a toehold in your bathroom and lime scale and other mineral deposits won't build up on your shower or tub enclosure tile.
| | |
| --- | --- |
| | To remove grout stains or pot marks, sprinkle some Bon Ami® on a damp surface and scrub with a foam sponge. |
| | A cutting board or mat will save wear and tear on your countertop and catch errant drops or spills. |
| | Using a squeegee or towel to wipe down your tiled walls after showering helps prevent mildew. |
Dealing with Mildew
Mildew is a type of mold, most often seen as black dots or streaks that form on tile or grout in damp, warm areas. Mildew needs three things to make it thrive: Moisture, something it can feed on, and a warm environment. Around your kitchen and bathroom sinks—and especially your shower and tub—these items are plentiful. But if you remove one of the three, mildew cannot grow. While it's the most labor intensive, cleaning and drying your tile regularly is your best defense against mildew. An easier way to prevent mildew from forming is to keep tiled areas well ventilated, via an open window or fan. If you have a bathroom fan, turn it on every time you bathe (some fans have a timer that can be set to shut off after 30 minutes). If ventilation is a problem, wipe down your tile after every use with a dry cloth.
---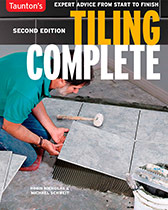 Excerpted from Tiling Complete, 2nd Edition by Robin Nicholas and Michael Schweit.
Available in the Taunton Store and at Amazon.com.
Next:
Cleaning Natural Stone and Terra-Cotta