Tools & Materials
Choosing Grout
Tile pros Robin Nicholas and Michael Schweit evaluate the pros and cons of common types of grout and show how to estimate the amount of grout you'll need.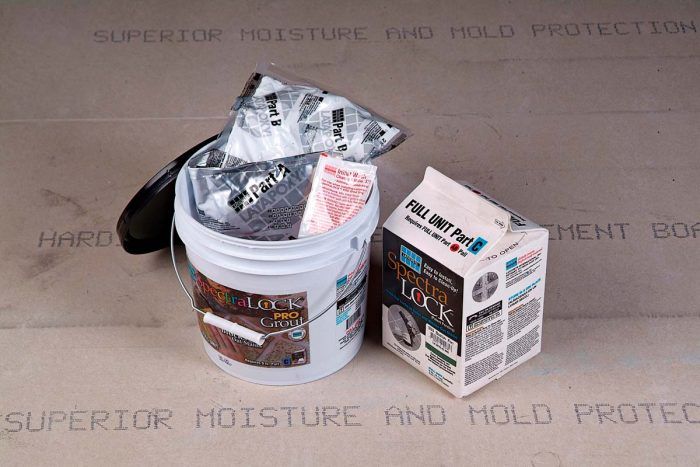 Grout is a cementlike product that's used to fill the spaces between and around each tile. It provides a transition from tile to tile while keeping the dirt out of each channel. Grout comes in two different textures: sanded and nonsanded. It is available in over 100 colors, including at least 8 shades of white. By choosing a color that either matches or contrasts with the color of your tile, grout can be used to add style and verve to the tile installation.
The majority of grouts come as cement-like powders that must be mixed with water before application. The amount of grout you'll need to cover your tile installation depends on both the size of the tile and the width of the grout joints. The chart below will help you estimate how much grout (sanded or nonsanded) you'll need for your job.
Most grouts come preblended with an acrylic additive and are called "polymer modified." This increases its water repellency and stain resistance and allows for a more consistent color. If you choose a grout that doesn't have this additive, you can make your own modified blend by adding a 50/50 mix of acrylic and water to the grout in place of water only.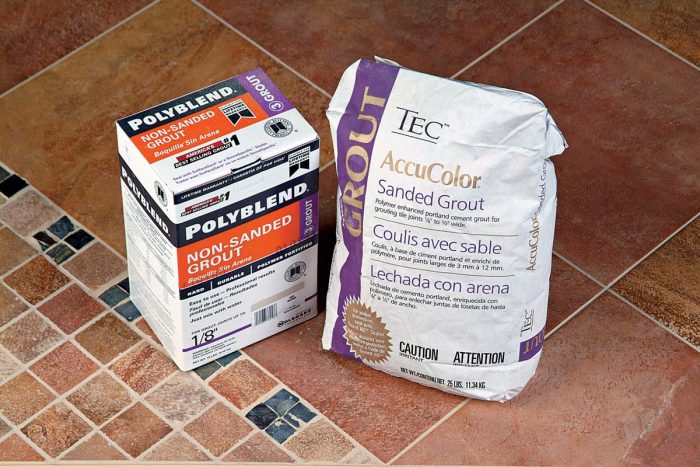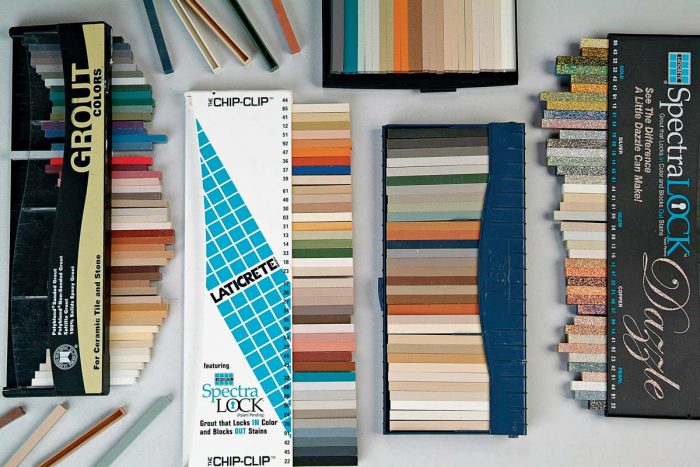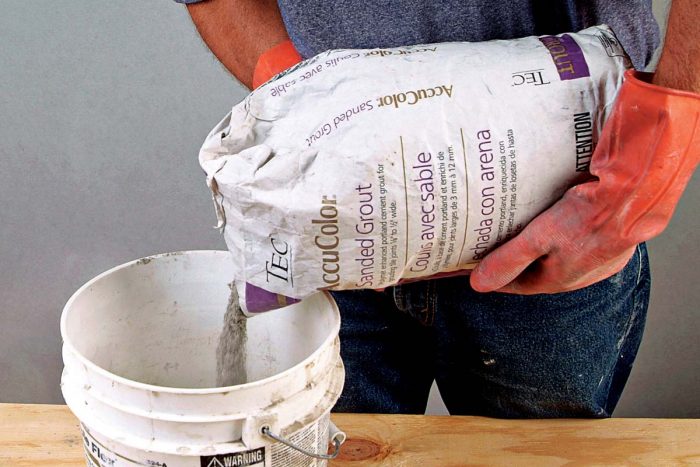 Nonsanded grout
Nonsanded or unsanded grout is a smooth-textured grout that's used to create joints less than 1⁄8 in. wide. Nonsanded grout is used most often on standard ceramic tile. It's also a good choice for grouting highly polished stone tiles, like marble. If you use sanded grout on soft tile, you will scratch its surface finish. An advantage of nonsanded grout's narrow joints is that there is less grout to clean and maintain. Narrow grout lines are less prominent than wider joints and have less of a visual impact on an installation.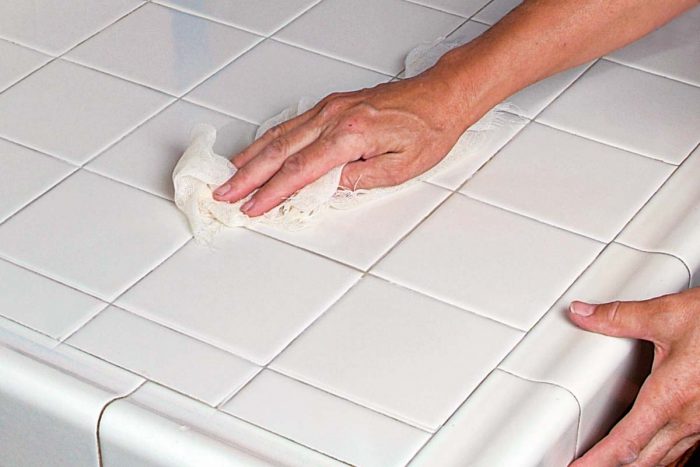 Sanded grout
Sanded grout contains silica sand that acts as an aggregate, imparting strength and durability to the mixture. Use sanded grout for grout joints greater than 1⁄8 in. wide. If you use a nonsanded grout for wide joints, the grout will simply crack. Sanded grout has a surface texture that's quite visible in really wide joints, such as the 1⁄2-in.-wide joints commonly used with Saltillo and terra-cotta pavers on a floor.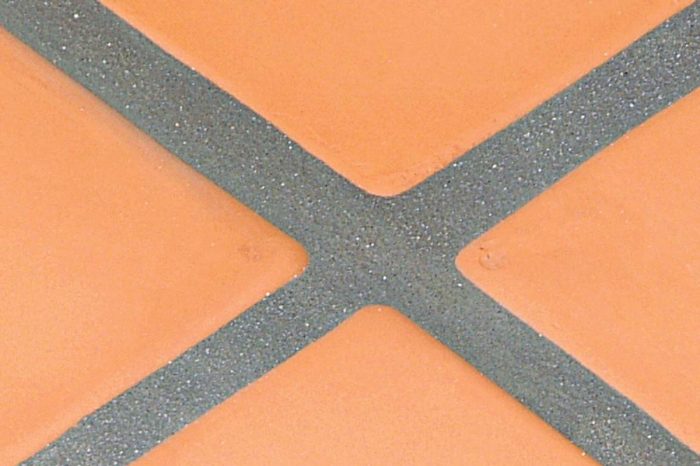 Premixed grout
Warehouse stores often carry premixed grout that's ready to use right out of the container. Buying grout in these small plastic containers is more expensive than mixing powdered grout. Plus, premixed grout is available in fewer colors and also has a limited shelf life. But it makes up for these shortcomings by being ready to go when you need it, so it's quite practical for small projects and repairs.
Epoxy grout
Epoxy grout is made from resins and a filler powder that make it unusually hard and durable. Its two components must be mixed together. Available in many colors, epoxy grout is stainproof, chemically resistant, and food safe. Previously, epoxy grout was recommended only for experienced installers. Currently, there are a number of epoxy grouts on the market that can be used with great success by anyone, as long as you follow the manufacturer's instructions.
Epoxy grout comes with a higher price tag—depending on the brand, about two to three times that of cement grouts. And be mindful that once you've mixed your epoxy grout, you must use all of it. You cannot store it after it is mixed or mix just a small amount at a time. For example, if you ever need to do a repair, you will have to purchase an entire new unit of the system.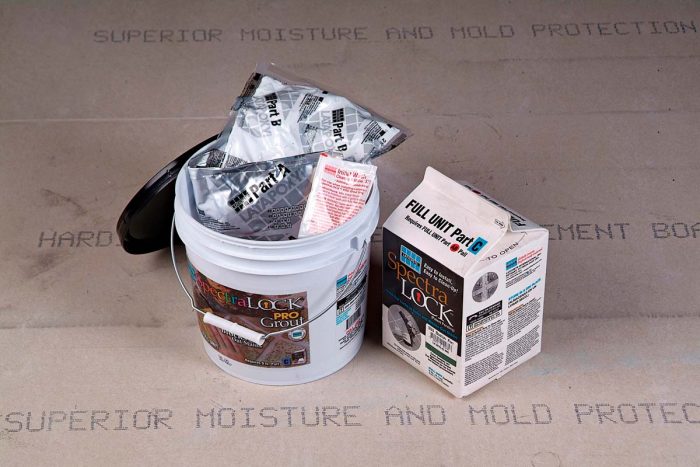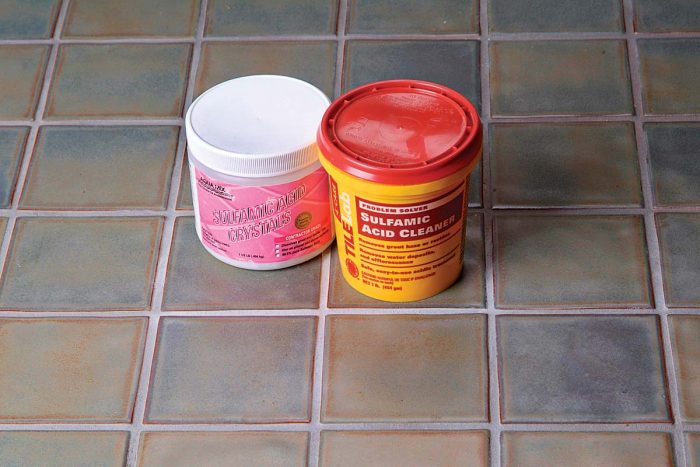 Haze remover (sulfamic acid)
No matter how careful you are, there may come a time when some grout or mortar residue lingers on the face of your tile. Or, in the case of porcelain tiles, efflorescence may appear on the surface of your grout joints, clouding its color with a light haze. Haze remover or sulfamic acid will remedy the situation. As you are working with acids, no matter how mild, always follow the manufacturer's instructions and precautions.
Grout recolorant
Grout recolorant is a paintlike water-based acrylic stain and sealer. It's applied over existing grout to renew its look or to change its color. This is a great way to make stained and dingy grout look new again. You just paint the product over the grout joints and then wipe off any excess from the tiles. It will not fade or wash off, and it is stain resistant.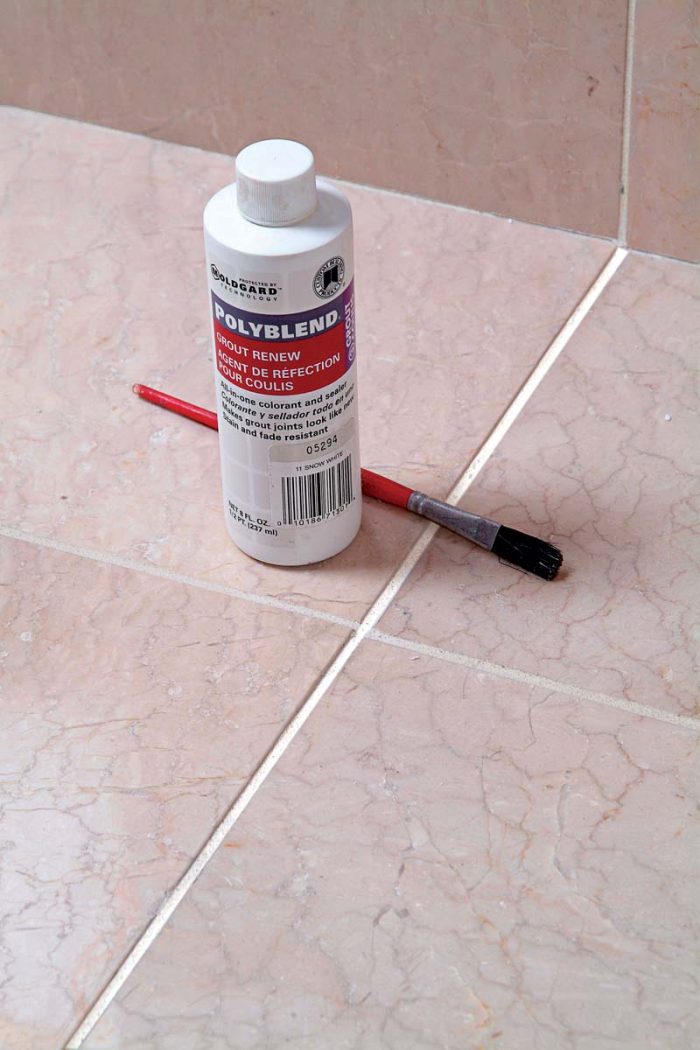 Warning
Haze remover is an acid so you must use it with great caution and wear appropriate safety protection.
---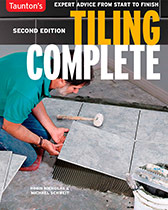 Excerpted from Tiling Complete, 2nd Edition by Robin Nicholas and Michael Schweit.
Available in the Taunton Store and at Amazon.com.
Previous:
Installing Ceramic Tile with Thinset
Next:
Sanded vs. Unsanded Grout