How-To
Epoxy Grouting
Epoxy grout has a number of advantages over cement grout; here's how to work with it.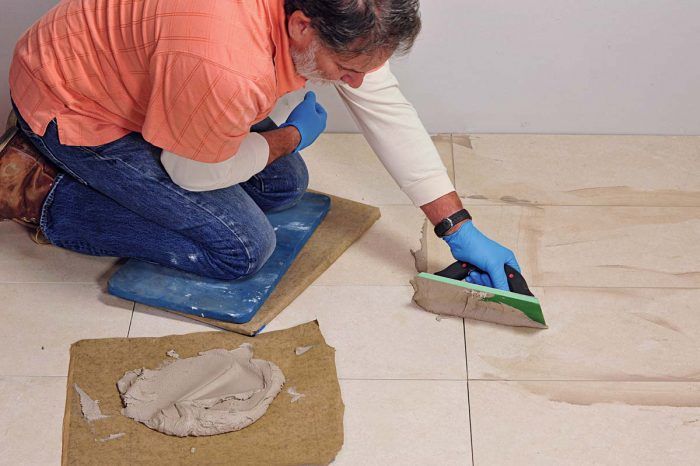 Over the years, epoxy grout has become more user-friendly and is a great alternative to cement grouts. The big plus with epoxy grout is that it is extremely stain resistant (some brands actually claim to be stainproof), provides consistent color, doesn't shrink (which means less possible hairline cracking), and is dust-free.
There are some differences between installing tile with epoxy grout and with cement grout, but it is an easy transition if you follow the instructions carefully. Epoxy grout systems are made up of two (or three) parts. The essential parts are a resin, which is the main component, and an activator (often with colorant, though that may be packaged separately) that combines with the resin to cure and harden the grout.
Working with Epoxy Grout
Before you begin, it's important to read the manufacturer's directions/ specifications because you have less open time with epoxy than with cement grout. Working with epoxy grout is a timed process and if it gets away from you, it may be difficult to fix any issues. For your first installation, plan on spreading an area no larger than you think you can comfortably grout in 20 minutes. It's always better to be safe than sorry for your first go around.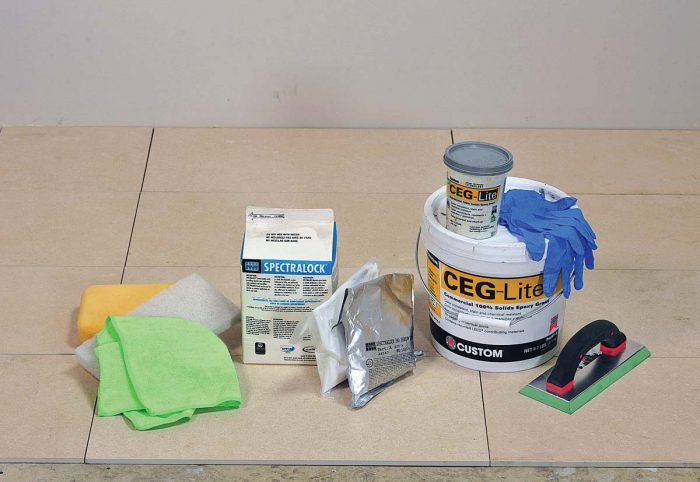 Also before you begin to mix or spread the grout, have all of your tools ready to go: gloves, epoxy float, sponges, white scrub pads, microfiber towels, and buckets filled with water (with cleaning additive provided by the manufacturer or recommended by them). You won't have time to gather them once you've begun the process. You should also wear your least favorite clothes or work clothes. Epoxy grout is not the least bit forgiving, and it's the gift that keeps on giving if you do get it on your clothing. It adheres beautifully and is tenacious.
Choose a mixing area with ventilation and be sure to mix on something disposable in case of a spill. To begin, thoroughly mix all parts separately before mixing them together 1. Then combine all parts until you have a homogenous mix 2, 3. Dump the mixed epoxy onto a piece of waterproof paper, board, or other open surface that you can easily move around 4.
If you leave epoxy in your mixing bucket, it will set up too quickly. Spread the grout into the joints with your epoxy grout float, but be sure to remove as much as possible from the face of the tiles 5.
| | |
| --- | --- |
| | 1.  Stir each of your epoxy components (the hardener and the resin) until you have a homogenous mix. |
| | 2.  Pour and/or combine components into one container. |
| | 3. Mix grout components together until the color is consistent. |
| | 4. Scoop the mixture onto waterproof paper or a board. |
| | 5. Use an epoxy float to fill the grout joints fully but be sure to remove any excess grout from the face of the tile. |
After spreading a manageable area of wall or floor, check the time. Depending on the particular grout company, you may start wiping immediately or per their instructions 6. Fill any voids or pin holes at this time 7. Do not exceed the recommended time allotment. Epoxy grout has the opposite need of cement grout: With cement grout, water is the enemy but with epoxy grout, water is a good friend. Don't wring your sponge out but instead, allow water to aid you when you wipe down the surface. If you don't use enough water, you will pull grout from the joints instead of shaping them. But you also must take care to keep water out of the ungrouted joints. Your sponge will also not last as long as with cement grouts. The pores will clog with epoxy stickiness and become unusable, so be sure to have additional sponges on hand.
For your second wipe down, wait the prescribed amount of time, then use a white scrubber pad with clean water to agitate the surface of the tiles to loosen any epoxy residue before you use a microfiber cloth 8. If you are wiping a floor, remember to flip your kneepad to a clean side or protect it again or you'll be pulling and dragging epoxy grout around the floor. To use your microfiber cloth, wring it out thoroughly before each diagonal pass over a tile 9. Keep in mind that any remaining water will contain epoxy residue, so you want to use your cloth to remove as much water as possible. For a larger area (over 50 sq. ft.), you will need to clean out your water bucket periodically. With bare hands, feel the surface of the tile for any epoxy residue and wipe again if necessary 10.
If you did not complete grouting the entire area at one time, proceed as described earlier with a new unit of epoxy grout and continue on from wherever you left off. The following day, inspect the grouted area and if you find a small bit of residue, use a paint scraper to remove it 11. If you find epoxy film on the surface, you can use an epoxy haze remover 12.
| | |
| --- | --- |
| | 6. Shape the joints with a wet sponge and clean the face of the tile. Use plenty of water. |
| | 7. Touch up any depressions or pin holes in the grout. |
TRADE SECRET: If you are wiping floor grout, you will need to protect your knee pads by wrapping them with waterproof paper. If you do not, the sticky residue on your pad will pull the epoxy out of the grout joints as you go over the grouted areas.
| | |
| --- | --- |
| | 8. Agitate the surface of the tile with a white scrub pad and it will loosen any residual grout. Use care to prevent gouging your shaped grout joints. |
| | 9. Any water on the tile will contain grout residue. Drag a damp microfiber towel diagonally across the tile to remove any excess water. |
| | 10. Feel the face of the tiles with your bare hands to locate any grout residue. If you feel any stickiness or granules, wipe them off. |
| | 11. The next day, use a paint scraper to easily remove any grout from the surface of the tile. |
| | 12. Additionally, wipe any remaining epoxy film off the surface with epoxy haze remover. |
TRADE SECRET:Unlike working with cement grout, after epoxy grout has cured (hours or days later) you can blend in a new unit of epoxy grout without any color or texture issues.
---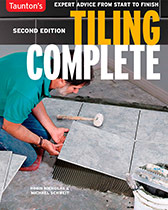 Excerpted from Tiling Complete, 2nd Edition by Robin Nicholas and Michael Schweit.
Available in the Taunton Store and at Amazon.com.
Previous:
Grouting Tile
Next:
A Fearless Approach to Epoxy Grout