Design
Miles of Tile
Choosing the best materials and format for showers, walls, and floors takes focus.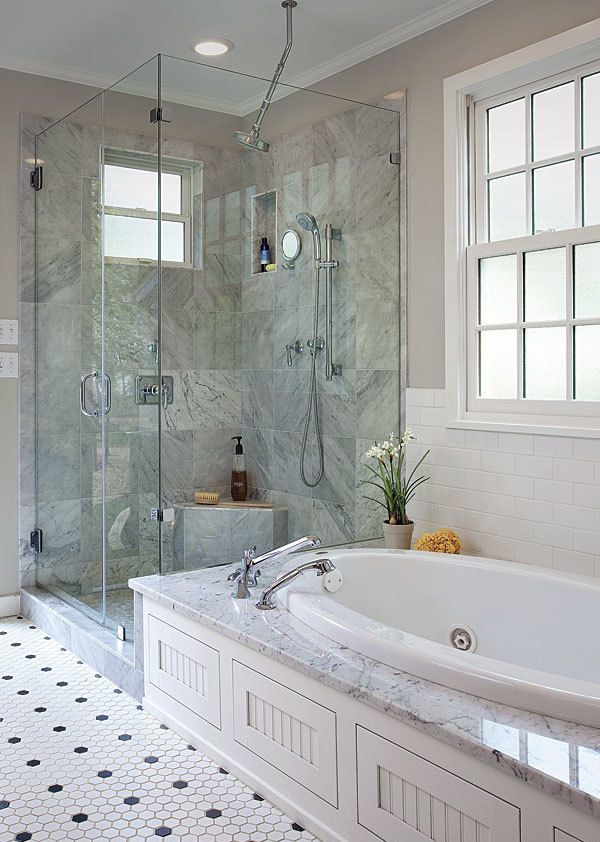 Synopsis: When you're building or remodeling a bathroom, chances are that you will end up looking at tile for walls or floors, but the array of choices can be overwhelming. In this article, FHB managing editor Debra Judge Silber takes a look at the world of bathroom tile with an overview that will help tile shoppers to decide the best material whether it's for a shower or the entire bathroom, walls or floors. Bathroom tile can be made of several materials: ceramic; porcelain; natural stone; metal; and glass. Silber also looks at trends in bathroom tile, including artisan and handmade tile; ink-jet porcelain; sustainable tile; mosaic tile; split-face tile; and large-format tile. In addition to a list of tile resources, this article includes a visual glossary of tile parts, such as chair rail, liner, bullnose, V-cap corner, cove base, quarter-round, radius cap, V-cap, and field.
The tile you choose not only has a substantial impact on the cost of your bathroom project, but it also affects how your new bath functions, ages, and impresses those who peek inside. If that's not daunting enough, consider the sheer volume of choices facing you inside the local tile store.
Designer-builder Patrick Sutton of Austin, Texas, suggests that clients avoid the tile store until they know what they're looking for. "I always tell people, 'I can't forbid you from going to a tile showroom, but I wish you wouldn't. Sit down first and make a list of what you're trying to do. Then go to the tile store.'" Lexington, Mass., architect Lynn Hopkins encourages clients to consider the style of the whole house before choosing one feature — which could be tile — to set the design tone for the bath. "Ask: What is this tile saying about the character of the room in which it wants to be? It gives you a context in which to make all those other decisions."
Aesthetics aside, there are other qualities you'll want to look for. One is strength, which will determine whether the tile is suitable for wall or floor applications (or both). Another is slip resistance. You can judge slip resistance based on the coefficient of friction (a COF of 0.5 or above is OK for floors), or you can do what many builders do: run your hand over the surface. A third feature to consider is shade variation, or the degree of difference in color and pattern from one tile to the next. Shade variation is designated by a V followed by a number from 1 to 4, with 1 having the least variation (minimal to no difference) and 4 having substantial, sometimes dramatic, variation in color or pattern between tiles.
Tile isn't forever, but try to choose one you can love for the long haul. "Find something you know you can be happy with for the next 10 to 20 years," advises Tom Meehan, a master tile setter in Harwich, Mass. He adds that it's not just the tile, but also the complete design that matters. "When guests look in, you want them to say, 'What an incredible bathroom!' not 'What incredible tile!'"
Ceramic
Made of clay mixed with minerals and water, ceramic tile, like that used on the floor above, comes in a broad array of shapes, sizes, and colors. Initially fired to create bisque ware (unglazed ceramic), it can be fired a second time with a ceramic glaze to produce a surface that is stain and scratch resistant. The tile body itself, however, is porous. Depending on its hardness rating, ceramic tile can be used on either walls or floors. For the most part, ceramic tile is easy to work with snap cutters and nippers, making it DIY-friendly. Although ceramic tile traditionally has been the most economical choice, the availability of porcelain tile in recent years has lessened ceramic's dominance in the market.
Porcelain
In the past decade, the price of porcelain tile has dropped; this and its many favorable attributes have led it to overtake ceramic in popularity. At the same time, new glazing techniques that closely mimic the look of natural stone have made it a durable, less expensive alternative to marble and limestone. "You get the look of old stone with zero maintenance," explains tilesetter Tom Meehan. Made of clay and finely ground sand, and fired once under high heat and pressure, porcelain is denser and stronger than typical ceramic tile. It is also less porous; with a water-absorption rate less than that of ceramic, porcelain tiles are often frostproof. Like ceramic tile, porcelain tile may be glazed or unglazed. Unglazed porcelain tile is sometimes called through-body, because the composition of the tile is uniform throughout. Much of the floor tile sold today is glazed porcelain, says Joshua Levinson, president of Artistic Tile, a distributor. "Porcelain production involves the use of fine-grained clays, which can be pressed more densely and fired at a higher temperature than traditional red-clay-body double-fire tile, making the product more resistant to wear," he says.
Natural stone
Appearing in many forms in today's baths, natural stone shows up in formats that range from large slabs to tiny pebbles to uniform, cut tile. Add to that the many types of stone available—marble, granite, limestone, and slate among the most popular—and you have a wide variety of options. This variety also presents considerable differences in qualities among stone types—such as stain resistance, durability, and porosity—so it's important to choose a type of stone that you can live with and that your tilesetter is confident installing. Limestone, for example, is popular, is fairly easy to work with, and comes in a variety of types; Jerusalem limestone is among the most dense and durable. Green marble, on the other hand, is more fussy: Contact with cement-based thinset will cause it to cup, requiring the use of resin-based thinsets.
Cutting stone tile requires the use of a wet saw, another reason why it's worth considering a professional installation. All stone tile should be sealed, but some tiles need more upkeep than others. Because much of the appeal of natural stone derives from surface variations from piece to piece, careful blending of shades—often by working from different boxes—is important for an attractive, "soft-slab" effect.
Metal
This material came on the scene with a splash some 10 to 15 years ago, and it remains popular primarily for accents. Not all metal-looking tiles are metal, however. Some are ceramic with a metal cap; still others are cast in resin and coated with a metallic finish. Stainless steel, nickel, and bronze are among the most popular. Generally, metal tiles install like ­ceramic tiles, although they are far more difficult to cut.
Glass
Often transparent and more brittle than ceramic or stone, glass tile requires careful installation, but the shimmer it adds to a bathroom can't be denied. Because glass is nonporous, sealing is not a concern, but glass can scratch and can be slippery, which is something to think about if you're considering a glass-tile floor. Available in luminous colors and often enhanced with texture or metal highlights, glass tile can be pricey—an argument for using it in small doses as a border accent, sink backsplash, or singular wall. Glass tiles are available with a percentage of recycled material.
"Glass is very big, and it's going to stay that way for a while," says Meehan. Its steady popularity has resulted in a large supply of glass tile of varying quality and individual characteristics that can complicate installation. This, Meehan says, makes it especially important to follow the installation instructions from the manufacturer of your particular tile. Artistic Tile's Levinson echoes that opinion, adding that anyone considering working with glass tile should consult the glass-tile selection and installation guide in the Tile Council of North America's Handbook for Ceramic, Glass, and Stone Tile Installation, available at tcnatile.com.
Which tile where?
Shower walls
Tile on shower walls should extend at least 72 in. high for complete protection from
water, although there's also the option of wrapping the ceiling for a complete enclo­sure. Large rectified tile allows for fewer and smaller grout joints, discouraging mold. Using the same tile in the shower as on the walls can help a small bath to appear larger. On the other hand, if the bathroom is large enough, a different tile can define the shower as its own space.
Shower floors
It's important that tile used on shower floors be slip resistant. Small tiles (1 in. to 3 in.) provide a secure grip and also accommodate the slope needed for drainage. Manufacturers typically match their larger-format floor tiles with smaller tiles specifically for shower floors. Stone pebbles are popular, but beware: Less expensive products can have irregular surfaces that are less than therapeutic.
Bathroom floors
Strength and slip resistance are key here. Tile manufacturers use coefficient of friction (COF) to rate slip resistance. A COF of 0.5 is acceptable; higher numbers offer more traction. Keep in mind that grout lines around smaller tiles improve traction. Floor tiles also need to be durable. The Porcelain Enamel Institute (PEI) rates tile durability on a scale of 0 to 5, with 5 being the toughest commercial-grade tiles. For residential floors, a PEI rating of 3 is fine.
Bathroom walls
You don't have to tile every wall in your bath, but it is a good idea to protect areas prone to splashes, including those behind the sink and toilet. Tile wainscot traditionally fulfilled this function, but it has started to fall out of favor. Wainscots typically range from 36 in. to 48 in., although ­taller, European-style wainscots of 54 in. are an ­option. How the wainscot meets the wall—with a decorative border, crown, or cap—can add to the bathroom's character.
SOURCES
Ceramic: American Olean Satinglo hexagon, americanolean.com
Porcelain: Daltile Spark Colorbody Porcelain, daltile.com
Artisan: Universal Tile & Marble, universaltilemarble.com
Inkjet porcelain: American Olean Kendal Slate, americanolean.com
Natural stone: Island Stone marble and quartz mix, islandstone.com
Mosaic: Oceanside Glasstile Tessera mosaic blend, glasstile.com
Metal: Crossville Mixology, crossvilleinc.com
Metal sample: Universal Tile & Marble, universaltilemarble.com
Glass: Oceanside Glasstile Tessera mosaic with Haiku field, glasstile.com
Glass samples: TileAmerica, tileamerica.com; Universal Tile & Marble, universaltilemarble.com
Split face: Island Stone Rustic Cladding, islandstone.com
Trim samples: The Home Depot, homedepot.com; TileAmerica, tileamerica.com
For more photos and details, click the View PDF button below:
View PDF
Previous:
How to Tile Everything
Next:
Porcelain vs. Nonporcelain Tile: What's the Difference?