How-To
Mixing Thinset
Follow these guidelines whether mixing thinset by hand or with a drill-powered paddle wheel.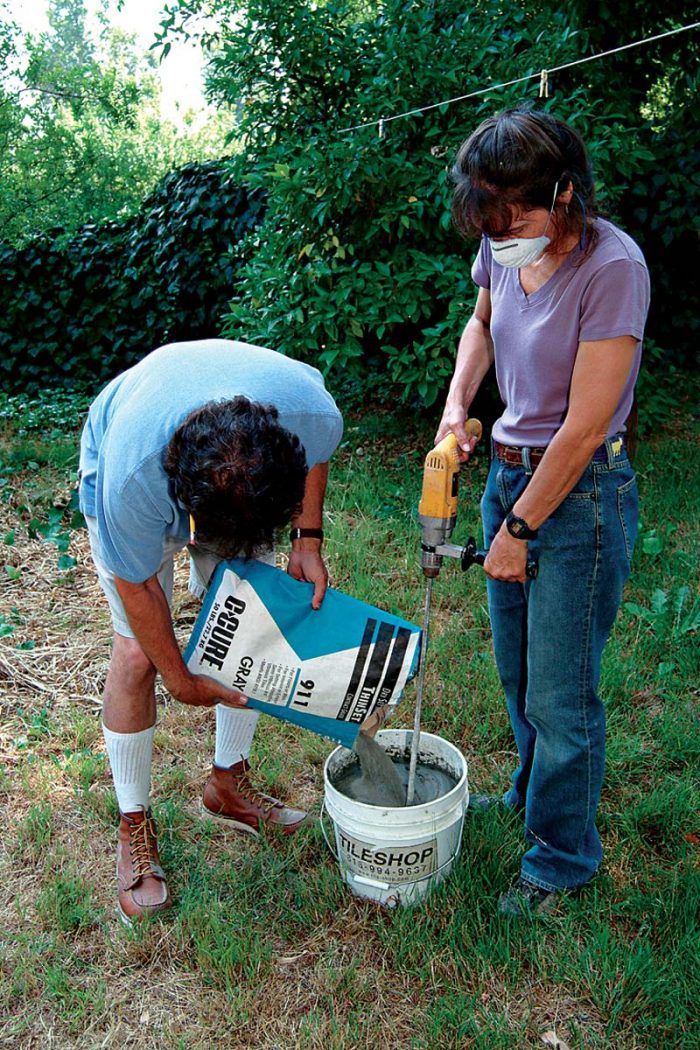 Thinset is the basic glue used to bond tile to the surface it's set on. The process of mixing and spreading thinset described here is the same, regardless of the kind of tile you use or the application—installing a floor, countertop, or backsplash. But before you begin mixing, you should plan your entire tile layout and read through the rest of this chapter.
You can mix small quantities of thinset (less than 2 gal.) by hand in a bucket, using a margin or other trowel to stir it up. But for mixing the large quantities needed to set tile on a floor, it's a lot easier to mix thinset with an electric drill fitted with a paddle wheel. Electric mixing not only produces a smoother mix but it also saves wear and tear on your arms and shoulders. If possible, enlist the aid of a friend; two people make quick, easy work of mixing.
Start mixing by putting water or Admix® in a large bucket 1. Slowly pour thinset into the bucket while the mixer is running 2. (Adding the powder to the liquid helps prevent lumps and pockets of unmixed material.) Move the paddle wheel up and down and around the sides of the bucket to mix thoroughly 3. Keep the drill's rpms low (under 300) to prevent trapping air, which can weaken the mix. Keep adding powder, and adjust with more liquid if necessary. You want the mix to be not too runny or too dry. Test by troweling an area 4. Too wet, and your notch pattern will collapse. Too dry, and the thinset looks grainy and you will have sparse areas.
A bucket of mixed thinset has an open time of 2 hours to 4 hours (depending on temperatures), after which it will get hard or clumpy and must be disposed of. Never add liquid to hardening thinset, as this only weakens it. It's better to mix small quantities than to waste unusable material.
| | |
| --- | --- |
| 1. Always pour the liquid component of your thinset mixture into the bucket first. | 2. Slowly pour the thinset powder into the liquid, stirring constantly. |
| 3. A drill-powered paddle wheel mixes large quantities of thinset. | 4. Correctly mixed thinset forms well-defined ridges (top), whereas a mix that's too wet looks soft and runny (bottom). |
What can go wrong
A corded drill will work better than a battery- powered model, because the torque is higher and cordless drills drain rapidly from the strain of mixing the thick material. Make sure the paddle wheel is securely chucked into the drill motor.
---
Excerpted from Tiling Complete, 2nd Edition by Robin Nicholas and Michael Schweit.
Available in the Taunton Store and at Amazon.com.
Previous:
Tile Thinset Mortar Options
Next:
How to Mix Thinset