How-To
Removing Efflorescence
Learn how to deal with the white haze that sometimes forms on grout and tile due to excessive moisture.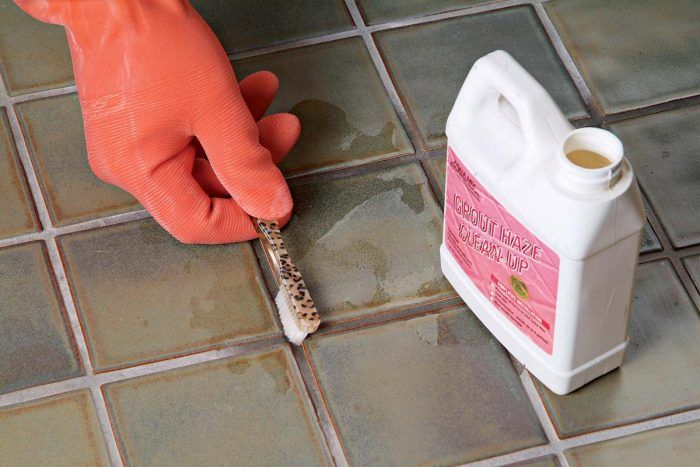 Efflorescence is a fancy word for a white haze that sometimes forms on grout and tile. Efflorescence is due to excessive moisture that leaches salts from the grout (or the mortar or concrete substrate) and deposits it on the surface. Although efflorescence can affect many different kinds of tile, you'll see it most often on low-fired terra-cotta and Saltillo tiles because of their porous nature. The haze may occur on the grout joints only, or it may show up on the surface of the tile itself.
You can often remove efflorescence haze from small areas by washing it off with a 50/50 solution of white vinegar and water. For large areas, use a haze remover or sulfamic acid mixture 1. If this is a new tile installation, you must wait 7 days to 10 days before acid washing. You will need rubber gloves, safety glasses, old work clothes (unless acid-washed jeans is your style), a non-metallic bucket for the acid, a 5-gal. plastic wash-down bucket, a nylon-bristle scrub brush or toothbrush, and several new sponges. If you're using sulfamic acid, mix 2 oz. to 3 oz. of the powder with 1 gal. of water. Saturate the affected area with clean water an hour before acid washing 2, so the moisture has time to penetrate through the grout joints. Before you apply the acid solution, rewet small areas at a time to prevent acid burn of the grout joints and tile. Apply the acid to the wet surface and agitate with the brush 3. Work on a small, 2-sq.-ft. to 3-sq.-ft., area at a time. Wipe down the tile with a wet, clean sponge and then wash the surface with fresh water several times to remove all the acid from the tile and grout.
| | |
| --- | --- |
| | 1.  Sulfamic acid dissolves the efflorescence that clouds the beauty of your original grout color. |
| | 2.  Always wet the joints with water an hour before applying the sulfamic acid solution. |
| | 3.  Use gloves and goggles when you acid wash the area. A small brush helps you agitate the solution into the joints. |
---
Excerpted from Tiling Complete, 2nd Edition by Robin Nicholas and Michael Schweit.
Available in the Taunton Store and at Amazon.com.
Previous:
Regrouting with Epoxy