Spreading Thinset
Learn the steps you need to take when applying thinset mortar to a substrate to ensure you have a solid, level tile installation.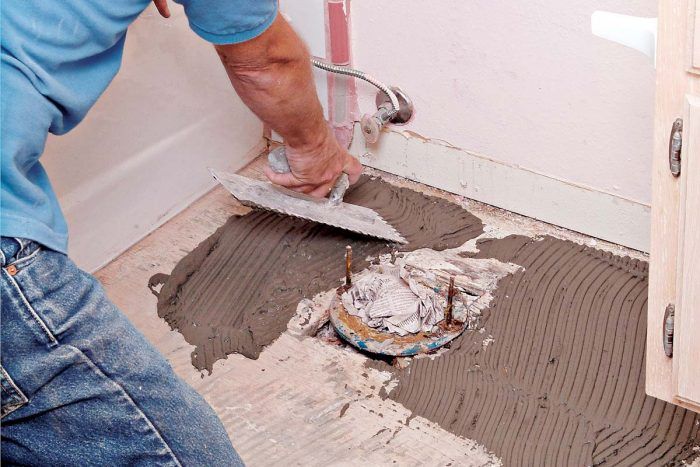 A well-cleaned substrate and the proper use of the notched trowel improves the bond of the tile to the substrate. First, wipe down the swept floor (or other substrate) with a damp sponge to remove surface dust that could prevent the thinset from adhering properly 1. Dampening the substrate also allows the thinset to cure a bit more slowly, thus improving its bond strength.
When you're ready, use the long flat side of the trowel to apply your mixed thinset. You can either scoop the thinset directly from your bucket with the trowel 2 or apply it to the trowel with a margin trowel. Spread the thinset with the flat side of the trowel while holding it at about a 45° angle to the surface. This keys the thinset into the surface, filling any small pores or voids and preventing air pockets. Spread only an area that you can set within 15 minutes. Spread the thinset slightly beyond the footprint of the tiles to ensure good, even coverage. Now comb the thinset with the long notched side of the trowel, holding it at a 45° angle as you comb 3. Use the short flat end of the trowel in cramped areas, such as under a toekick or behind a toilet flange 4. Add more thinset as necessary to keep the notched ridges full and well formed 5. Inadequate amounts of thinset will show as hollow spots 6 that won't hold together well and will provide a poor bond. Always comb in a parallel fashion 7. Parallel combing allows your thinset ridges to fill in the valleys between them when you press the tiles into place, creating continuous coverage and a well-supported tile. Random combing of thinset allows air pockets to form, thus reducing bonding strength.
| | |
| --- | --- |
| 1. A clean floor surface is essential for properly bonded tiles. | 2. Scoop thinset directly from the bucket with a notched trowel. |
| Alternatively, use a margin trowel to load your notched trowel with thinset. | 3. For best results, keep your trowel at a 45° angle when combing the thinset. |
| 4. Use the short end of a notched trowel to spread and comb thinset in cramped areas. | 5. Spread enough thinset on the surface so that full, even ridges are formed when it is combed. |
| 6. If the combed ridges show gaps and voids, you do not have enough thinset. | 7. Always comb thinset in the same direction to form a pattern of parallel ridges. |
Combing thinset in swirls or different directions is a bad idea because it allows air pockets and voids to form under the set tiles.
---
Excerpted from Tiling Complete, 2nd Edition by Robin Nicholas and Michael Schweit.
Available in the Taunton Store and at Amazon.com.
Previous:
How to Mix Thinset
Next:
Spreading Thinset for a Backsplash