Tools & Materials
Edge Trim for Tile Transitions
Trim strips create a seamless transition wherever tile meets a non-tile surface.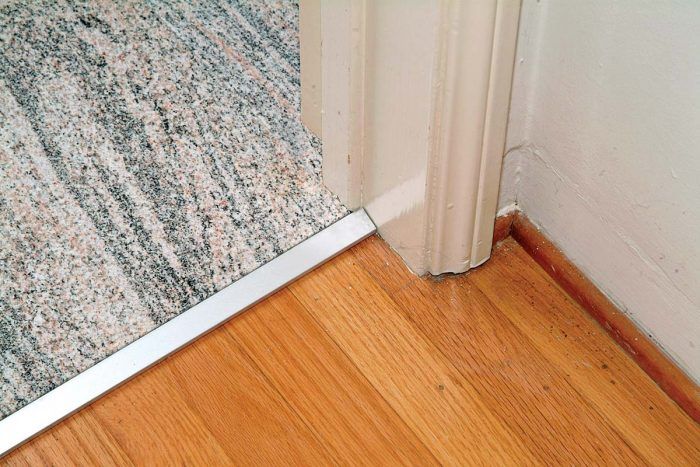 A hallmark of a professional floor tile installation is the way the tile meets other surfaces. The transition between tile and a wood, linoleum, or carpeted floor should be clean and seamless. Fortunately, there are metal trim strips specifically designed to create such a smooth transition A. Available at most tile supply stores, trim strips come in copper, stainless steel, gold, and other finishes. The trim (the Schluter system is shown here) comes in several types, each designed to work for a particular application—for example, where tile meets carpeting B, wood or linoleum at the same height C, and flooring at a different height D.
Threshold
Threshold strips are used to create a transition between tile and other kinds of flooring in entries and doorways E.
Available in wood or metal and in a wide variety of shapes and sizes, threshold is easy to screw down into the wood subflooring. It not only covers the unsightly seam between, say, a tile and wood floor, but can also make up for any height difference between different kinds of flooring. You'll find the best selection of wood threshold pieces at a hardwood flooring store.
| | |
| --- | --- |
| | A. Schluter edges can bridge the area between your new tile and any other floor surface or can be used as an edge detail. |
| | B. Trim was used here to transition between tile and carpeting. |
| | C. A smooth transition was made between the tile and a laminate wood floor. |
| | D. This trim makes the transition when two floor surfaces are at different heights. |
| | E. Threshold strips are used in doorways and passages. |
Edge trim
More and more tiles, especially large-format tiles, do not have an accompanying bullnose or other trim piece. Or if they do have trim, it might not be a good match. A growing trend in recent years is an alternative choice of slim edge trims (plastic and metal), which are available in many different colors, profiles, and sizes. Some trim pieces may match the fixtures in a room, adding an elegant or a modern streamlined feature. You can use these trims for outside corners (where two tiles meet) to frame a niche as tile base for a floor, or as a transition from tile to another material.
| | |
| --- | --- |
| | Edge trims used to come only in basic metal finish colors, but now they are available in an array of nonmetallic colors as well. |
| | Metal edging can frame and delineate a shower niche for a modern look. |
| | You can frame or finish any opening with metal edging. |
---
Excerpted from Tiling Complete, 2nd Edition by Robin Nicholas and Michael Schweit.
Available in the Taunton Store and at Amazon.com.
Previous:
Great Grout Spacers