How-To
Bay-Window Roof: How to Frame the Base
Begin with a template for the base.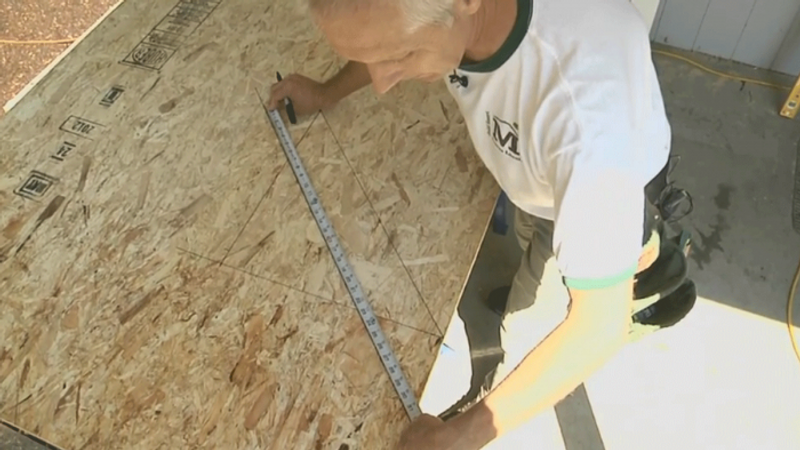 To build the roof, I begin by making a template for the base. To lay out the framing, I only need two measurements from this bay window. One is the overall width: 62¼. The other measurement I need is the overall depth. But I have to realize this window is going inside the rough opening 4 inches. So I draw a line all the way across, 4 inches out—and now I measure from the outside of the window to that line, 17 7/8 inch; that's my overall depth. I want to copy the shape of the head board onto a piece of ¾-inch OSB. This will be my guide for framing. First, I draw a rectangle centered on the sheet, using my 62¼ by 17 7/8 measurements. Then, to get the 45-degree angles, I measure in 17 7/8 inch from each end and draw the lines. Now I have an exact replica of the bay window top. But before I begin the roof framing, I have to add a roof overhang using a strap of soffit material. What I want to do is extend that out because I'm going to have a soffit overhang of 4½ inches. Line the soffit material up with the outside edges—just extend those lines right out, which represents the outside edge of the framing—all the way around.
All Videos in This Series
---
---
Now that I have outside edges, I measure from point to point to get my first set of cuts. The right is 31 7/8, and the center 30 inches. And the left is the same as the other side; 31 7/8. And this piece will have a 22½-degree angle here, and a 45 on the other end. This piece will have a 22½-degree angle on both ends, and this piece will have a 22½ here and a 45 there.
I'm going to lay them out, right along the lines, and outline the outside of the frame. Then I measure the inside—71—so I'll cut that, put it in, and then I'll have the base framed up. All right; that fits well. Next, I'll cut these miniature joists to fit in here. Then all I have to do is fasten everything together. I have to put blocking in so that when I put the trim on from underneath, it'll have someplace to catch on the outside edges.
Previous:
VIDEO SERIES: How To Build a Bay-Window Roof
Next:
Bay-Window Roof: How to Build the Wall Cleat