Best-Ever Framing Hammers
The prices might scare off some, but for a professional who swings a hammer every day, here are two smart choices.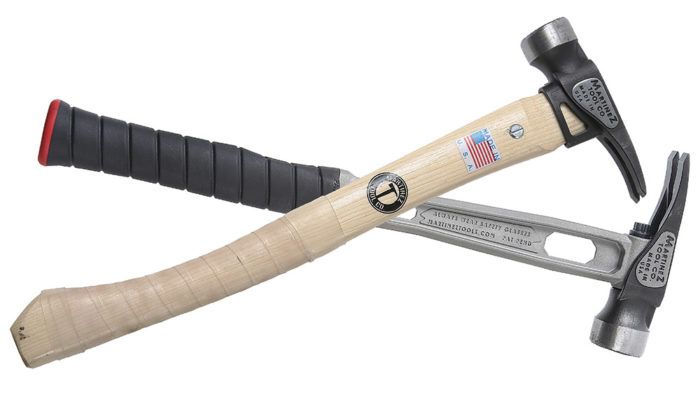 Mark Martinez, who created the highly regarded Stiletto titanium hammers back in the late 1990s, is back with his second generation of framing hammers. The titanium-handled M1 and the wood-handled steel head are both fully made in America. The prices might scare off some, but for a professional who swings a hammer every day, I think either is a smart choice.
Titanium handle M1 ($255)
The M1 is quite possibly one of the best looking and most functional hammers of all time. It may look similar to the Stiletto TiBone, but it's smaller, sleeker, and has a removable all-steel head, rather than just a replaceable steel face that can loosen over time. And because the M1's head, which is available with either a smooth or mill face, is heavier than the Stiletto and more forward-weighted, it delivers immense striking force with minimal recoil. A dovetail on the bottom of the head slides onto the handle and is secured with a bolt. The connection is super strong and field replacement takes seconds. The M1 is comfortable to use all day long, it has a magnetic nail starter, and the grip is replaceable ($30). All in all, the M1 is an incredible hammer.
Wood handle framing hammer ($90)
The steel-head, wood-handle hammer has a head similar to a conventional wood-­handle hammer, but instead of wedges, it's attached with a long T-bolt that creates a very secure connection to the handle and simplifies field replacement. The claws are sleek and flat, making them great for driving into beams to manipulate them, but their shallow arc makes it a little harder to pull nails. The hammer also has a forward-weighted head and delivers the same punch as the more expensive M1. The handle is wrapped with a very tacky, replaceable clear tape, allowing you to maintain your grip even when your hands are sweaty.
Previous:
No-Wind Chalkline
Next:
What's the Difference: Titanium Hammers vs. Steel Hammers