Tools & Materials
Cordless Saw Fit For a Framer
Makita's XSR01 cordless, rear-handle, blade-left circular saw is an excellent full-time framing saw.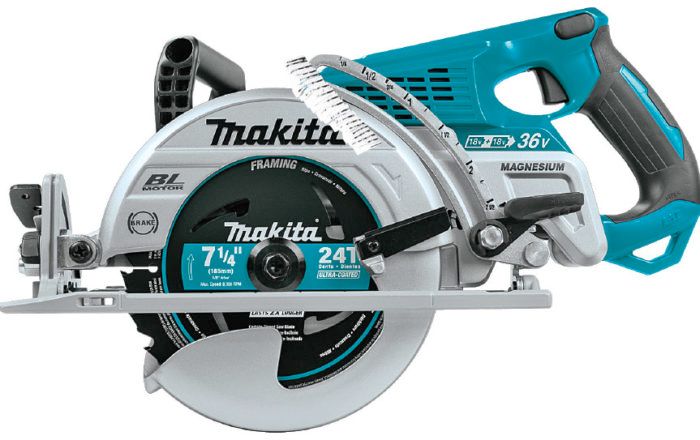 Currently, most of my carpentry work is building decks, but as a former framer I've always used blade-left worm-drive saws because of their extra reach and great visibility of the cutline. Like most contractors, I'm always trying to maximize efficiency. I use cordless tools whenever possible, because they're just more convenient. Makita recently introduced the XSR01, a cordless, rear-handle, blade-left circular saw with a compact brushless motor. It's not technically a worm-drive saw, but it's arranged like one, and it uses two 18v batteries, so it has more run time than a conventional cordless saw. I bought one shortly after it was released because to me it seemed like the perfect cordless saw.
Although it's a little heavier than I'd hoped (12 lb. when loaded with a pair of 5-amp/hr. batteries), so far it's been excellent at cutting everything I've thrown at it—composite decking, PT stair stringers, and even steel deck framing. The cutting depth is easy to adjust, the rafter hook is top notch, and a fuel gauge on the top tells you how much battery life remains. I've been very satisfied with this saw and feel no difference in power between it and my corded worm drive. I even think it would be an excellent full-time framing saw.
From Fine Homebuilding #273
Previous:
Compact Blade-Right Circular Saw
Next:
Choosing the Right Framing Nailer