Project Gallery Extra: Magnolia Pavilion
Behind-the-scenes look at the design and construction of this impressive timber-frame pool house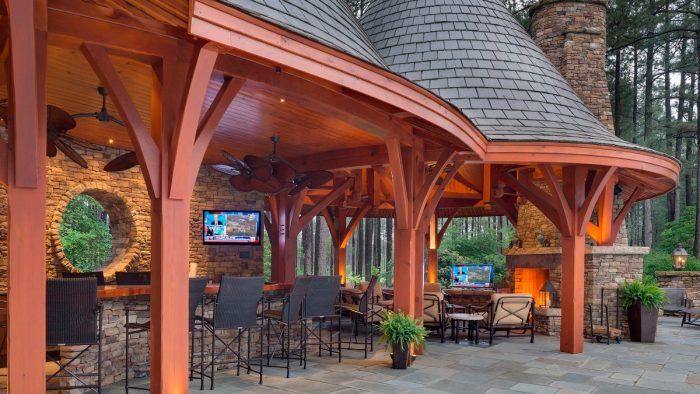 Browse the photos above for a behind-the-scenes look at the design and construction of this impressive timber-frame pool house. The refined details would not have been possible without a cooperative effort by the designers, builders, and homeowners.
Read more about the Magnolia Pavilion in the September 2013 Fine Homebuilding Project Gallery.
Designed by Tony F. Miller of Miller Architecture, construction of the Magnolia pavilion called for the collaborative talents of many people.
Miller's firm and the timber framing firm, Carolina Timberworks, both created their renderings in SketchUp.
The two firms traded their SketchUp files back and forth during the early stages of design.
Construction of the pavilion.
With the design stage complete, Carolina Timberworks began the timber framing in their shop.
Workers in Carolina Timberworks' shop spent 848 man hours to create the timber framing for the pavilion.
When complete, the timbers were labeled and trucked to the site where it took Carolina Timberworks' four-man crew 314 hours to raise the structure.
A sophisticated piping system under the bluestone pavers is used to cool the pavers. This system is also used to heat the pool water when necessary.
Slate tile for the conical rotundas installed by Walker Brown Roofing of Carrboro, NC were cut wider at the bottom and incrementally narrower as the radii of the work decreased.
Due to the height of the metal railings on the two-story water slide, copper finials on the pavilion, and an elevated water spout, special detailing and specifications were incorporated in the design to provide for lightening protection.
A larger than usual firebox with a shallow Rumford-style backing was designed to project heat outward. They heighten the chimney and shaped the damper and flue structure for a good draw under normal weather conditions. Under unusual conditions the flues are designed for a mechanical fan assist when necessary.
This elegant pavilion and pool provide a welcoming location for relaxing stay-cations and the perfect spot for entertaining family and friends.
Previous:
Timber Frame Makeover