Tools & Materials
Breathe Easy With the Right Range Hood
As houses get tighter, proper ventilation is more important than ever.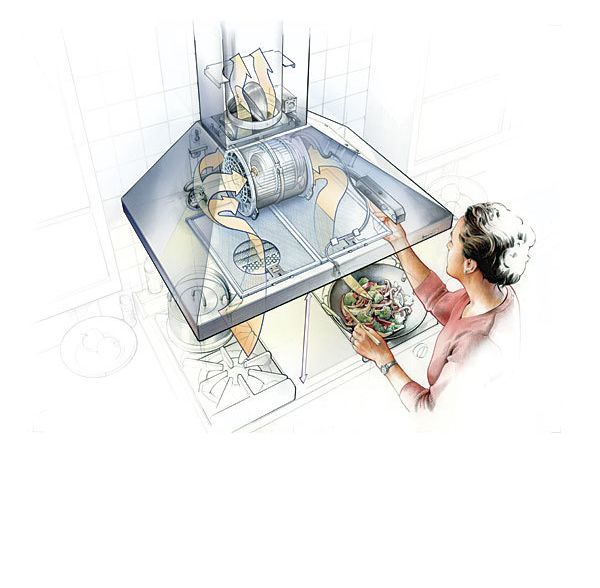 Synopsis: Healthful indoor air requires adequate removal of the moisture, grease particles, and gases produced from cooking—particularly gas cooking. Range-hood manufacturers have responded with models that not only remove these substances from the air, but do so more quietly and with less electricity consumption than ever before. In this article, managing editor Debra Judge Silber takes a look at the range hoods available today and explores how to determine an adequate ventilation capacity for a given cooking surface, as well as how best to ventilate a less-than-ideal kitchen. But even the best range hood in an ideal kitchen must be installed correctly in order to do its job, so the article includes a list of mistakes to avoid during installation. A final sidebar asks if hoods designed with as much attention to style as to efficiency are up to the task.
---
With all the emphasis today on fresh food, you'd think that fresh air in the kitchen would deserve an equal amount of attention. As a rule, though, it doesn't. It's only after the kitchen layout is worked out, the appliances are selected, and much of the budget is earmarked that, well, yes, we realize we ought to do something about the steam, the grease particles, and the unhealthful gases generated by cooking.
According to manufacturer Vent-A-Hood, the average home creates more than a gallon of cooking grease a year, not to mention the added hazard of nitrogen dioxide and carbon monoxide that are emitted from gas appliances. That's a nasty mix of stuff to leave lingering in your kitchen.
The good news is that today's ventilation equipment is up to the job like never before. Daniel Forest, the chairman of the certification committee of the Home Ventilating Institute, which certifies range hoods, says that there has been "substantial improvement" in recent years in range-hood performance in terms of airflow, sound, and consumption of electricity. Still, when it comes to slick designs that push the boundaries of basic concepts—that steam rises, for instance—both range-hood manufacturers and consumers may discover that they need to compensate.
How much ventilation do you need?
Sizing a range hood correctly starts with a benchmark airflow in cubic feet per minute (cfm) based on the cooking appliance to be vented. Designers, manufacturers, and others vary slightly in how they arrive at that figure, but the formula suggested by Brian Wellnitz, Broan's marketing manager for kitchen ventilation, is nearly universal. For conventional gas appliances and all electric cooktops, the benchmark cfm is based on the appliance's width, with each linear foot requiring 100 cfm. The average 30-in. (2.5-ft.) range, then, would require a ventilation capacity in the area of 250 cfm. For larger professional appliances that generate 60,000 Btu or more, the basis becomes 1 cfm for every 100 Btu. Thus, a 90,000-Btu cooktop should be matched with a hood capable of moving 900 cfm.
But considering only the cooking appliance would be a mistake. Wellnitz stresses that the benchmark number is a starting point for a hood of an "appropriate" size that should also take into account the hood design, its position, and the style of cooking done in the kitchen. "It's not just how many Btu," he says. "Do they cook with intensity, or do they cook gently?" If a grill is part of the mix, Wellnitz suggests at least an additional 200 cfm.
And while it's the designer's prerogative to reject the manufacturer's recommendation on how high to mount the hood over the stove—whether it's to provide a better view beneath an island hood or to avoid collisions with the cook's forehead—it's the designer's obligation to balance a higher hood with increased cfm. The rule of thumb here is 100 additional cfm for every 3 in. above the manufacturer's recommended height.
For more photos and details, click the View PDF button below: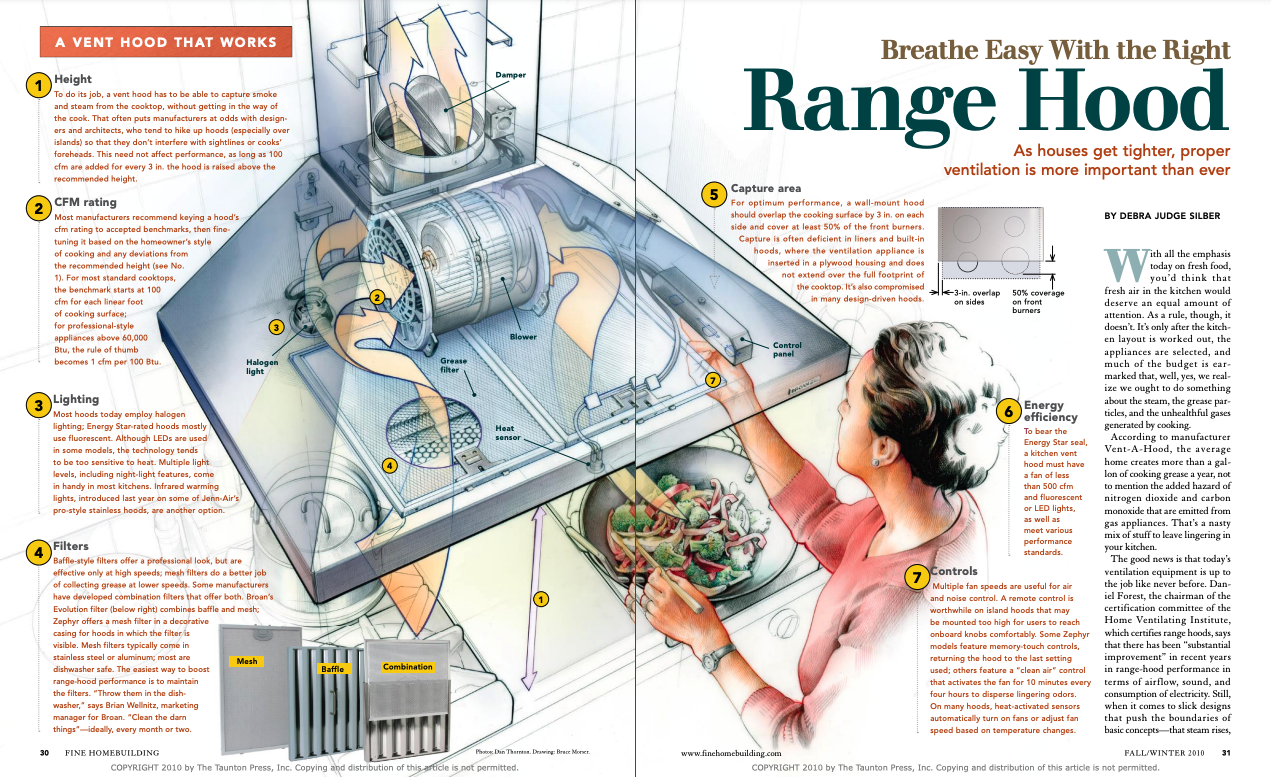 View PDF
Previous:
How to Provide Makeup Air for Range Hoods
Next:
Stylish But Stealthy Range Hood