Stylish But Stealthy Range Hood
Clean lines and retractable controls help the Elica Arezzo range hood strike a balance between standing out and blending in.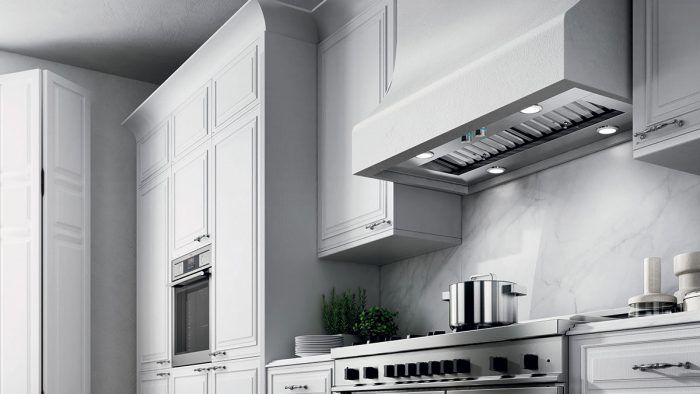 There's a lot going on in the average modern kitchen, so it's refreshing to find a hardworking appliance that's designed to seamlessly blend in instead of fight for attention. Elica's sleek stainless-steel Arezzo range hood accomplishes this in a number of ways. It's an insert-style hood, which means that, unless you duck your head under the cabinet over your stove, you won't even notice it's there. That's almost a shame, because the bold geometric forms of the hood make the intake grille, lights, and control knobs appear to be obvious design elements rather than strictly utilitarian components. Adding to the stealthy look are the pop-out fan knobs, which hide flush with the surface of the hood when not in use. When the exhaust fan is running, you will hardly notice, with decibel levels somewhere between a whisper and moderate white noise at most fan-speed settings. Four models from 28 in. up to 46 in. wide means you can find one that fits just about any size cooktop. With all the attention to fit and finish, functionality is still front and center, with four fan speeds between 380 CFM and 1200 CFM (90 to 600 CFM for the 28-in. model) to cover all cooking conditions, and dishwasher-safe filters and screens for ease of maintenance. Prices range from $890 to $1290.
—R.W.
From Fine Homebuilding #288
More on range hoods:
Makeup Air for Tight Houses – As houses get tighter in order to save energy, makeup air for range hoods and woodstoves becomes a more pressing issue.
Build a Custom Range Hood – Add a distinctive detail to your next kitchen with a curved-hood fan cover.
Breathe Easy With the Right Range Hood – As houses get tighter, proper ventilation is more important than ever.
Previous:
Breathe Easy With the Right Range Hood
Next:
Installing a Range Hood