Tools & Materials
Guide to Countertops: Solid Surface
Solid-surface materials made with acrylic or polyester are lightweight, versatile, and easy to fabricate.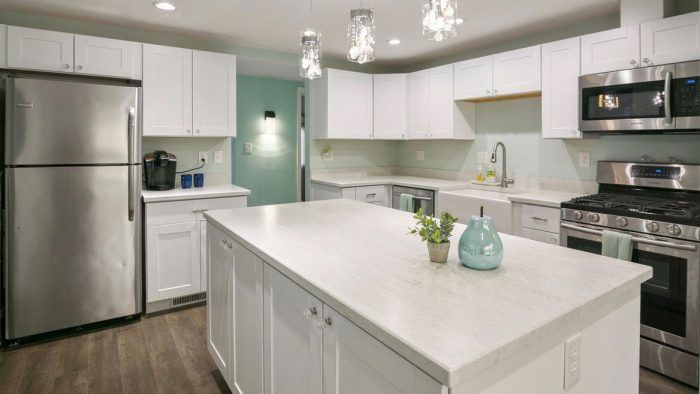 Once popular in kitchens across the country, solid-surface materials by companies like Corian, Hi-Macs, Wilsonart, and Formica (Everform) have fallen on hard times, at least in the residential space. While solid surface is available in an endless array of colors and patterns, it is relatively soft compared to stone and engineered quartz, with a more plasticky look and feel. It's also more heat-sensitive than many of its competitors.
That said, solid surface is easy to repair by sanding and buffing. And it has a number of unique benefits. For one, it's the most lightweight countertop material, making it popular in boats and RVs. And it can be cut and shaped with common tools, letting cabinet-makers and DIYers save money by installing it themselves (*hence the caveat when it comes to price). The workability also means that drain grooves and other features can be routed into it.
---
Solid-surface materials
Price: $$-$$$*
Pros: Moderately priced, stain- and impact-resistant, non-porous and hygienic, low maintenance, wide range of colors and patterns, lightweight, invisible seams, easy repair, DIY-friendly
Cons: Plasticky look and feel, relatively soft and heat-sensitive, scratch- and wear-prone
---
The majority of solid-surface material has an acrylic base (combined with mineral content), so its seams can be chemically fused during installation, making them invisible, and it can be formed for continuous backsplashes, molded sinks, and other features. Repairs are also easy to make, by sanding and buffing.
Speaking of acrylic, most experts recommend acrylic solid-surface material over polyester, with the latter being more brittle and less expensive, with edges that are harder to weld together invisibly. Acrylic countertops are also less prone to fading and discoloration when used outdoors. The four companies listed above all make their solid-surface countertops with an acrylic base. On the other hand, polyester solid-surface material is much less susceptible to damage from solvents like acetone.
Asa Christiana is a contributing editor to Fine Homebuilding magazine
Photos courtesy of Precision Countertops
Previous:
Guide to Countertops: Engineered Quartz
Next:
Guide to Countertops: Wood