Tools & Materials
Guide to Countertops: Laminate
This 20th-century material is a great choice for retro style, cost savings, and custom printing.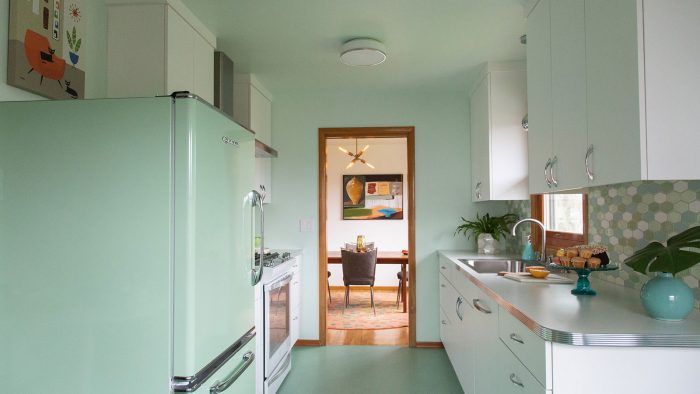 Pushed aside by the latest and greatest countertop materials, laminate is pushing back. While its slightly plasticky look and visible seams are a turnoff to some, a kaleidoscope of new colors and patterns are a playground for savvy designers and a boon for budget-minded customers, adding a sense of fun while cutting thousands of dollars from a typical kitchen remodel. One popular move is combining ruby-red laminate with metal edging for a '50s-diner look.
Durability is much improved over your grandmother's Formica, thanks to tough new aluminum-oxide coatings. And that's a good thing, because a deep scratch will get below the color coat of laminate and expose the contrasting underlayer. New manufacturing technology also allows custom printing on orders large and small, so your favorite team logo, state map, or family photos can be added to your kitchen island, for example, in a much more durable way than placing them under an acrylic sheet. Big manufacturers like Formica and Wilsonart also have huge archives of artistic patterns.
---
Laminate
Price: $-$$$
Pros: Relatively inexpensive, can be edged with metal for vintage style, new products expand design opportunities, easy enough to DIY
Cons: Can be damaged by heat and knives, can look less expensive, seams hard to hide and can allow water penetration
---
While laminate is a waterproof material, it is adhered to a wood substrate that isn't, and water always has the potential to creep in through the seams. The wood substrate means that edges must be covered somehow, by wood, metal, or more laminate, which is why overmount (drop-in) sinks are usually a must. But manufacturers are addressing that problem too.
Karran's Edge Series undermount sinks have a resin lip designed to sit flush with the substrate. A specialized adhesive is applied to the lip before the laminate is applied, completing a waterproof assembly.
Being colorful and inexpensive, laminate is popular for utility spaces. Being relatively easy to apply, trim, and edge, it also offers DIYers a way to fabricate their own countertops and save some cash.
Asa Christiana is a contributing editor to Fine Homebuilding magazine
Photos: Fraley + Company
Previous:
Guide to Countertops: Porcelain
Next:
Guide to Countertops: Engineered Quartz