Tools & Materials
Guide to Countertops: Porcelain
Simulate any material with a tile slab that resists water, heat, stains, and scratches.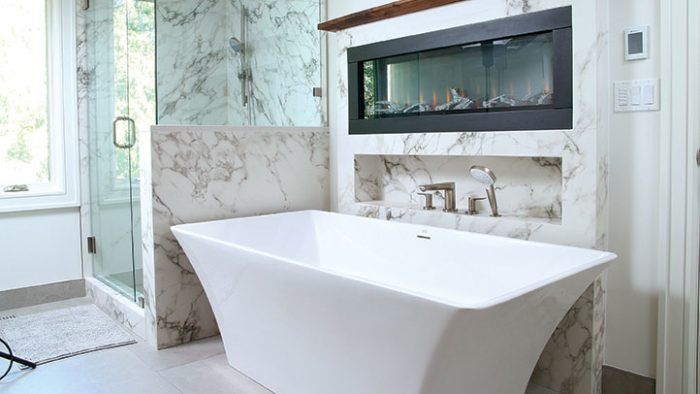 On shower walls and countertops alike, large porcelain-tile slabs are trending. They are harder and more scratch-resistant than any other countertop material, and impervious to heat, water, and stains.
The main difference between today's tile countertops and yesterday's is the size of the tiles themselves. With porcelain slabs available in sizes up to 10 ft. by 5 ft., the old gridwork of dirty grout lines has been replaced by a clean, continuous surface.
The super-tough porcelain itself is a big improvement over ceramic tile, and can mimic almost any material with photo-realistic surface treatments. That makes porcelain an attractive alternative to stone, for example, with a host of advantages over the natural material, including much higher resistance to staining and scratches, with no sealing required.
Compared to today's other trending countertops, porcelain is impervious to heat, and offers better stain and scratch resistance. Porcelain tile is also weatherproof, making it a great choice for outdoor kitchens, where engineered quartz can fade and yellow.
The material is not without its downsides, however. Being tile, it is thin compared to other countertop materials, and its photo-realistic patterns are only printed on the surface. That said, as porcelain expands its share of the countertop market, manufacturers are addressing both issues with new manufacturing techniques.
---
Porcelain slabs
Price: $$$-$$$$
Pros: Waterproof, heatproof, and scratch-resistant; zero-maintenance; photo-realistic surface treatments simulate any material
Cons: Pricey (for now), unfamiliar to some installers, image only surface-deep, can be prone to chipping and hard to repair
---
Porcelain slabs come in a variety of thicknesses, from the 6-mm size used for shower walls and floors to thicker sizes used for countertops—12 mm (roughly 1/2 in.), 2 cm (roughly 3/4 in.), and 3 cm (1-3/16 in.)—by special order, with a 20% to 30% price bump as thickness increases.
To turn these into countertops, installers use two approaches, each with its own pros and cons.
The most common approach is wrap the thin slabs around a substrate for support, with tight miter joints at the edges, held together with epoxy grout. This allows for countertops with a thick, built-up edge, with the surface treatment wrapped over them to complete the illusion of solid stone, or whatever material the slab is mimicking. The mitered edges are relatively brittle, however, and can be prone to chipping from a dropped pot or errant coffee cup.
The other approach is to use the thicker slabs, and let them simply overhang the cabinets like any other countertop. Thicker slabs are obviously stronger, which is especially important on unsupported overhangs. Popular in Europe, where porcelain is better established as a countertop material, this low-profile look appears sleek and unexpected in North America. And the squared edge is less prone to chipping than a mitered joint.
The downside, however, is that the exposed edge does not look exactly like the printed surface, though the contrast is minimal with white patterns like marble. To address this disadvantage, major manufacturers are beginning to offer slabs with "through-body" color, which matches the main color of the surface treatment. Consistent color is also an advantage if the surface or edge is chipped slightly, helping to hide the damage.
If you plan to overhang your porcelain slabs for the low-profile look, make sure the installer shows you a sample, so you can see how the edge contrasts with the surface. Also, since, porcelain is still a relatively new option in the U.S countertop market, be sure your installer is skilled and experienced with the material.
As porcelain expands its foothold in the U.S., experts expect prices to drop steadily, and new manufacturing methods to address its downsides, making this material even more attractive to North American contractors and their clients.
Asa Christiana is a contributing editor to Fine Homebuilding magazine.
Previous:
Guide to Countertops: Stainless Steel
Next:
Guide to Countertops: Laminate