Tools & Materials
Guide to Countertops: Stainless Steel
Impervious to heat and stains, this commercial work surface adds an industrial touch.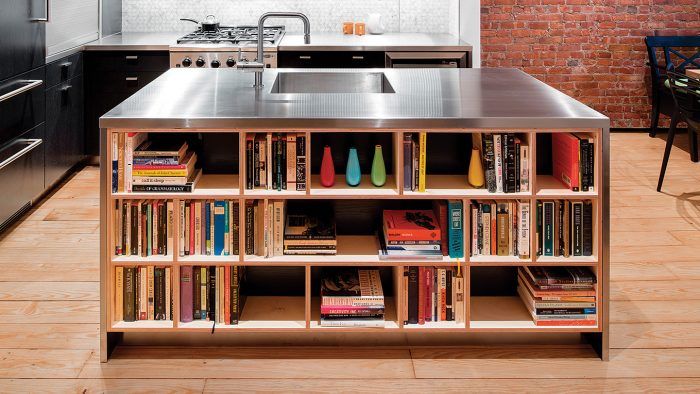 In terms of pure functionality, it's hard to beat stainless steel. You can place hot pots and pans on it, spill anything with no fear of staining, and clean it with any mild detergent. Nonporous, stainless steel is also anti-bacterial. For all these reasons, stainless steel is the preferred work surface for restaurants and industrial kitchens around the world.
Stainless steel has an unmistakably industrial look, just the thing for some homeowners and a turnoff to others. Most designers recommend using stainless steel like wood, as an accent surface, blended with other countertop materials. Still, they encounter the occasional customer who wants every countertop formed from this malleable material.
Although stainless steel is usually simply bent around a wood substrate, with the corners welded closed to create a seamless slab, sinks, backsplashes, and other features can be integrated into a continuous surface.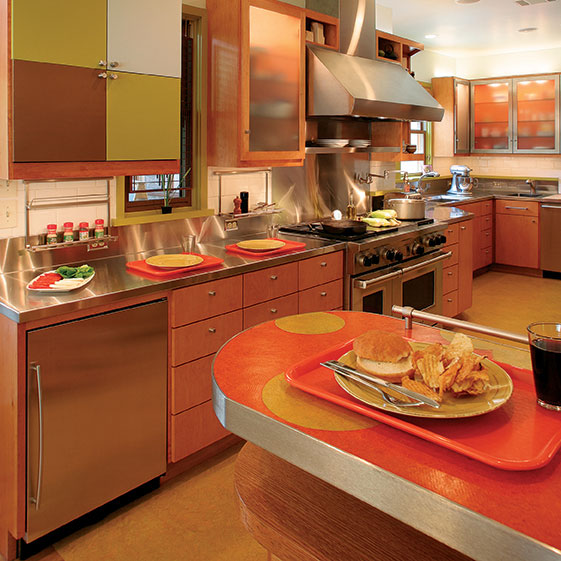 What makes the steel "stainless" is a variety of additives, which also make it softer than other types of steel, and therefore more prone to scratching and denting. The best stainless steel for kitchen use is type 304, which is designed for food preparation. To minimize denting, look for a thickness of 16-ga. or lower (lower gauges are thicker), and make sure it is wrapped tightly over a thick wood substrate, either by the factory or your local fabricator.
As for scratching, the best approach is to live with the patina of age and use. Over time, the scratches and scuffs will blend together into a familiar burnished look. While a power-buffer can be used to return the surface to its initial shine, you'll need to repeat that process many times over to keep your stainless-steel surfaces looking new.
Stainless steel is available in a variety of polished, burnished, and hammered finishes, giving you many ways to use it as a beautiful accent. That said, a "brushed" finish is the most popular, doing the best job hiding and blending scuffs and scratches.
---
Stainless steel
Price: $$-$$$
Pros: Antibacterial; water-, heat- and stainproof; low-maintenance; industrial look
Cons: Prone to scratches and dents; industrial look
---
Portland, Ore., interior designer Joel Fraley remembers a full set of stainless-steel kitchen countertops that he drew up for the home of professional cook. Like other designers, however, he most often uses it as an industrial accent—making the industrial look both a pro and a con of this material. Popular spots include the top of an island or the surfaces around a stove, making grease easy to clean. Making full use of its unique properties, Fraley likes to stick magnetic spice jars to the surface.
Although copper and brass are also occasionally used for accent surfaces, often with a hammered finish, these metals are softer than stainless steel, and more prone to scratches and dents. Still they can add a very distinct look and feel to a kitchen, if you embrace the patina of age and use.
—Asa Christiana is a contributing editor to Fine Homebuilding
Main image: Jeffrey Tryon

Previous:
Guide to Countertops: Natural Stone
Next:
Guide to Countertops: Porcelain