Design
Old-World Honesty: Modern Remodel of a French-Tudor Home
A strategic layout and choice materials transform a dated kitchen into a highly functional and social space.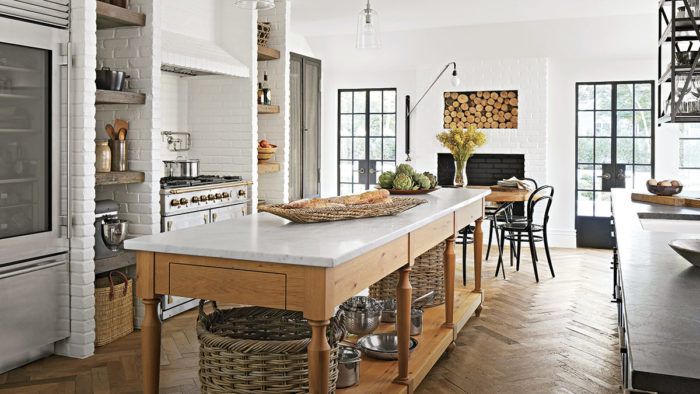 Synopsis: Interior designer Summer Thornton describes a kitchen and bath remodel in a French Tudor-style house. By bringing the screened-in porch into the house as conditioned space and getting rid of the separate pantry, she was able to tie the kitchen's work zone to the social zone and add more space to enjoy views. The addition of a French range in painted brick and brass-plated steel angle frames set into the walnut doors and drawers are particularly eye-catching features of the new kitchen. The dated master bath was made more modern by using the slanted ceiling as an architectural feature, with wood on the outside of the shower enclosure and tile on the shower ceiling. The article includes detailed floor plans of the remodeled kitchen.
---
For years, our client Neil had driven past the French Tudor-style house in Bloomington, Illinois, that he now calls home. Its storybook charm wooed him, and he longed to see the interiors. When he had the chance to purchase it, he jumped at the opportunity, only to discover that it hadn't been updated in over 20 years. Far from dissuaded, he brought my firm, Summer Thornton Design, on board to help realize the place's potential. Neil enjoys renovating homes as a hobby. He had done two already, both of which he sold for a profit. But this property was different. Given how long he had fantasized about owning it—and the fact that it was to be his forever home—he wanted it to be something special. And the kitchen design was paramount.
Establishing flow
The existing kitchen was dark and closed off, and had an odd butler's-pantry area with no natural light. Plus, in order to get to the screened-in porch or to the backyard, you had to cut through the kitchen. Without some major reworking of the layout, it would feel choppy and tight. We gave a great deal of thought to how to open things up, and ultimately decided to bring the screened-in porch into the house as conditioned space. We also opted to get rid of the separate pantry altogether, and instead built a custom metal cabinet for storing dry goods and a microwave. Enclosing the porch completely transformed the kitchen—it afforded us the space for a breakfast table and a large fireplace, and now the room is brimming with natural light.
See more photos of this kitchen.
---
To view the entire article, please click the View PDF button below.
View PDF
Previous:
An Elegant New Kitchen in a Narrow Old Space
Next:
Asian-Inspired Kitchen and Bathroom Remodel in a Craftsman Bungalow