How-To
A Rustic Kitchen Island
Learn how to use rough-sawn timbers and traditional joinery to fabricate sturdy, beautiful supports for a cantilevered kitchen-island countertop.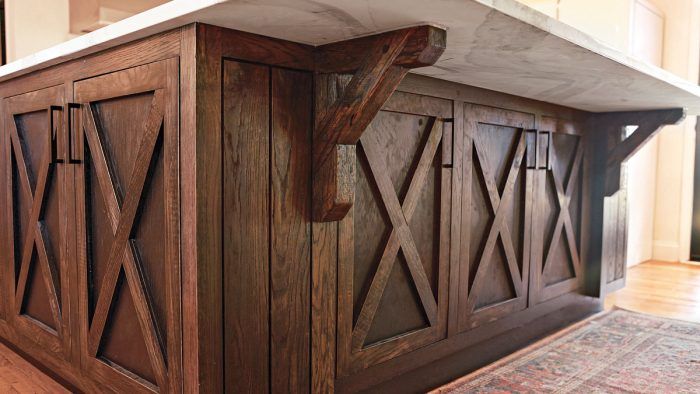 Synopsis: Woodworker Peter Polcyn describes the creation of two barn-style brackets made of scrapwood for a kitchen island. Detailed drawings show the three bracket pieces and how they are assembled with wooden pegs and half-lap joinery. Polcyn then walks through the process of cutting and fitting the pieces and finishing the brackets with a distressed look to fit the new kitchen's rustic aesthetic.
---
I was hired by clients looking to update their kitchen to a more rustic farmhouse/barn aesthetic. In my original design, the featured white-oak island included posts to support the countertop overhang. We later decided posts were impractical, impeding legroom, so I suggested replacing them with two sturdy, rustic brackets.
I didn't have any reclaimed stock on hand, but the next time I was at my materials supply house, my eye caught some white-oak timbers used to separate stacks of material. They were rough-sawn, about 3 in. by 3 in., and aged beautifully from being kicked around the warehouse—I thought, "you just can't fake that." So I grabbed a few, along with my order, and was on my way.
Back at my shop, I toyed around with some ideas and landed on a simple design for rustic brackets that would have looked right at home in a barn a hundred years ago. They're held together with wooden pegs and half-lap joinery. Technically, making them was as simple as the design, but I did find sequencing was important. My tendency is always to measure out and mark all the pieces at the start of a project, but with the uneven nature of this material, I found cutting and fitting individual joints was best.
From Fine Homebuilding #293
To view the entire article, please click the View PDF button below.
Plus, watch the companion video:
How to Design and Assemble Rustic Oak Kitchen Island Brackets
More about traditional joinery
Timber-Frame Joinery – Learn a traditional timber-frame technique for cutting a double-bladed scarf joint.
21st-Century Timber Framing – A mix of modern and traditional methods of joinery and assembly creates an engineered timber frame that goes up fast.
Build a Craftsman-style Pergola – Durable materials and strong joinery mean this great-looking gateway will be around for a long time
View PDF
Previous:
How to Build a Kitchen Island
Next:
How to Design and Assemble Rustic Oak Kitchen-Island Brackets