How-To
Three Reasons We Vented the FHB House Roof
Here's why: to minimize the risk of ice dams, to keep the roof sheathing dry, and to extend the lifespan of the roofing.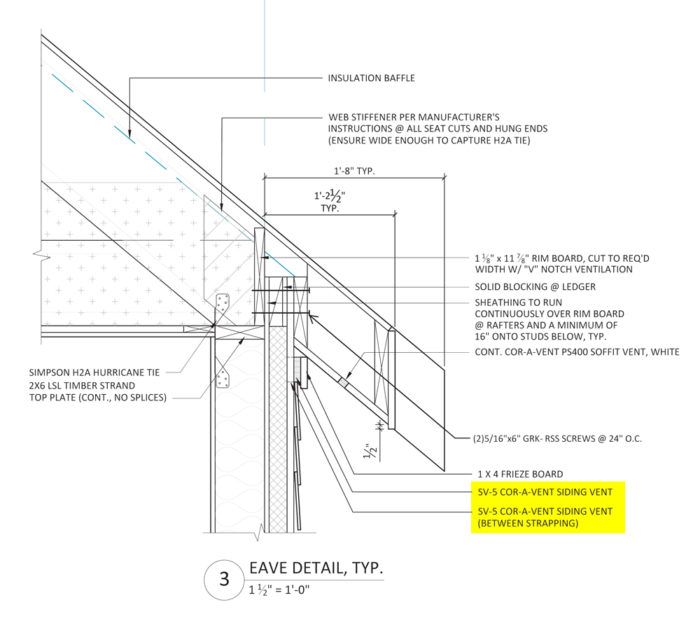 In places where it snows, a vented roof usually makes sense. Rhode Island, where the 2016 FHB House was built, is just such a place.
Click here to enlarge the illustration above
The alternative to a vented roof is an unvented, or "hot" roof. There can be good reasons to use an unvented roof assembly, even in snow country, but as a rule—and for the FHB House—we choose to use a vented roof for a more forgiving assembly. Here are three reasons why:
Venting minimizes ice dams, by keeping the roof deck cold. Most ice dams occur due to heat loss from the house. Snow has decent insulating value, up to R-2 per inch. Even with an insulated roof, enough snow pack can capture the heat escaping from the house, melting show and leading to ice dams. Venting keeps the roof deck cold enough to prevent snow from melting, limiting ice dam formation.

Snowpack ice dam (GBA image)

Venting keeps roof sheathing dry. There is continual discussion about roof sheathing permeability, underlayment permeability, felt paper vs. synthetic vs. no roofing underlayment, and whether moisture will be trapped against the roof deck. In a vented roof, none of it matters much, because all common roofing coverings—including asphalt shingles—are vapor-impermeable. (The exceptions, wood shakes, wood shingles and clay tiles, are not common these days, and they have their own rules for durable assemblies.) Moisture that gets through the roof sheathing is essentially going to be blocked from drying to the outside. There are plenty of ways to deal with that fact in an unvented roof, and making the ceiling plane airtight is important in all assemblies. The simple and forgiving approach is to just vent the moist air away.

Roof venting (Not the FHB House. FHB image)

Roofing life span. High heat bakes off the plasticizers in the roof shingles, leading to a somewhat reduced life span for the shingles. The difference is not huge; I've heard estimates of a 5-10% reduction in shingle life span, and most reports say that shingle color has a much larger effect on shingle temperature. I don't consider this a deal-breaker if an unvented roof makes sense for other reasons, but all things considered, why not optimize performance? I saw a good example of this phenomenon a few years ago on a log home on a Maine lake. It had a 12:12 roof slope facing directly south. The roof was insulated (with fiberglass batts) and had rafter vents, but it was clear that the shingles along the eave and ridge were in much better condition than those closer to the center of the rafter span. The only explanation I could find was that those shingles were farther from the soffit and ridge vents, and thus they got hotter under the summer sun.

Worn-out roofing on house with cathedral ceiling

Cathedral ceiling with new roofing
Previous:
Attic-Ventilation Strategies
Next:
Should I Close My Attic Gable Vents?