How-To
When Is It Time to Reroof?
Look for these telltale signs of asphalt-shingle failure...and weigh up your options for reroofing.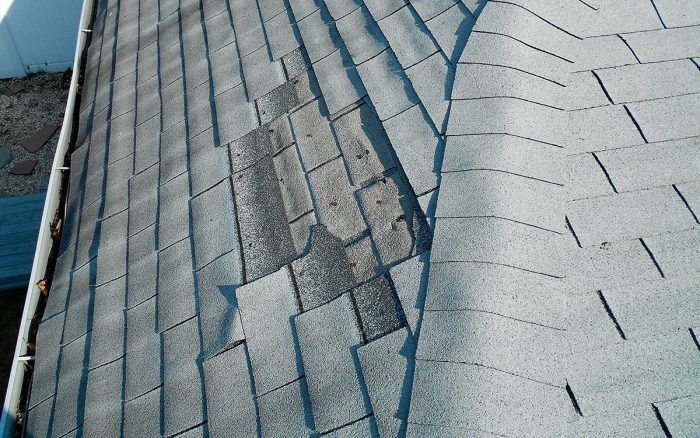 Q:
My 30-year asphalt roofing shingles are coming close to the end of their rated life. The roof doesn't have any leaks or other obvious problems, so I'm not sure whether to have it reshingled. What does a roofer look for when deciding whether it's time for new shingles? If it's time to replace them, does it make sense to pay the extra for lifetime shingles?
Brian C., None
A:
In addition to leaks, there are a few signs that shingles need to be replaced. Blown-off shingles don't always indicate impending failure, but if they're blowing off under less-than-extreme weather conditions, it's often a sign of aging and brittleness. We also look at the shingles' granule coating, which not only gives the shingles their color but protects against UV damage. Some granule loss is typical of aging shingles, but excessive granule loss leaves bald patches, which cause the shingles to dry out rapidly and split. You also want to watch out for curling and lifting, both indicators that the shingles are drying out.
If your shingles are shot, you have two options: a reroof (new shingles installed over the old) or a full replacement (stripping down the roof to the sheathing and installing new roofing). Reroofing is acceptable as long as there is only one layer of shingles and none of them are lifting or curling. If there are two or more layers, or if the single existing layer is curling, lifting, or otherwise unsound, then a reroof is needed.
We have found that a reroof reduces the life span of new shingles by 20% to 40%. This dramatically decreased life span is a result of the original roof shingles not being as good a substrate as the underlying sheathing. Compared to underlayment over wood sheathing, the old shingles are an uneven surface. This means that the new shingles don't sit as flat, making them more susceptible to movement and blow off. Over time, the subtle bends created in the new shingles are the first places to develop cracks. Also, fastening through the old shingles reduces the pullout resistance of the nails. While manufacturers don't come right out and say that reroofs don't last as long, they make the point in a roundabout way because their watertight warranties apply only to new installations and full replacements, not reroofs.
As for shingle life, it's worth noting that GAF, the largest shingle manufacturer in North America, now offers a lifetime limited warranty for all of its architectural shingles. To me, this is more of a marketing when is it time to reroof? ploy than a new expectation of long life, but it does reinforce that the gap between different grades of shingles has been steadily closing.
Labor is likely to be the same regardless of shingle grade, so I would go for the highest grade of shingle you can afford. The difference in price is likely to be minimal, and the increased thickness and weight of premium shingles make them more resistant to high winds.
Next:
Evaluating the State of the Roof