Site-Built Shingle Cutter
Made from scrap materials, a shingle cutter can save time when you have to cut lots of starter strips for roof rake edges.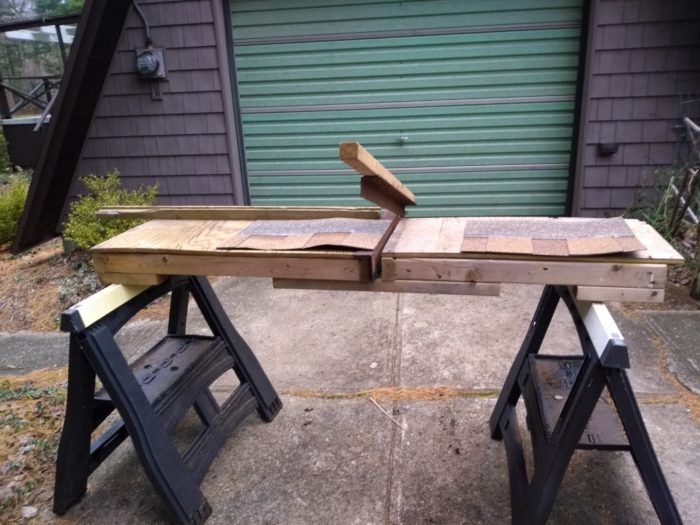 My regular shingle cutter is out on loan so I made a simple one out of wood scraps and a piece of angle iron (actually a bed frame I found in someone's trash).  It took about 45 min. to make and has saved much more than that amount of time on one job compared to cutting shingles with a knife. Plus the crosscuts are perfectly square.
There are a few commercially available cutters but they can be pricey and may not be worth the investment if you don't do roofing all the time.  [see manufacturer list below]
There are several good YouTube videos of custom fabricated shingle cutters that are slick and put mine to shame. Still, this one is serviceable and most importantly cuts square and clean.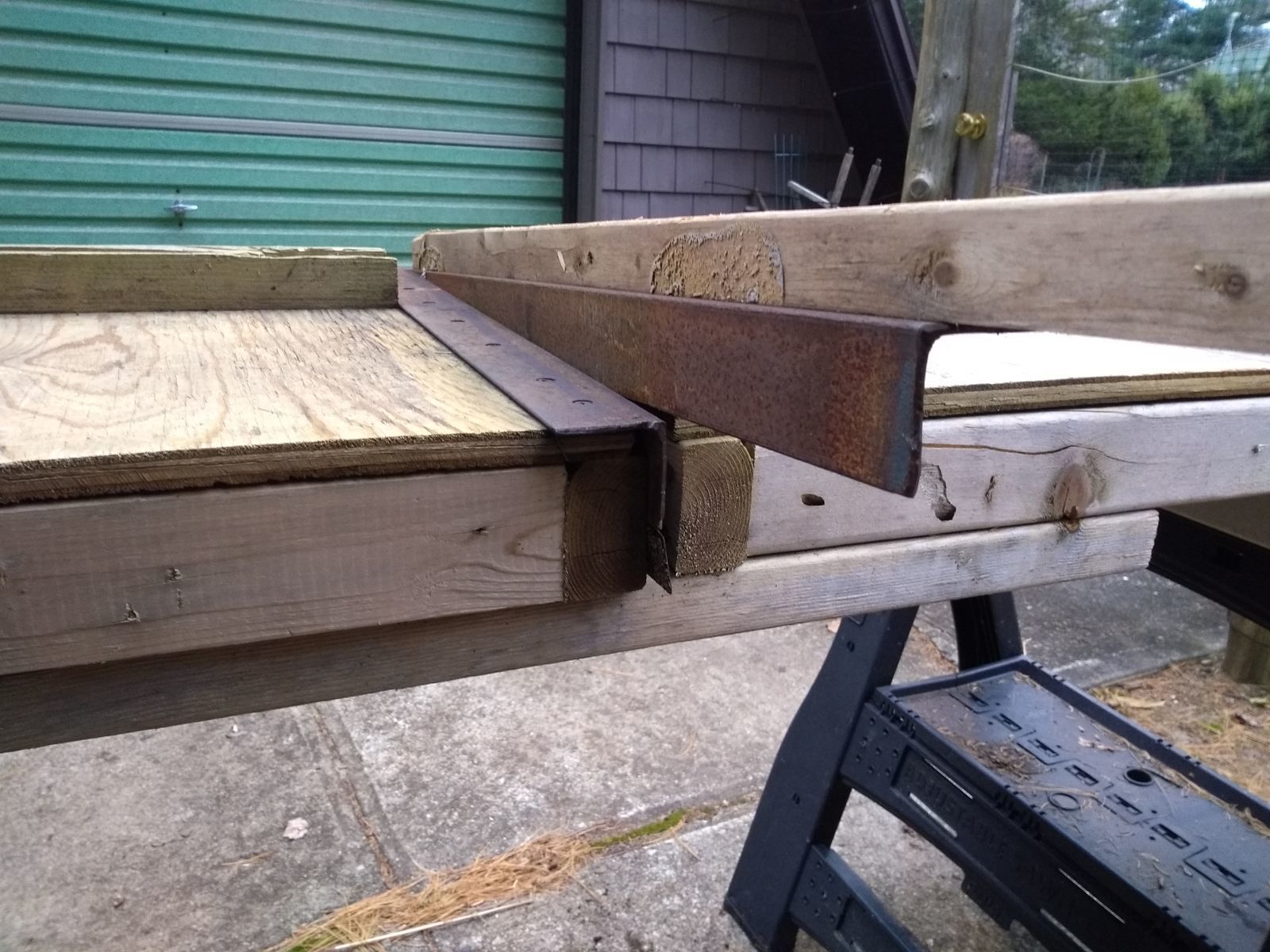 The base is two boxes made from 2x3s each about 2 ft. long with a 1 in. space between them and fastened to 2 – 2x on the bottom and capped with some pieces of plywood. The cutter is a 2 ft. long piece of angle with a 3 ft. long 2×2 handle screwed on top.   The cutter is sharpened at a 45 degree angle on a bench grinder (an angle grinder would work too). The base piece is another piece of angle screwed to the left box and it extends about a foot behind the box frame. A drilled hole in the rear of the angles is the hinge point.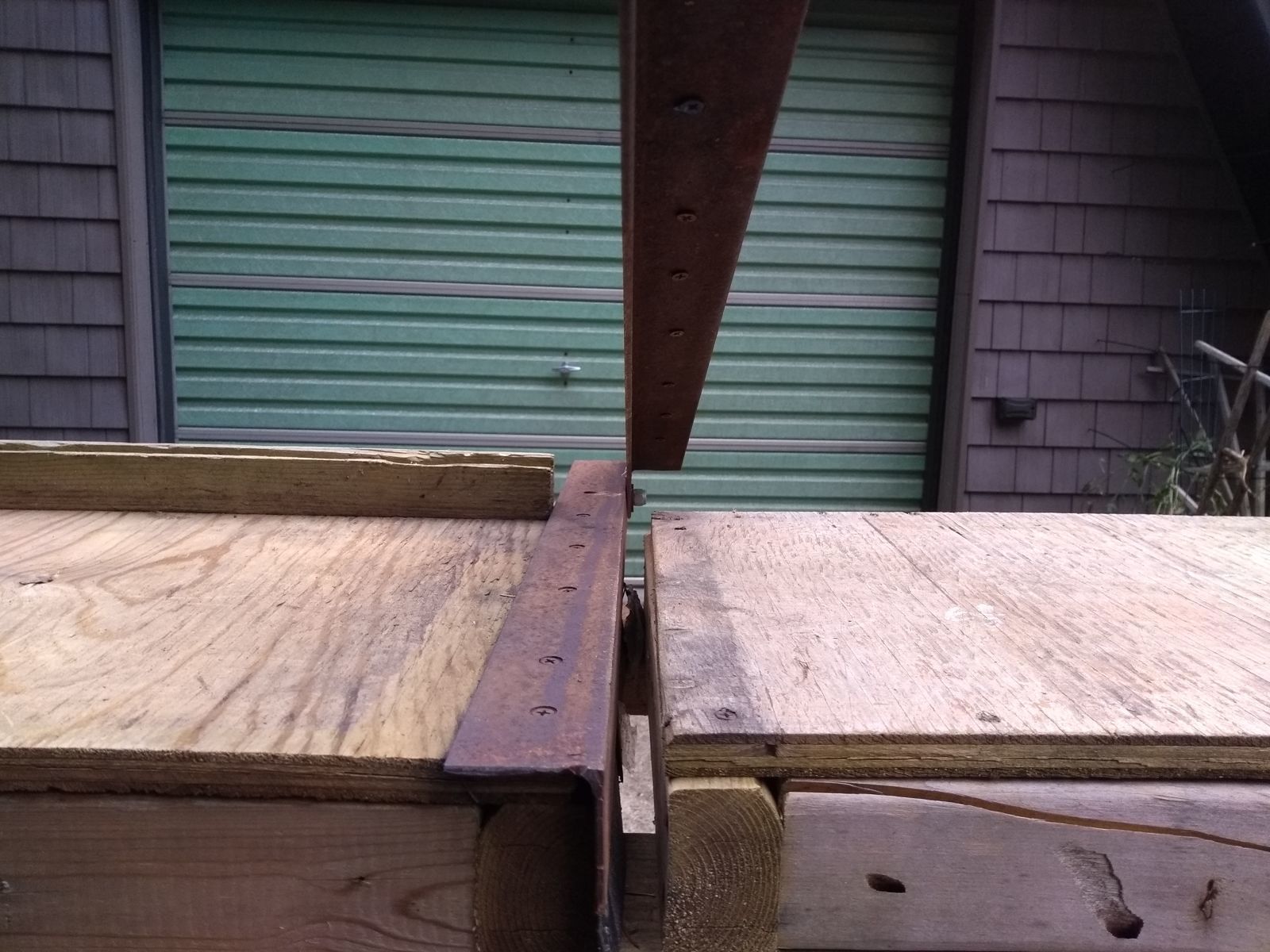 We marked out the shingle manufacturer offset cuts for starter shingles on the right side of the cut table for quick reference when cutting.  The 2×3 backstop on the left side is square to the cutter.
Manufactured shingle cutters:
www.mikeguertin.com   IG / @mike_guertin
More ideas for cutting asphalt roofing shingles:
Previous:
Throw Away Your Hammer Stapler and Get a Pneumatic Cap Fastener
Next:
Build a Simple Shingle-Cutting Bench from Scrap Wood