Choosing New Asphalt Roof Shingles
Style and color aren't the only choices to make—you should also consider construction, lifespan, stain resistance, and more.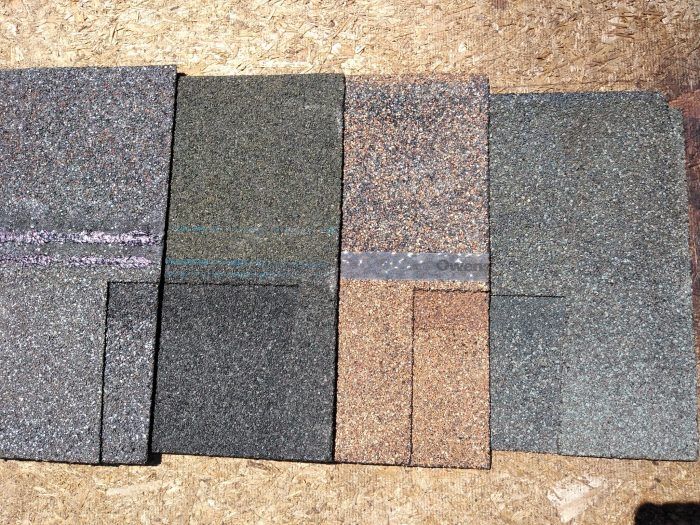 Asphalt roof shingles have been around for over 100 years and dominate the residential roofing market. When I started installing roofs forty years ago, a standard shingle was a three-tab style expected to last 15 to 20 years, and the main decision for homeowners was selecting between a handful of colors. Modern asphalt shingles are available in several styles and thicknesses, with different colors and color shading, lifespan warranties, and several other features as well as a range of prices.
Shingle Style / Type:
Laminated Shingles (AKA "architectural shinles" or "dimensional shingles") were only used on the most expensive homes we built in the '80s, but have since come to dominate the market. Standard laminated shingles are made with two layers that have a random three-dimensional pattern. They are easy to lay out and install since there's no vertical orientation pattern to follow. You can use fall-off pieces from previous courses so there's little waste on many roofs. All major shingle manufacturers offer two or more versions of laminated shingles with differentiating features.
3-Tab Shingles are still available and some homeowners like the style. They are single-layer with cutouts that form vertical lines up the roof that mimic roofing slate but without the depth. It takes more skill to lay out 3-tab shingles and to maintain straight alignment of the cutouts than it does to install random laminated shingles. Prices for 3-tab shingles are just a little less than for basic laminated shingles and the warranties are generally for shorter periods. Major shingle manufacturers still offer 3-tab style shingles.
Premium Laminated Shingles have two, three, or more layers and/or thicker layers that show greater dimensional definition. Some have random-tab/tooth patterns and others have uniform tabs. Many of these come at a premium price, but for showcase roof exposures these shingles offer design features that ordinary laminated shingles don't. The designs of premium laminated shingles are unique to each manufacturer.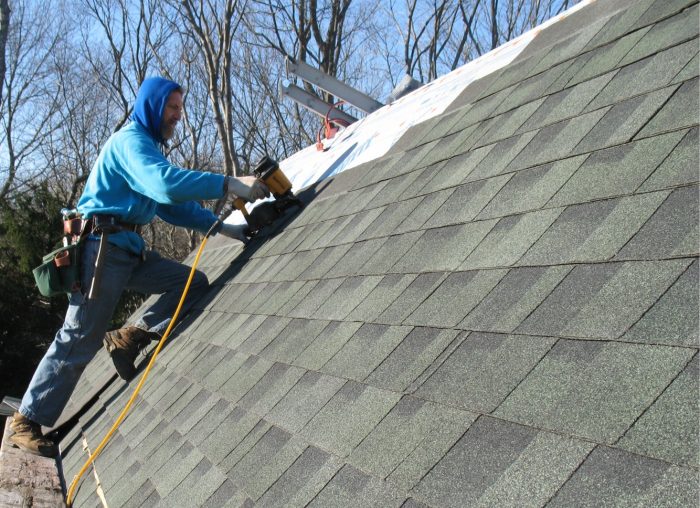 Color:
Shingle color can be solid but most shingles have a blend of different-colored granules mixed together and spread across the shingle faces. Shading effects are created by concentrating darker granules to emphasize three-dimensional characteristics and the edges of the tabs and cutouts. It's hard to get a true sense of shingle color by looking at a photograph or a small sample. If shingle color is important to you, I recommend buying a bundle of each of the colored shingles you are considering and place several of the shingles from each bundle on the roof surface so you can get a better sense of how the colors will look in place.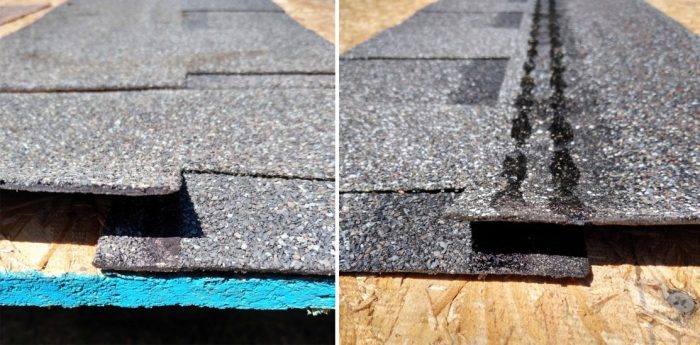 Construction:
Even most roofers don't consider how different brands and models of shingles are built. All major shingle brands perform well, but if you're in a high-wind area or you like the characteristic of how pliable or stiff a shingle is when installing it, you may want to look a little closer. Laminated shingles have an overlap area (referred to as the "common bond" or the "bond" area) where the two layers join in the middle along the nail line. Most shingle brands have 5/8-in.- to 3/4-in.-wide bond areas and a couple have 1-1/2-in. or greater bond areas. Ideally the nails should go through both layers of the shingle when installing in wind zones so the shingles with a narrow bond area have a narrow nail target.
Some brands have modified asphalt that makes the shingles more pliable in cold weather. Others have wider or double rows of heat-activated self-seal strips.
Algae-Stain Resistance:
For a slight premium, you can purchase shingles that resist algae stains which are dark streaks or patches on the shingles. Algae stains don't deteriorate the shingles but the discoloration can be noticeable. Metal granules mixed into the color granules inhibit growth but they don't last forever. Eventually, they corrode and no longer offer protection. The manufacturer-listed 10-year to 15-year resistance may have further limitations in some parts of the country.
Wind Resistance:
When you're in a high-wind zone, you want to make sure your roofing stays put when a storm hits. There are performance features built into shingles between the asphalt, base material, bond area, nailing area and any reinforcement, and self-sealing strip that work together to help shingles remain intact. Look for an ASTM D7158 shingle wind rating of H that resist up to 150-mph wind. And there are things you can do when installing shingles to give them a little extra help when roofing in high-wind zones.
Warranty:
Read the fine print to understand just what the marquee headline in the brochure means. Whether it's a 40-year, 50-year, or lifetime warranty, most have pro-rated limits for what they cover.
Price:
Cost is always a factor when making a choice. Usually shingle brands and colors that are regularly stocked by a local dealer will be less expensive than special-order shingles. Survey local dealers to see what brands are stocked and ask what the charges are when ordering non-stock shingles. Some brands may cost less in one area than in another based on shipping cost from the manufacturing facility to the distributor.
Shingle Manufacturers:
There are quite a few companies that produce asphalt roofing shingles. Here's a list of well-known manufactures.
---
Check out all the articles in this series at Installing an Asphalt-Shingle Roof

Next:
How to Estimate Materials for Roofing Projects