Selecting Your Roof Underlayment
Tar paper is still a good option, but synthetic underlayment may suit your reroof project better.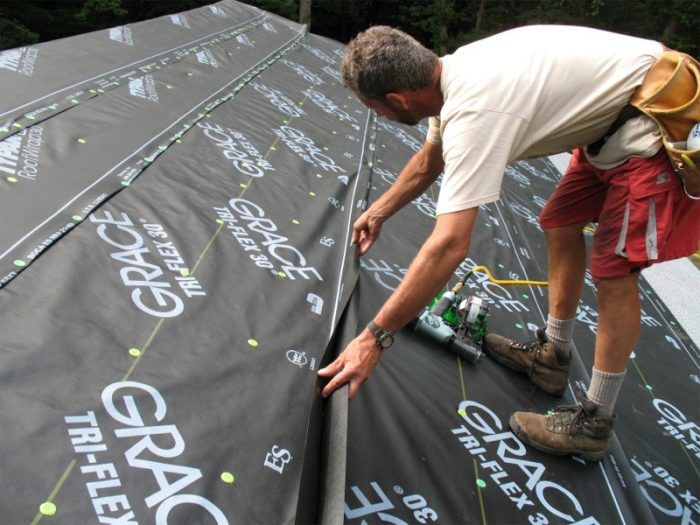 Whether you're installing a roof on a new project or replacing an old worn-out roof, roof underlayment is installed over the roof sheathing before shingles get installed. You can use old-fashioned tar paper, premium tar paper with fiberglass in the base material, or a plastic synthetic underlayment. Or if you're shingling a new house that has ZIP System sheathing, then you may not need a separate underlayment.
Before examining the underlayment options, let's look at the functions roof underlayment serves.
1) It acts as a second layer of water-resistant material under the roof shingles that can drain water in the event that wind-driven rain is blown between shingles above the top lap, should the shingles be damaged or the installation leak. You could argue that once the roof shingles are installed with 10,000 nails, that each one is a hole in the underlayment; and if the shingles are damaged or blown off, what's the likelihood that the underlayment remains in place?
2) It can provide temporary waterproofing after stripping off the old shingles and before the new shingles are installed. When you strip the old shingles off the roof, the house is exposed to rain and snow until you can apply the new shingles. Underlayment is quick to install and does a good job at keeping water out.
3) It isolates the shingles from resin pockets (sap) in lumber sheathing planks. This isn't a common function today where most homes are sheathed or re-sheathed with plywood or OSB panels.
4) To meet a Class-A fire rating, many shingles need underlayment over the roof sheathing before the shingles are installed.
5) It's a requirement—the International Residential Code (IRC) and building standards require an underlayment under asphalt roof shingles. The standards are outlined by the Asphalt Roofing Manufacturers Association (ARMA) Residential Roofing Manual and the National Roofing Contractors Association (NRCA) Roofing Manual. Plus, most asphalt-shingle manufacturers' instructions require underlayment.
Tar paper: the traditional standard and a premium alternative roof underlayment
Tar paper, roofing felt, roofing underlayment, felt underlayment, felt—it's known by many terms. This traditional roof underlayment has been successfully used for over 100 years. It's the minimum required by the IRC and manufacturers—#15 tar paper meeting an industry manufacturing standard (ASTM D226 or D4869 or D6757). If your house is in a high-wind zone, then the code and manufacturers require #30 tar paper. On the plus side, tar paper is inexpensive and does the job. #15 costs about $5 per 100 sq. ft. and #30 costs about $10 per 100 sq. ft. It works fine at keeping water out temporarily and as the second layer of protection under roof shingles.
On the downside, tar paper can expand a little after installation if it gets damp due to rain or dew. And when it expands, it will buckle up a little between fasteners. The buckles may prevent the shingles from lying flat when they're installed and a hump may telegraph through to the surface of the shingles. Tar paper is prone to being blown off a roof if it isn't fastened adequately and wind lifts up a loose edge.
The IRC doesn't get specific on how tar paper should be installed—it only requires that it be "fastened sufficiently to hold in place." Roofing nails, staples, and fly paper could all do the job. This is a performance requirement, so you have to judge what is "sufficient" for the conditions when you're installing the roof. In windy conditions when the roof shingles won't be installed for several days, you may want to install cap nails spaced closely. In calm conditions when the shingles will be installed shortly after laying down the tar paper, a few hammer-tacker staples may be enough to "sufficiently hold in place."
An upgrade to traditional tar paper is premium tar paper that has reinforcing fiberglass in the felt mat. It's less prone to expansion and buckling when it gets wet and less prone to tearing. The reinforcement comes at a price premium— the#15 equivalent costs three to four times as much as regular tar paper and $15 to $20 per 100 sq. ft.
Synthetic roof underlayment: benefits at a price
Plastic roof underlayments were first introduced in the early 2000s. Now there are dozens of brands available and they all promote their benefits over tar paper.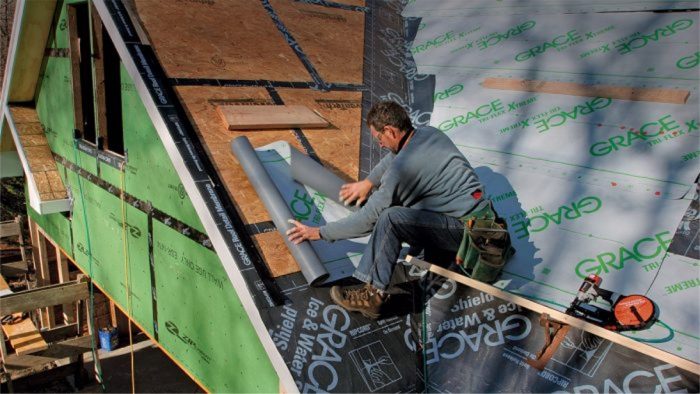 They're thinner and lighter than tar paper, so you get more roof covered from a roll of the same size and weight. Manufacturers claim this translates into labor savings.
They're more flexible at cold temperatures than tar paper.
Many are light colored, so they're cooler on a hot, sunny day.
Despite being thinner, they're tougher and less prone to tearing during installation and when walked on, and they resist being blown off a roof if properly fastened.
Synthetics lay flatter on the roof. They do expand and contract so wrinkles may form, but they compress when the shingles are installed and usually don't telegraph humps through the surface.
Manufacturers designed their synthetic underlayment to be more slip-resistant than tar paper even when wet.
It's unlikely that you'll strip off the old shingles, install underlayment to keep the house dry, and then wait months to install new shingles, but if that's your plan, you may want to select a synthetic with longer UV-exposure time. All synthetics can be left exposed for at least 60 days and some up to a year.
There's a wide price range for synthetic underlayments. You can find some as low as $8 per 100 sq. ft. and others are almost $20 per 100 sq. ft. The main difference I can see between them is the thickness. And some of the premium synthetics are primarily intended to be used under tile or slate roofs where there's a higher chance water will get underneath.
There are a few things to know about synthetic roof-underlayment use and installation that the manufacturers don't usually point out in the glossy brochure.
1) Synthetic underlayments are not yet listed in the IRC as an underlayment. This will change over the next few years with the new ASTM D8257 standard for synthetic underlayments to be tested and qualified. Until then, it's up to the local building official to approve their use. In general, most building officials will allow you to use synthetic underlayment based on the manufacturer's evaluation report demonstrating equivalence to ordinary tar paper, but check with the local building department to make sure. And look for synthetic underlayments that have passed the ASTM D8257 standard.
2) Almost all synthetic underlayment must be installed with cap nails or cap staples. And since these are "alternative materials" in the eye of the building code, you must install them according to the manufacturer's instructions and evaluation report in order to comply with the building code.
3) Some roof-shingle manufacturers offer extended warranty coverage if you use their brand of synthetic underlayment.
4) Most synthetic roof underlayments are vapor impermeable and a few are vapor permeable. For the most part, the difference won't matter when either is used under asphalt shingles. However, some shingle manufacturers may require the underlayment you use to be vapor permeable. Tar paper is vapor permeable.
If you need or want a Class A roof assembly, make sure the rating documents for the shingles you want to use allow the use of synthetic underlayment.
Self-adhering, self-sealing, ice-barrier membranes
I'll write an article specifically about this class of roof underlayment. Briefly with regard to their use as underlayment: the IRC and shingle manufacturers allow the use of these membranes as an alternative to tar paper provided they meet ASTM 1970 standard and are installed according to the manufacturers' instructions. They can be used as underlayment to cover part or all of the roof sheathing before shingles are installed.
Photos: Justin Fink and Mike Guertin
---
Related Articles:
Next:
Is an Ice Barrier Necessary for My Roof?