How to Bend Copper Chimney Flashing
Roofing contractor Dyami Plotke demonstrates how to make complex cuts and bends to create durable, beautiful flashings for making watertight connections between roofs and chimneys.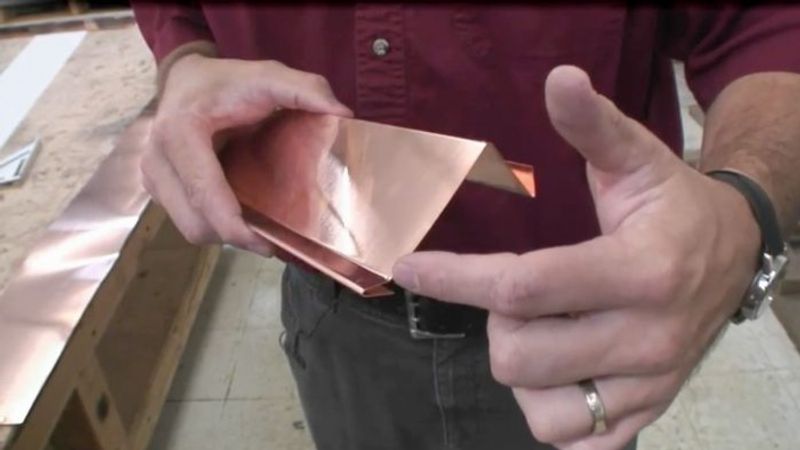 Roofing project manager Dyami Plotke demonstrates how to fabricate complex pieces of flashing and describes the various pieces needed to make a chimney-to-roof connection watertight.
Note: The portable job-site brakes work almost identically to the heavy-duty brake in this video, so the techniques shown here will still apply
Dyami is demonstrating how to bend a section of cut-in-reglet flashing, because it is one of the more complicated chimney-flashing components. If you're comfortable with the skills needed to fabricate this piece of flashing, you will be able to tackle any basic flashing component.
The elements of the cut-in-reglet flashing include:
A strength hem along the bottom which gives a straight, clean line
A vertical face which will cover the step flashing previously installed on the roof
A horizontal leg that returns into the chimney (in a reglet cut with a grinder)
A return lap which, in conjunction with wedges driven in afterwards, locks the flashing into the chimney
The trick to fabricating a piece of flashing with multiple bends is to plan your bends in an order that prevents damage to bends already completed. In this case, Dyami starts with the return lap at the top of the flashing and works consecutively through the adjacent bends until he completes the strength hem at the bottom.
It's a good idea to make a test piece out of a short scrap of metal before you attempt to create an actual piece of flashing.
More tips for successful flashing fabrication:
For long pieces, have a second person on hand to help load the brake without bending the metal
Mark the flashing with an awl; the depression made by an awl is visible on both sides of the metal, which is helpful when you have to flip the piece multiple times for consecutive bends
Use the width of the lip of the jaw on the brake as a reference for strength hems or return laps; this minimizes the number of measurements you need to make during layout
Don't over-bend flashing at the transition between a roof and a vertical surface (like a chimney or wall); this will ensure that the flashing stays tight to the surfaces rather than wanting to pull away
Copper is soft enough that bends usually can be easily adjusted by hand; aluminum flashing requires more precise work on the brake, as it is stiffer and harder to re-bend
It is usually easier and more economical to buy any needed step flashing rather than fabricating it yourself
Also read Dyami's related article Bending Copper Chimney Flashing
Previous:
Bending Copper Chimney Flashing
Next:
Vent Flashing Done Right