How-To
Is Through-Fastened Metal Roofing a Good Idea?
Yes, as long as it's well detailed it should last as long as a more expensive standing-seam roof.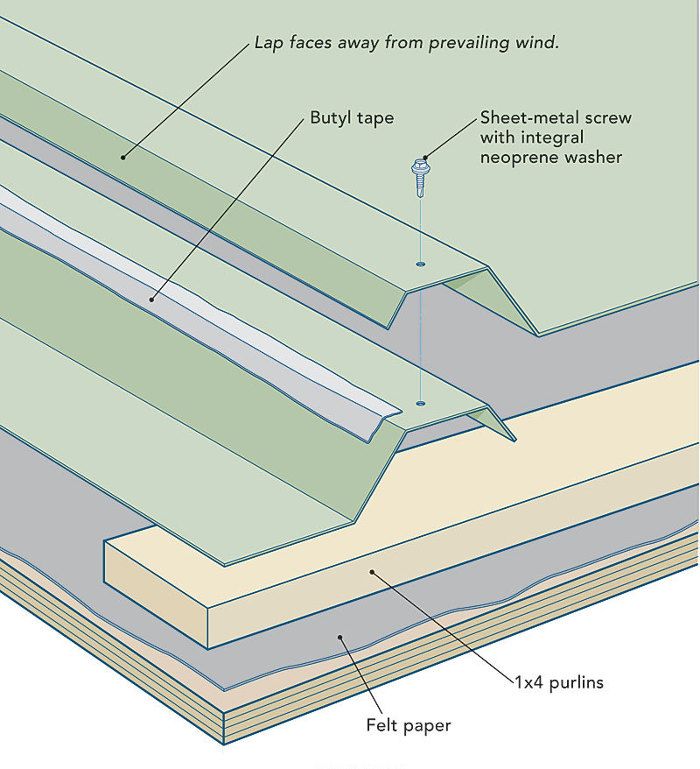 Q:
I read "Martin's Ten Rules of Roof Design" and found one part confusing: the preference for through-fastened metal roofing over standing-seam metal roofing. I understand that a through-fastened roof is easier to install and therefore cheaper, but I keep hearing that the screws will eventually back out of the panels and that their holes will leak. Is this true? I also see in the comments section that some people screw through-fastened roofs into 1x strapping installed over the roofing felt. Is that to minimize the consequences of these potential problems?
Nathaniel, via email
A:
Standing-seam metal roofs are great. If you can afford one, by all means install one. But I have no reason to believe that a well-detailed through-fastened metal roof won't last just as long.
In the days before cordless drills were invented, through-fastened metal roofing was installed with nails. These nails would tend to back out and result in leakage. But that risk disappeared when roofers switched to screws with integral neoprene washers.
I like to install metal roofing over 1×4 or 2×4 purlins because this is a good way to handle any condensation that occurs when the outdoor air is warm and humid but the roofing is cold (either due to nighttime radiational cooling or from a layer of snow on top of the roofing). An airspace between the metal roofing and the roof sheathing allows condensation to drip harmlessly onto the felt paper before evaporating.
Previous:
Snap-Lock Standing-Seam Metal Roof Installation
Next:
Installing Standing-Seam Roofing and Cladding