Safety Tools for Roofing
Be aware of the protective equipment you need before stepping onto any roof.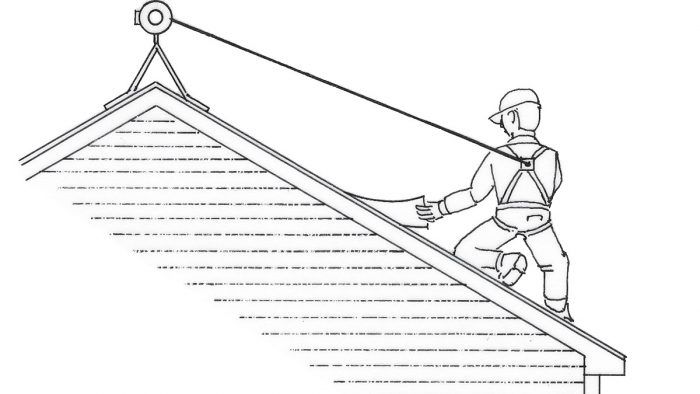 Unless you are installing roofing systems that need to be "torched" (heat-sealed with a propane torch), you won't need a lot of specialized equipment or tools. Most of the items discussed here are safety related.
Footwear should be sneakers or other soft-soled shoes that grip well on a roof. Old-time roofers prefer boots with thick soles that are less likely to be punctured by stray nails, but they are inflexible and don't grip as well.
Scaffolding can make applying the first few courses along the eaves far safer. After the lower courses are installed, the scaffolding serves mainly as a staging area for materials and tools.
Roofing jacks enable you to work safely on roofs with a 6-in-12 pitch or steeper. Jacks also are indispensable platforms for storing materials. As you work up a roof, install additional pairs of jacks whenever you must stretch to nail the next course. Many roofers leave jacks installed until the job is almost completed.
Full-body harnesses, also known as personal fall-arrest systems (PFAS), are required for most roofing work. Though state OSHA regulations typically cite a "trigger height" of 20 ft. for roofing work, a height as little as 7 1⁄2 ft. above ground may trigger regulations for "work on unprotected platforms, scaffolds, or edges of structures." For an overview of the best equipment and techniques for staying safe while working in high locations read the article A Practical Guide to Fall Protection.
For the most recent regulations, go to: www.dir.ca.gov/dosh/dosh_publications/Fall-Protection-in-Construction-fs.pdf.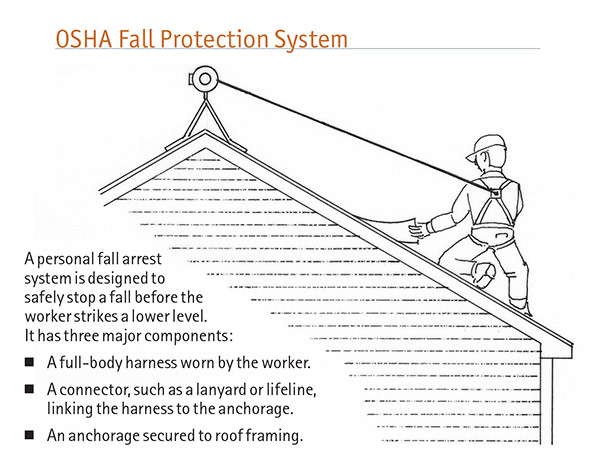 Knee pads, sturdy ones with integral plastic cups, will spare you a lot of pain. In addition, get a foam kneeling pad such as those gardeners use; it will allow you to sit or kneel while shingling and will protect shingles from abrasion.
A pneumatic nailer, which you can rent, speeds the job along. Have the rental company recommend nails and explain the nailer's correct use.
Shingling hatchets in the hands of a pro can fasten shingles almost as fast as a pneumatic nailer.
Miscellaneous tools include a utility knife with hooked blades, a straightedge or framing square, a hammer, a chalkline, a tape measure, caulk guns, work gloves, safety glasses, and hearing protection.
Previous:
A Practical Guide to Fall Protection