Applying an Antifracture Membrane
Use a paste or sheet membrane to prevent cracks in a concrete slab from telegraphing through the tile installation.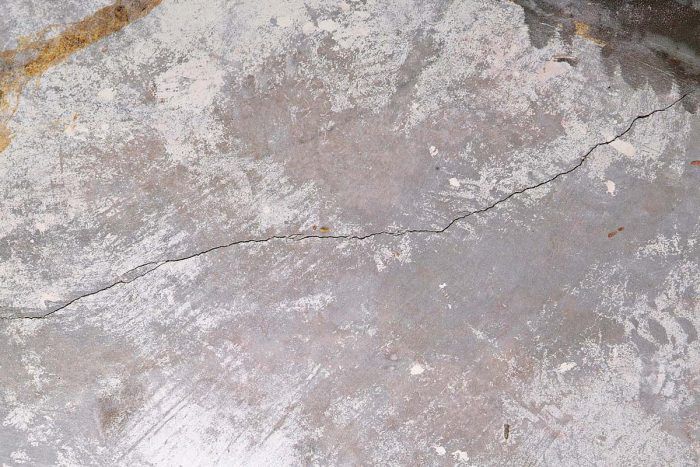 Even flat, smooth, and level concrete floors can crack many years after they're poured, and those cracks can telegraph through tile.
Simple and inexpensive to apply, antifracture membranes can prevent this problem. Membranes come in three types: paste, sheet, and two-part. Each has qualities that make it better for some situations than for others.
Paste-type membranes are very easy to apply and are a good choice for slabs that lack cracks and gaps. After cleaning the floor 1 protect your baseboard and any cabinets or fixed furniture by taping them off with blue painter's tape 2. Use a 3/4-in.-nap paint roller to apply the viscous liquid to your floor, making sure to cover the area well 3. After the membrane has dried for 24 hours, remove the tape, and the surface is ready for tile.
| | |
| --- | --- |
| | 1. Remove surface debris with a wet sponge before applying an antifracture membrane. |
| | 2. Tape off the baseboard to protect it from a paste antifracture membrane. |
| | 3. Apply paste antifracture membrane to a floor using a long-handled roller. |
Sheet-type membranes are good for bridging large cracks in a concrete floor. They can also be used to prevent cracking problems in areas where the concrete meets other floor materials, such as wood 4. After cutting the membrane sheet to size, spread a layer of latex-modified thinset over the floor, using a 1/4-in. by 1/4-in. notched trowel 5. Lay the sheet on top of the fresh thinset 6' and use the flat side of the notched trowel to force it into the thinset. Then use the flat side once again to feather edge the thinset that squeezes out, making a nice transition from membrane to concrete. Finally, use some tiles to weight the sheet down until it firms up, usually about an hour 7. This helps prevent curling of the membrane edges.
| | |
| --- | --- |
| | 4. A sheet-type antifracture membrane is applied to cover a 2×4 embedded in the concrete in a doorway area. |
| | 5. Trowel modified thinset over the entire area before applying the membrane. |
| | 6. Apply sheet membrane and use the flat trowel to embed it in the thinset. |
| | 7. Weight down the sheet membrane to prevent curling as it dries. |
Two-part membranes are made up of two pastes mixed together before application. Good for dealing with surface cracks, these membranes have more body than paste-type membranes and apply almost as easily. But because they emit toxic fumes, you'll need to wear an approved respirator and ventilate your work area well.
Start by filling cracks 1/8 in. or wider with epoxy filler made for concrete repairs 8. After mixing the membrane per the instructions on the packaging, use a 3/16-in. by 3/16-in. V-notched trowel to spread it on the concrete. As with thinset, first use the flat side of the trowel to spread it over the concrete, ensuring a tenacious bond 9. Then use the notched side to get a consistent membrane thickness 10. Finally, use a steel concrete finishing float to smooth down the ridges, leaving a flat, even surface that's ready for tile 11.
| | |
| --- | --- |
| | 8. Use concrete epoxy to fill any crack over 1/8 in. wide before applying a two-part antifracture membrane. |
| | 9. Wear a respirator to protect yourself from two-part membranes. |
| | 10. Comb the membrane in one direction using a 3/16-in. V-notched trowel. |
| | 11. Smooth the ridges of the combed surface with a flat trowel. |
---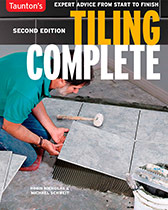 Excerpted from Tiling Complete, 2nd Edition by Robin Nicholas and Michael Schweit.
Available in the Taunton Store and at Amazon.com.
Previous:
Applying Self-Leveling Compound
Next:
Tiling over a Cracked Concrete Slab