Tools & Materials
DeWalt D24000 Wet Saw
This 10-in tile saw is one of the most popular powered tile cutters on the market.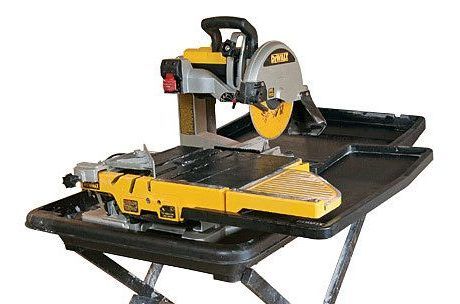 In some ways, a wet saw is a wet saw. All but the obscure specialty saws use diamond-coated circular sawblades cooled by water that is either held below the blade or pumped from a reservoir.
But of all the saws I've borrowed, bought, or been given, the DeWalt D24000 is my favorite. This is the wet saw that tile installers have been waiting for. Not only does it cut perfect miters in any kind of raised trim pieces, but the 11?2-hp motor muscles through heavy-duty straight cuts, too. The saw weighs only 69 lb., and the stand adjusts to four different working heights.
A pair of adjustable water nozzles—one on each side of the blade—let me put water where I need it for different cutting tasks. The saw is big, but that's a small price to pay for water overspray guards and collection trays that almost eliminate the need for tarps.
Previous:
Cutting Curves in Marble with a Ring-Blade Wet Saw
Next:
iQ228 Cyclone Dry-Cut Tile Saw