How-To
Installing Backerboard on Floors
Spread thinset on the subfloor, lower the tile backerboard into place, and secure with nails or screws.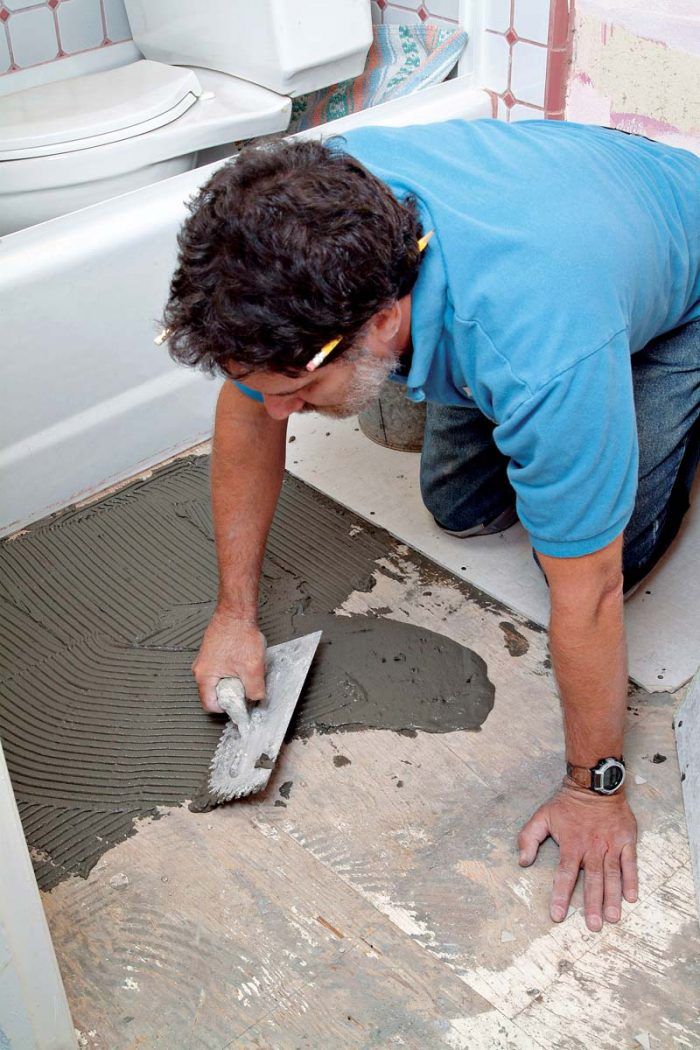 After cutting the backerboard to size, spread latex-modified thinset on top of the wood subfloor (or prepared vinyl floor) with a 1/4-in. by 1/4-in. notched trowel 1. Carefully lower the backerboard onto the thinset and press in place 2. Use either nails or screws to fasten the sheet to the wood floor, making sure you use enough fasteners (see the specifications for the backerboard). Some sheets have a nailing pattern embossed on the surface for you to follow 3. If you are working under a toekick, use the side of the hammer to drive nails 4. Omitting nails here can lead to a loose substrate, and problems with the tile later on. Continue adding sheets, as necessary, until the entire floor is covered 5. Then tape every joint with fiberglass tape 6' and cover with a thin layer of thinset, using the flat side of the trowel to embed it fully 7.
| | |
| --- | --- |
| | 1. Use the short end of a trowel to spread thinset in cramped areas, such as around this toilet flange. |
| | 2. Lower the backerboard into place over the toilet flange, working its corner under the cabinet. |
| | 3. Nail or screw backerboard into place following the nail pattern on the board or every 6 in. in each direction. |
| | 4. In cramped areas, like under cabinet toekicks, use the side of the hammer head to bang nails into place. |
| | 5. Continue spreading thinset and applying backerboard over the rest of the floor, nailing each piece into place. |
| | 6. Tape every backerboard seam with self-adhesive mesh tape. |
| | 7. Cover the mesh seams with a thin coat of thinset, to hold the mesh firmly in place. |
TRADE SECRET: Splitting a full-size sheet of backerboard in two makes it easier to carry and install and will help you avoid dinging cabinets and walls as you work.
---
Excerpted from Tiling Complete, 2nd Edition by Robin Nicholas and Michael Schweit.
Available in the Taunton Store and at Amazon.com.
Previous:
Cutting Backerboard
Next:
Install Tile Backerboard