How-To
Setting Polished Stone
Polished stone tiles are more exacting to install than ceramic tiles, and it's especially important that the substrate be flat and even.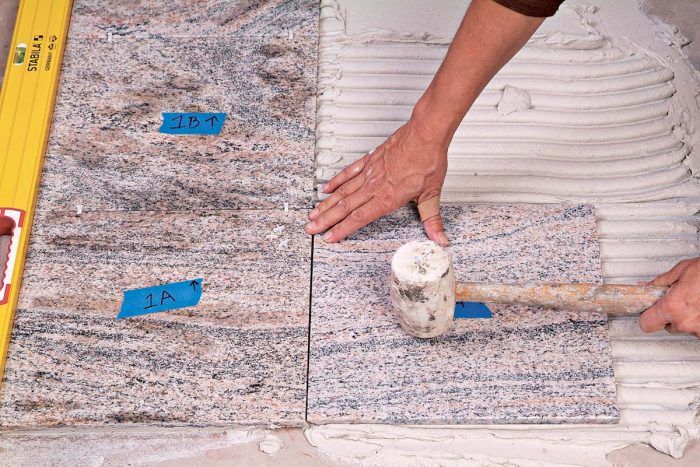 Unlike ceramic tiles, polished stone tiles require that each and every tile be set even and level with the tiles around it to achieve a flat, smooth floor. The relatively wide joints between ceramic tiles allow you to ramp the grout, to smooth out transitions between slightly uneven tiles; however, stone tiles are typically set with very narrow grout joints that don't allow ramping. Thus, it's very important for a floor or substrate under stone tiles to be absolutely flat and even.
In preparation for setting, tiles should be selected and, if desired, laid out and numbered for vein or color patterns 1. All types of stone tiles need sealing before they're set.
When you're ready to lay the tiles, use a 1/2-in. by 1/2-in. half-moon trowel to spread a heavy layer of thinset over the floor. This thick layer will allow you to adjust each tile up or down relative to its neighbors 2. Use medium-bed thinset so that it will not sag from the weight of the heavy tile 3. After combing the thinset, set the first tile and then use a 6-in. torpedo level to check that it's level, front to back and side to side 4. Now set a tile next to it, using a 1/16-in. spacer set upright between the tiles 5. Tap in the tile, using a mallet and level to set its surface flush with the adjacent tiles 6. Rub your hands along the joint between the tiles as you set each new tile to feel that the surfaces are even 7. After all the whole field tiles have been set and cured, you're ready to measure and set the cut tiles around the edges of the floor. Cover the previously set tiles with rosin paper to protect them as you work. Even though the tiles have been sealed, dried thinset is a bear to remove and can leave a mark on the surface of any highly polished stone. Mark and cut the tiles, then back-butter each one 8 and ease it into place, using a level and fingertips to check it for perfect placement.
| | |
| --- | --- |
| | 1.  Before spreading any thinset, decide on a pleasing pattern for stone tiles. |
| | 2.  Comb thinset with a large-notched trowel to allow adjustments for height variation. |
| | 3.  Medium-bed thinset has enough body to support heavy tiles as they're set. |
| | 4.  A small level helps adjust stone tiles so that they're level with one another. |
| | 5.  X-shape 1⁄16-in. spacers keep stone tiles properly aligned for even grout joints. |
| | 6.  Tapping the tile with a mallet embeds it into the thinset. |
| | 7.  If you find a high spot, adjust the tile with a mallet or your fingertips. |
| | 8.  Back-butter cut stone tiles before setting them in place. |
---
Excerpted from Tiling Complete, 2nd Edition by Robin Nicholas and Michael Schweit.
Available in the Taunton Store and at Amazon.com.
Previous:
Setting Terra Cotta Pavers
Next:
Large-Format Tiles