Levels and Miscellaneous Tile-Setting Tools
Don't overlook these tile-installation accessories.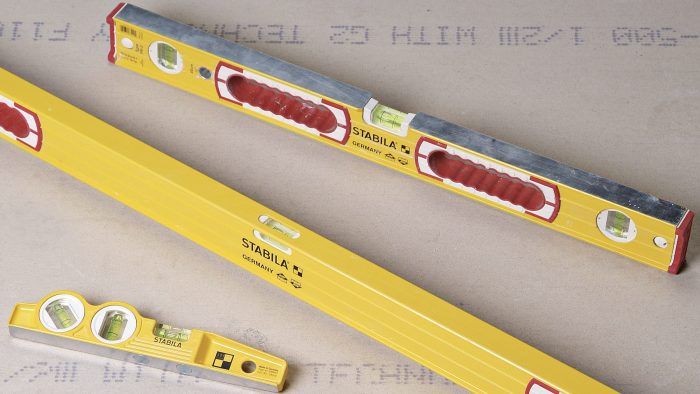 When you're ready to mix thinset and set tile, you'll need the tools described here, as well as a straightedge, tape measure, pencils, gloves, knee pads (for floor work), electric drill and mixer, and a scrub brush (for cleanup).
Levels
Levels are important tools that are useful during many phases of tile work. They are handy for spotting high and low spots on floors after demolition, checking countertops for level during prep, leveling tile on counters and backsplashes, and lining up straight rows of floor tiles. They come in many sizes; you'll want one 6-in. to 12-in. torpedo level and one 3-ft. to 4-ft. basic level on hand for home tile work. Metal-bodied levels are easier to clean and will handle abuse much better than wood levels.
TRADE SECRET: Apply a self-sticking plastic cover over the vials of your level to protect them from scratches during tile work.
Bucket, sponge, and scrubber
Buckets are a mainstay tool for tile work. Use them to gather and transport your tools, collect debris from demo, mix thinset and grout, and hold water for cleanup. Plastic buckets are light, cheap, and easy to clean. The 5-gal. size is great for mixing big batches and cleanup, while the 1/2-gal. size is ideal for mixing small quantities of materials. Sponges are important for every aspect of tile work, and you'll need several of them for each task: cleaning, tile setting, grouting. Don't use kitchen sponges—get big yellow hydro sponges from a home center or tile store. To reduce the risk of dirt or cross-contamination from various tile procedures, use a new sponge for each task. A scrubber is a handy foam sponge with a textured side that lets you clean dry thinset or grout from tiles without scratching them.
| | |
| --- | --- |
| Buckets, sponges, and scrubbers are some of the most used tools for tile prep and installation. | Use the scrubbing side of a scrubber to clean thinset from a tile surface. |
Jambsaw
A jambsaw is a narrow saw with a medium-tooth blade that's useful for trimming off the bottoms of doorway trim, to simplify setting floor tiles around door jambs.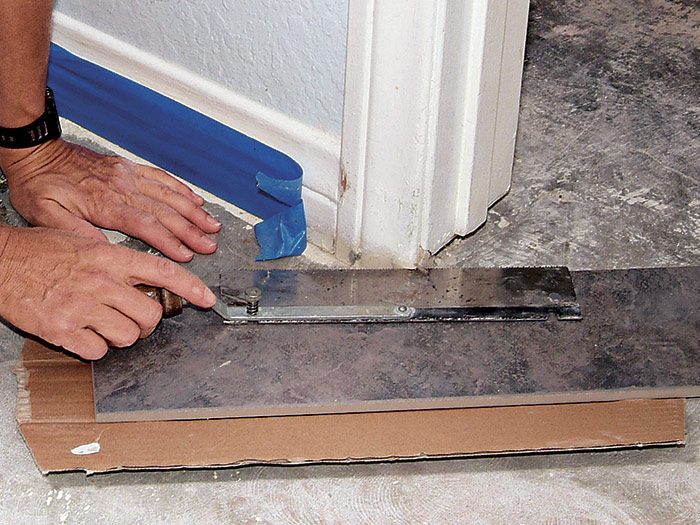 Oscillating Multitool
Though a jamb saw works just fine, a faster and easier way to cut trim in place, make accurate rectangular holes, and cut materials in tight spaces is to use an oscillating multitool. These have become the go-to fine cutting tools for all sorts of remodeling work. Be sure to go for a cordless multitool, like the one shown here, for an extra level of convenience.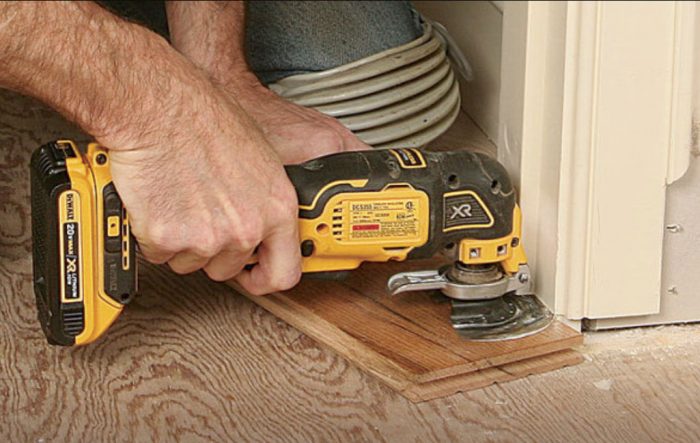 Beating block and mallet
After setting tiles in place, embed them into the thinset by tapping them with a hammer and rubber-coated, wooden beating block. You can also even out the surface of smaller tiles by embedding them with a beating block. A rubber-headed mallet is preferable for tapping and seating tiles 12 in. sq. or larger.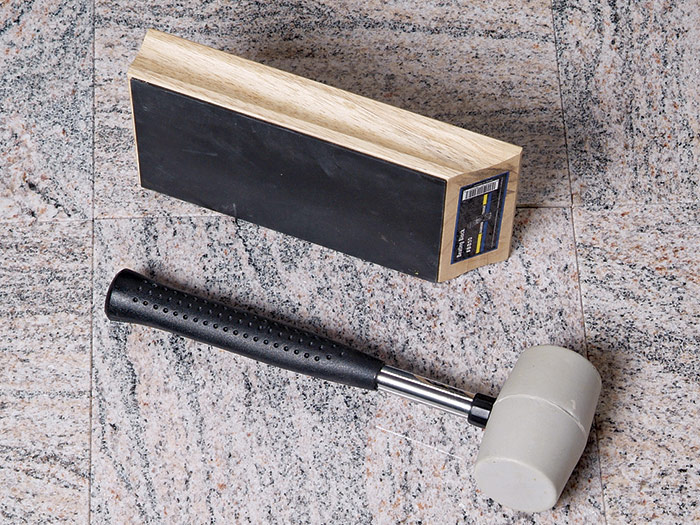 Suction-cup tool
Megasize suction-cup tools, similarly used by professionals to lift large mirrors, are also very handy for handling large tiles. The tool has a pump-actuated suction handle and is a real lifesaver for lifting big, heavy tiles like natural stone, especially when you need to lift an already-set tile to check it for thinset coverage.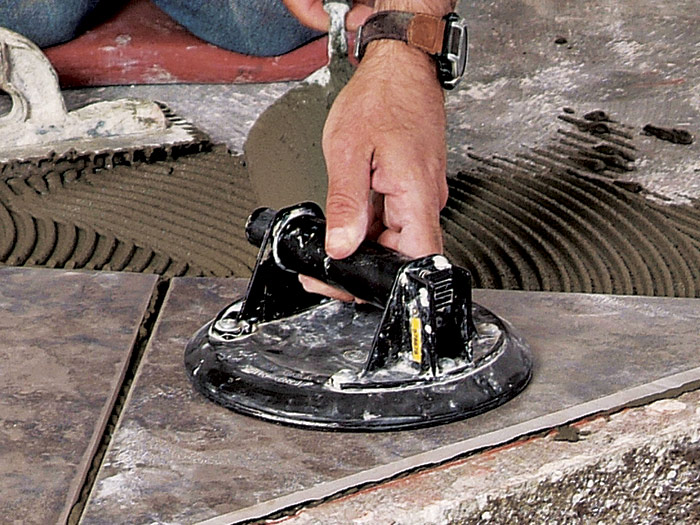 ---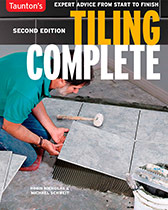 Excerpted from Tiling Complete, 2nd Edition by Robin Nicholas and Michael Schweit.
Available in the Taunton Store and at Amazon.com.
Previous:
Trowels and Other Essential Tile Tools
Next:
Trowels, Grouting, and Caulking Tools