Tools & Materials
Tiled Counters Never Looked So Seamless
Large-format tile is a strong, modern alternative to solid countertops.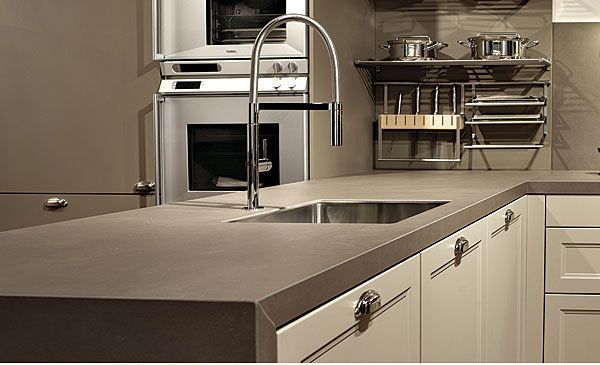 Like the look, feel, and durability of porcelain tile but hate grout lines? Neolith large-format tiles may be just what you're looking for.
Developed and manufactured in Spain by a company called TheSize, Neolith is a porcelain product available in sizes that range from roughly 12 in. by 24 in. up to 4 ft. by 12 ft. These large sizes, combined with the material's relatively light weight and imperviousness to water, cleaning agents, and freeze-thaw cycles, make Neolith attractive for uses that go beyond traditional floor covering.
Neolith has been used for kitchen counters, bar tops, vanity tops, patios, continuous flooring between indoor and outdoor spaces, exterior rain-screen walls, and interior paneling. It's available in 29 colors, from solid primary hues to patterns with a textile, wood, or metal appearance, and it can be cut and installed with the same tools and adhesives as standard porcelain.
Neolith is manufactured in 3-mm, 5-mm, and 10-mm thicknesses and also is available with a reinforcing fiberglass backing or in laminates built from different combinations of 3-mm and 5-mm thicknesses. It typically costs from $10 per sq. ft. to $30 per sq. ft., depending on the color and the thickness.
Photo courtesy of the manufacturer
Previous:
Modern Tiles Keep Morocco's Artisanal Culture Alive
Next:
Encaustic Cement Tile