Adaptable Recessed Lighting
Nora Lighting's versatile Iolite line of recessed lights is a step above average can lights with a wide range of designer trim and color options.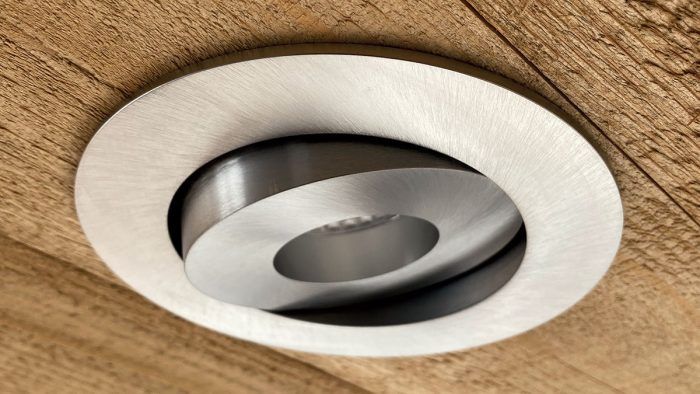 As electrical contractors, we get a lot of questions about what recessed lights we prefer. Lately we have been a big fan of Nora Lighting's Iolite LED downlights, particularly because of how customizable they are. The trims are available in 10 finishes—the one seen here is their "natural metal" option. Each light comes with three interchangeable optics: spot, narrow flood, and wide flood. We also really like that they come in different sizes: 1 in., 2 in., and 4 in. The fact that several trim styles are available for the same rough housings make trimout easy, as you can decide to go with round or square even after rough-in. Directional gimbal and deep-regress trims make sloped ceilings and general adjustability a snap. There's even a sleek trimless version which we are excited to use on an upcoming project. All lights come in five different color-temperature choices, and the larger reflectors produce 800 or 1000 lumens.
The price point is also appealing, with a rough-housing and trim combo costing less than $120. While there are obviously much cheaper options to be found at big box stores, none compete with these for quality and style. And with most high-end lights costing more money and offering less flexibility, the Nora Iolite series is a no-brainer for all of our custom lighting projects.
—CJ Nielsen, electrician
From Fine Homebuilding #290
Previous:
Light a Bathroom Right
Next:
Recessed-can to pendant-light conversion