Choosing Electrical Boxes
The box you need largely depends on the wiring installation.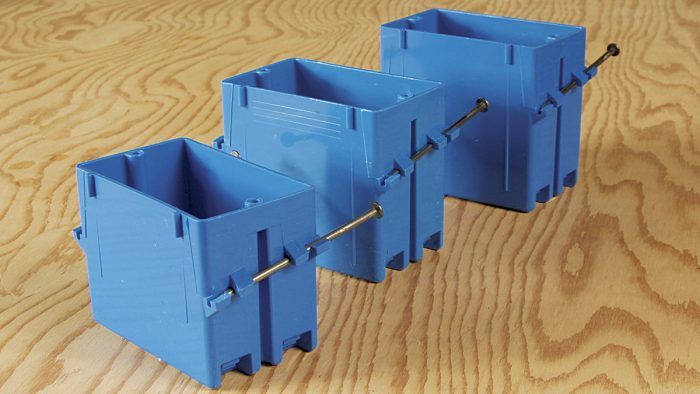 There is a huge selection of electrical boxes, varying by size, shape, mounting device, and composition. One of the first distinctions to note is that of new work boxes and remodel or cut-in boxes. New work boxes are designed to be attached to exposed framing, as is often the case in new construction and sometimes in renovations where walls and ceilings are gutted. Cut-in boxes are designed for attachment to existing finish surfaces—which frequently involves cutting into plaster or drywall.
But of all the variables to consider when choosing boxes, size (capacity) usually trumps the others. Correctly sized boxes are required by code and make your job easier because you don't have to struggle to fit wires and devices into a space that's too small.
Box capacity
The most common shape is a single-gang box. A single-gang box 3 1⁄2 in. deep has a capacity of roughly 22 1⁄2 cu. in., enough space for a single device (receptacle or switch), three 12–2 w/grd cables, and two wire connectors. Double-gang boxes hold two devices; triple-gang boxes hold three devices. Remember: Everything that takes up space in a box must fit without cramping—devices, cable wires, wire connectors, and cable clamps—so follow NEC recommendations for the maximum number of conductors per box.
You can get the capacity you need in a number of ways. Some pros install shallow 4-squares (4 in. by 4 in. by 1 1⁄2 in. deep) throughout a system because such boxes are versatile and roomy. If a location requires a single device, pros simply add a mud-ring cover. Because of their shallow depth, these boxes can also be installed back to back within a standard 2×4 wall. This allows you to keep even back-to-back switch boxes at the same height from one room to the next. Shallow pancake boxes (4 in. in diameter by 1⁄2 in. deep) are commonly used to flush-mount light fixtures.
Where you're installing GFCI receptacles or need more room for connectors and devices, use a 4S deep box. Finally, cover 4-square boxes with a mud-ring cover.
| | |
| --- | --- |
| Single-gang boxes come in three sizes: 18 cu. in., 20.4 cu. in., and 22.5 cu. in. Bigger is better. | Throw a single- or double-gang mud-plaster ring on a 4-in. box and it's hard to overfill. |
Metal vs. plastic boxes
Metal boxes are sturdy and are available in more sizes than are plastic boxes. Some metal boxes can be interlocked for larger capacity. Also, metal boxes are usually favored for mounting ceiling fixtures because steel is stronger than plastic. If code requires steel conduit, armored cable (BX), or MC cable, you must use steel boxes. All metal boxes must be grounded.
For most other residential installations, plastic is king. (Plastic boxes may be polyvinyl chloride [PVC], fiberglass, or thermoset.) Electricians use far more plastic boxes because they are less expensive. Also, because they are nonconductive, they're quicker to install because they don't need to be grounded. However, even if a box doesn't need to be grounded, all electrical devices inside must be grounded by a ground wire that doesn't depend on a device for continuity.
Cut-in boxes
The renovator's mainstay is the cut-in box (remodel box) because it mounts directly to finish surfaces. These boxes are indispensable when you want to add a device but don't want to destroy a large section of a ceiling or wall to attach the box to the framing. Most cut-in boxes have metal or plastic flanges that keep them from falling into the wall cavity. Where they vary is with the tabs or mechanisms that hold them snugly to the back side of the wall: screw-adjustable ears, metal-spring ears, swivel ears, or bendable metal tabs also called "battleships" (Grip-Lok® is one brand).
Safety Alert: All cut-in boxes, whether plastic or metal, must contain cable clamps inside that fasten cables securely. That is, it's impossible to staple cable to studs and joists when they are covered by finish surfaces, so you need clamps to keep the cables from getting tugged or chafed.
| | |
| --- | --- |
| The screw on the side of an adjustable box enables you to raise or lower the face of the box to make it flush to the finish wall. | A remodel box (cut-in box) mounts to a wall surface such as drywall or plaster—rather than mounting to a stud. Typically, "ears" on the box flip out at the turn of a screw, and as they are tightened they draw the box tight to the wall. |
Cut-In Remodel Boxes
---
Excerpted from Wiring Complete, 3rd Edition (The Taunton Press, 2017) by Michael Litchfield and Michael McAlister
Available in the Taunton Store and at Amazon.com.
Previous:
Easy-Read Wire Strippers
Next:
Fixture Boxes