How-To
Installing New Work Boxes
Follow these guidelines to attach boxes directly to exposed framing members.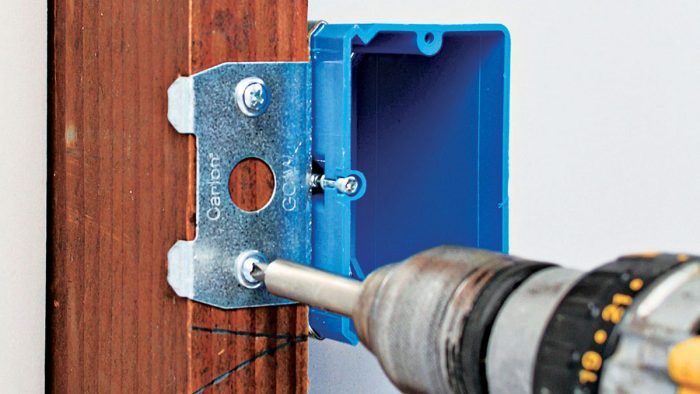 Once you've used your plans to locate receptacle, switch, and light-fixture boxes on walls and ceilings, installing them is pretty straightforward. Electrical codes dictate box capacity and composition.
In residences, 18-cu.-in. single-gang PVC plastic boxes are by far the most commonly used. This size is large enough for a single outlet or a single switch and two cables. Otherwise, use a 22.5-cu.-in. single-gang box or a four-square box with a plaster ring.
Set each box to the correct height, then set its depth so that the box edge will be flush to the finish surface. If you use adjustable boxes, simply screw them to a stud  1. To raise or lower the box depth, turn the adjusting screw. Side-nailing boxes typically have scales (gradated depth gauges) on the side  2. If not, use a scrap of finish material (such as 1⁄2-in. drywall) as a depth gauge. Metal boxes frequently have brackets that mount the box flush to a stud edge  3. after the box is wired, add a mud ring (plaster ring) to bring the box flush to the finish surface.
Multiple-gang boxes mount to studs in the same way. But if plans locate the box away from studs or a multigang box is particularly wide, nail blocking between the studs or install an adjustable box bracket and screw the box to it  4. (The bracket is also called a screw gun bracket, because a screw gun is typically used to mount it and to attach boxes to it.)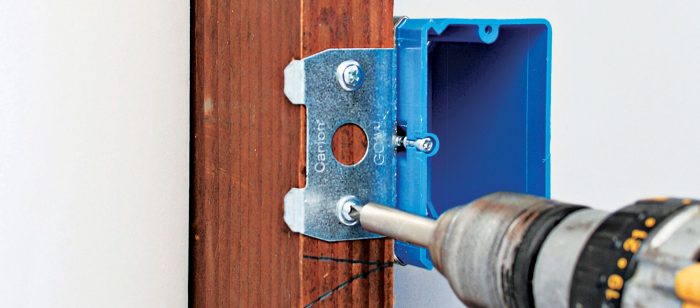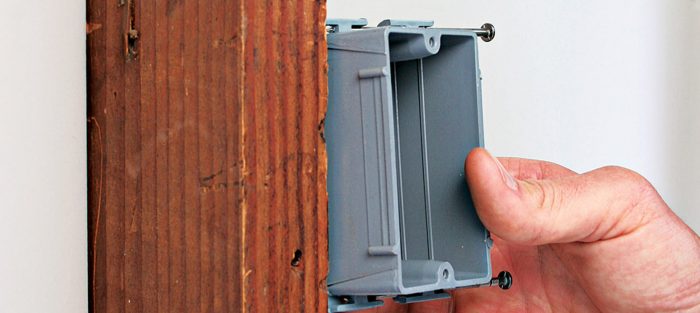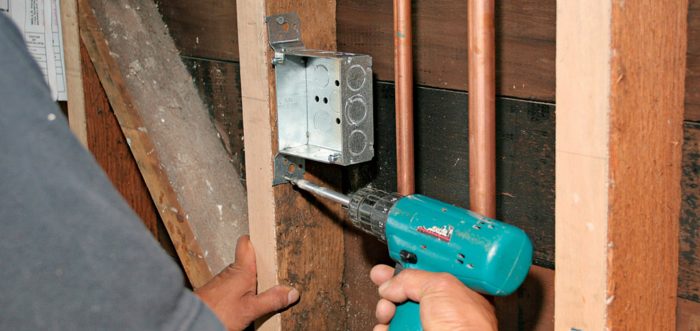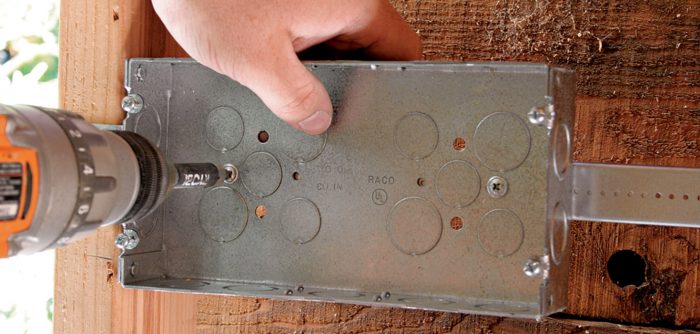 About knockouts
Once you've mounted boxes, remove the appropriate number of box knockouts and install cable clamps. Single-gang, new-construction plastic boxes don't need clamps: Simply strike a screwdriver handle with the heel of your hand to drive out the knockout. To remove a metal-box knockout, jab it with the nose of needle-nose pliers to loosen it, then use the pliers' jaws to twist it free.
---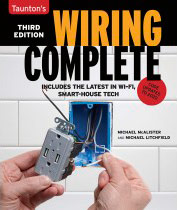 Excerpted from Wiring Complete, 3rd Edition (The Taunton Press, 2017) by Michael Litchfield and Michael McAlister
Available in the Taunton Store and at Amazon.com.
Previous:
How to Wire a Bathroom: Make a Code-Compliant Plan
Next:
How to Install an Electrical Outlet Box