How-To
General Wiring Guidelines
Here's sound planning advice on everything from circuit wiring, grounding, and boxes to circuit requirements room by room.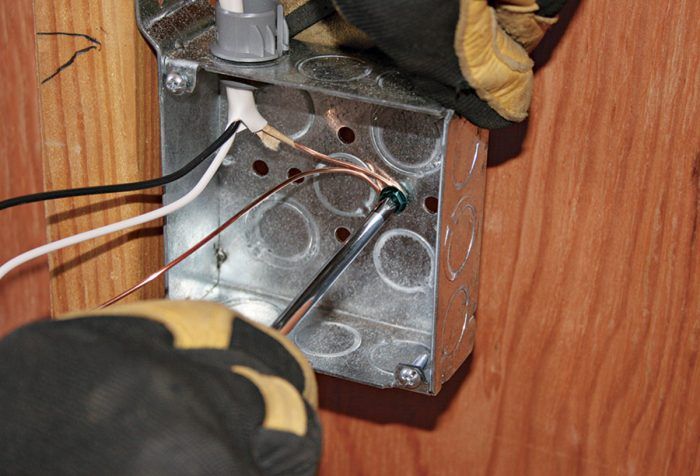 If you are only replacing existing devices—changing a light fixture, replacing a faulty switch, or upgrading a receptacle, for example—you seldom need a permit from the local building department. However, if you extend or add any circuit, you must pull (or file) a permit.
Most local electrical codes are based on the NEC, which was compiled to promote safe practices and prevent house fires. When it's necessary to pull a permit, local code authorities will want to approve your plans and later inspect the wiring to be sure it's correct. Don't short-cut this process: Codes and inspections protect you and your home.
Whatever the scope of your project, if you work on existing circuits, first turn off the power and test to be sure it's off, and tag or lock the panel.
The guidelines given here apply to all circuits in the house, whether general lighting or heavy-use appliance circuits. Local codes rarely require you to change existing circuits—as long as they are safe—but new electrical work should reflect current electrical code.
Circuit wiring
Wire gauge must be large enough to carry the circuit load and be protected by a comparably sized breaker or fuse at the panel. General-use and lighting circuits are typically 14AWG wire, protected by 15-amp breakers; kitchen, bath, and workshop circuits usually have 12AWG wire, protected by 20-amp breakers.
Acceptable cable
Most circuits are wired with NM cable because the cable is protected behind a finish surface such as drywall or plaster. When circuit wiring is to be left unprotected and exposed, it must be armored cable or in conduit.
Grounding
All receptacles, appliances, and electrical equipment must be connected (bonded) to the service panel via an equipment grounding conductor (ground wire). NM cable contains a separate ground wire, whereas armored cable sheathing and metal conduit provide the path to ground if properly installed.
Boxes
All electrical connections must take place in covered boxes. Boxes where connections are made must be accessible, that is, not buried in a wall or ceiling. Based on local code requirements, boxes may be plastic or metal. If metal, the box must also be connected to the equipment grounding conductor (bonded). If NM cable is used, the ground wire must be connected to a metal box with either a ground screw or a ground clip. If AC cable or metal conduit is used, it must be properly attached to the box to ensure effective bonding. If the box is plastic, it does not need to be (and cannot be) grounded; run a ground wire to the device or fixture only.
General-Use Circuit Requirements
General-use circuits are intended primarily for lighting, but small loads that are connected via a cord and plug, such as televisions, fans, and vacuums, are allowed—as long as the power they draw doesn't exceed the capacity of the circuit.
Lighting and small loads
Though 14AWG wire is sufficient for lighting, electricians often run 12AWG wire on general-use circuits to accommodate additional capacity. Calculate lighting loads at 3w per square foot, or roughly one 15-amp circuit for every 500 sq. ft. of floor space. When laying out the lighting circuits, do not put all the lights on a floor on one circuit. Otherwise, should a breaker trip, the entire floor would be without lights.
Receptacles
There must be a receptacle within 6 ft. of each doorway, and spaced at least every 12 ft. along a wall. (This is also stated as, "No space on a wall should be more than 6 ft. from a receptacle.") Any wall at least 2 ft. wide must have a receptacle; and a receptacle is required in hallway walls 10 ft. or longer. Finally, any foyer of more than 60 sq. ft. must have a receptacle on any wall 3 ft. or longer.
Outlets
The NEC does not specify a maximum number of lighting or receptacle outlets on a residential lighting or appliance circuit, though local jurisdictions may. Figure roughly 9 outlets per 15-amp circuit and 10 outlets per 20-amp circuit.
Light switches
There must be at least one wall switch that controls lighting in each habitable room, in the garage (if wired for electricity), and in storage areas (including attics and basements). There must be a switch controlling an outside light near each outdoor entrance. Three-way switches are required at each end of corridors and at the top and bottom of stairs with six steps or more. When possible, put switches near the lights they control. It should be noted that the light switch may control a receptacle (considered "lighting") in habitable rooms except in kitchens and bathrooms.
GFCI protection
The NEC requires GFCI protection on all bathroom receptacles; all receptacles serving kitchen counters; dishwasher outlets; receptacles within 6 ft. of any sink, tub, or shower stall; laundry-area receptacles; all outdoor receptacles; all unfinished basement receptacles; receptacles in garages and accessory buildings; receptacles in crawlspaces or below grade level; and all receptacles near pools, hot tubs, whirlpools, and the like.
AFCI protection
Since 2014, the NEC requires arc-fault-circuit-interrupter (AFCI) protection on all 15-amp and 20-amp receptacles in kitchens and laundry rooms, bedrooms, living rooms, rec rooms, parlors, libraries, dens, sunrooms, and hallways, and on switches serving any of those areas.
Requirements Room by Room
Kitchen and bath appliances are heavy power users, so their circuits must be sized accordingly.
Bathroom circuits
Bathroom receptacles must be supplied by a 20-amp circuit. The NEC allows the 20-amp circuit to supply the receptacles of more than one bathroom or to supply the receptacles, lights, and fans (excluding heating fans) in one bathroom. Receptacles in bathrooms must be GFCI-protected, either by a GFCI receptacle or a GFCI breaker. Bathroom ventilation fans are required in new and remodeled bathrooms in many jurisdictions regardless of whether there are operable windows, so always check local codes.
Small-appliance circuits
There must be at least two 20-amp small-appliance circuits in the kitchen serving the kitchen countertops. No point along a kitchen countertop should be more than 2 ft. from an outlet—in other words, space countertop receptacles at least every 4 ft. Every counter at least 12 in. wide must have a receptacle.
Kitchen lighting
Adequate lighting is particularly important in kitchens so people can work safely and efficiently. Lay out a good balance of general and task lighting. Be aware that many jurisdictions have energy-efficiency requirements for lighting in kitchens, so check with your local building authority first.
Kitchen Lighting Basics
Kitchen lighting should be designed to utilize natural light during the day and achieve a balance of general lighting and task lighting at night. Do not be afraid of energy-efficient lighting such as fluorescent. Today's energy-efficient lighting is instant, dimmable, and available in colors that match incandescent light. Kitchen lighting is often highly regulated for energy efficiency. Check with local building officials before you begin your design.
General Lighting
General lighting is meant to illuminate the space generally and can come from recessed cans, surface-mounted fixtures, track lighting, or cove uplighting. Consider cabinetry and appliances when laying out new light fixtures. A general rule is 2w incandescent or 1w fluorescent per square foot of kitchen area, but even illumination is the goal.
Task Lighting
Task lighting is meant to provide a higher level of illumination at work areas (sinks, countertops, and islands) and can be achieved with recessed cans, pendants, or undercabinet fixtures. If cabinets are over countertops, undercabinet fixtures (T5 fluorescent or LED strips) are by far the best choice and should be spaced for even illumination of the counter surface. For islands and sinks choose a recessed can with a slightly higher wattage and narrower lamp beam spread, or install pendants with similar attributes.
Bathroom lighting
It is important to illuminate the face evenly in mirrors. Common practice is to place good-quality light sources either above the vanity mirror or on either side of it. Be careful when using recessed cans over the vanity because they can leave shadows across the face. Many jurisdictions also have energy-efficiency requirements for lighting in bathrooms, including the use of high-efficacy lighting and vacancy sensors.
Dedicated circuits
All critical-use and fixed appliances should and in some cases (depending on the demand of the appliances and size of the circuit) must have their own dedicated (separate) circuits. These fixed appliances may include the water pump, freezer, refrigerator, oven, cooktop, microwave, furnace and/or whole-house air-conditioning unit, window air conditioner, and electric water heater. A bathroom heater requires a dedicated circuit, whether it is a separate unit or part of a light/fan. Laundry room receptacles must be on a dedicated circuit; so must an electric clothes dryer.
Pro Tip: Map your electrical system and place a copy near the panel so that you can quickly identify an outlet later if a circuit breaker trips or a fuse blows. Be specific when labeling each breaker.
---
Excerpted from Wiring Complete, 3rd Edition (The Taunton Press, 2017) by Michael Litchfield and Michael McAlister
Available in the Taunton Store and at Amazon.com.
Next:
Rough-In Basics