How-To
Protect Your Outdoor Electrical Outlets
Get the information you need to select the right weatherproof boxes and covers for your exterior power receptacles.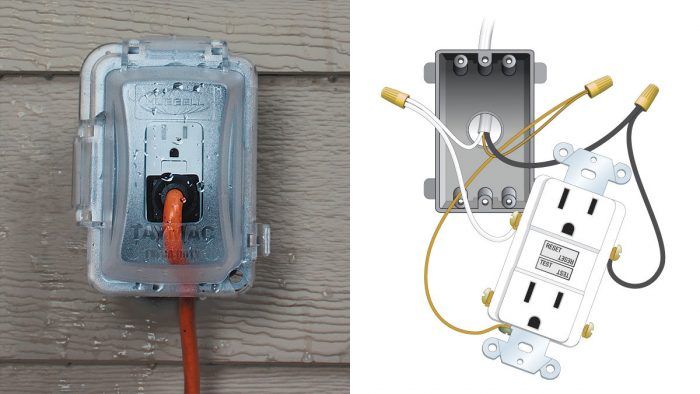 Synopsis: Outdoor electrical outlets need to be protected from the weather, but there are a number of different products available to accomplish this. Deputy editor Matthew Millham explores all of the options, from surface-mounted vs. flush-mounted assemblies, to metallic vs. nonmetallic boxes, to weatherproof vs. in-use covers. He includes details about ground-fault circuit interruptors (GFCIs), as well as information about tapping into existing circuits or adding new ones for outdoor electrical installations.
---
If you ever need to plug in a saw or compressor for an outdoor building project, having a receptacle available outside, rather than running an extension cord into the house or garage, is a great convenience. It's also safer, so model building and electrical codes require receptacles outside of new homes. But because codes are constantly changing, many older receptacles are not up to current standards. If you want to replace one that's broken or outdated or add more, you can't rely on what's there as a template for what right looks like. My house is a great example. My wife and I bought it a few years ago, not long after the previous owners added a new deck. The deck had a code-required receptacle with a ground-fault circuit interrupter (GFCI), but it wasn't a weather-resistant type. On top of that, it had the wrong kind of cover installed in the wrong orientation, so water had probably been streaming in from day one. The receptacle never had a chance.
That this happened isn't particularly surprising. For a novice, figuring out the right boxes and covers for outdoor electrical outlets can be a head-scratcher, which explains why many jurisdictions require that electrical work be left to the pros. With that in mind, what we're discussing in this article is meant to provide an understanding of what goes into selecting boxes and covers for outdoor receptacles, and is not a substitute for local code requirements.
Before getting into specifics, it's important to understand the intent of the National Electrical Code (NEC) with regard to outdoor receptacles. The two biggest threats to the safety of outdoor electrical installations are water and physical damage. To stand up to them, code and common sense require that exposed boxes and covers be sturdy and able to shed water. But these installations don't need to be totally waterproof; like the rest of the house, they just need to be weatherproof. The NEC defines this as: "Constructed or protected so that exposure to the weather will not interfere with successful operation." What's required to achieve that intent varies depending on where you put the device.
Yes, the rules are more complicated than they used to be, but they make things safer and longer-lasting so that power is there when you need it.
Surface Mounted
Surface-mounting, as the name implies, means attaching the box to the surface, which leaves it exposed. This requires the use of listed weatherproof boxes, which are labeled to indicate their weathertightness, often with the words "suitable for wet locations" somewhere on the box. In addition, weatherproof covers are needed to keep water from getting in through the front.
Surface-mounted boxes are typically screwed to the siding or trim through external lugs that are either cast or molded into the boxes or screwed on prior to installation. Additionally, some metallic boxes have "knockouts" in the back that can be drilled through to mount the box without visible fasteners, though there are caveats to this approach. First, any holes other than approved weep holes must be waterproofed. Second, these may not pass muster in some jurisdictions because the holes fundamentally compromise the weatherproof integrity of the box—even the best sealants can fail. And just because the knockouts—or what look like knockouts—are there doesn't mean the manufacturer intends for them to be used. Many nonmetallic boxes, for example, have what look like knockouts molded in, but metal fasteners are generally prohibited in these boxes. Check the printed instructions or call the manufacturer to find out what they allow.
Flush Mounted
Flush-mounted installations are a different animal. A hole is cut so the box can be recessed, leaving the front of the box flush with the surface. Because it's protected, a flush-mount box doesn't need to be weather proof itself if it's in a location that would be dry but for the hole cut for the box; only the covers must be weatherproof and must seal against the finished surface to keep water out. In these kinds of installations, it's common to use the same kind of box that's used inside the house, but that's not always a great idea. Interior boxes tend to leak a lot of air and are difficult if not impossible to properly integrate with water and air control layers on exterior walls, particularly when there's an air gap behind the siding. Luckily, there are purpose-built exterior flush-mount boxes that are far easier to integrate and seal.
Purpose-built flush-mount boxes
Purpose-built flush-mount boxes are in a class all their own. The versions I'm familiar with—from Arlington Industries and TayMac—are superior to the type of flush-mount installations mentioned above because they can easily be flashed to integrate with water-resistive barriers on exterior walls. While they seem expensive compared to the standard way of doing things, they include integral in-use covers, so there's one less thing to buy and separately install.
Arlington has a wider selection for a range of conditions, including exterior rigid foam, but both companies' products work with various exterior claddings and wall systems, and can be used in new work or retrofit applications. Most of these boxes are made entirely of UV-resistant plastic, though Arlington makes versions with metal inserts for compatibility with metallic conduit.
From FineHomebuilding #290
To view the entire article, please click the View PDF button below.
View PDF
Previous:
Tools and Materials for Outdoor Wiring
Next:
Tapping Into an Existing Outlet