How-To
Planning Your Outdoor System
It pays to anticipate future needs as you plan for exterior outlets and light fixtures.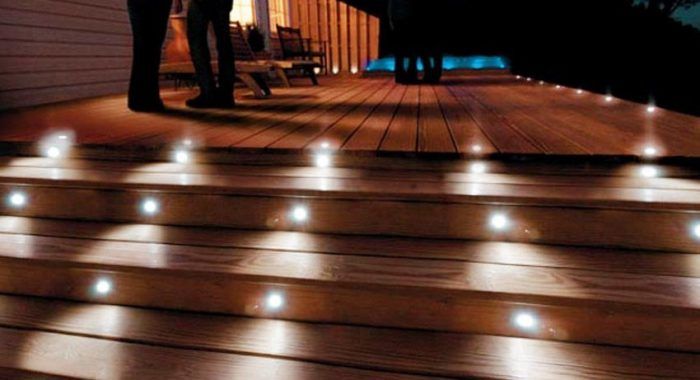 Start by walking the property and noting where you'd like additional outlets, lights, and so on. Make a list. As you go, imagine activities that take place in different locations at night and day. Is there enough light along the path when you come home at night? Are there enough outlets to entertain or to do chores on the weekend? At this stage, think big and anticipate future uses, especially if you must dig up the lawn to install your present project. With a little advance planning, you can avoid digging up the lawn a second time, later.
If your wish list is extensive, next make a scale drawing of the house and yard on graph paper. Note sidewalks, paths, and important landscape elements such as trees and large bushes. Note electrical devices that you'd like to add and existing ones that need upgrading. The drawing will be especially useful when it's time to calculate the number of fixtures and amount of cable you'll need. If you intend to take power from an existing outlet, note where the nearest outlet is, even if it's inside the house.
Getting power
Once you know roughly where you want to add exterior outlets or light fixtures, figure out how to get power to them. This will depend, in part, on how many devices you're adding.
If you're adding just one exterior receptacle, for example, find the exterior or interior receptacle closest to the one you want to add outside. If you position the new receptacle in the same stud bay as an interior receptacle, you'll simplify the task immensely because you won't have to drill through any studs.
Before cutting holes in anything, however, calculate the load on the circuit. Add up the wattage of all the lights and appliances presently in use and the wattage of the new outlet or light you want to add. If the total load on a 15-amp circuit exceeds 1,440w, run a new grounded circuit from the panel to the exterior device instead. Likewise, if you are running power to an outbuilding, run a new grounded circuit from the panel.
Install a 20-amp circuit if your plans call for electrical usage that exceeds the load limits of an existing circuit, includes a large number of receptacles, or contains three or more large flood lamps or other large lighting fixtures rated more than 300w each. If you will be using large, stationary tools in a workshop or heating the area with electricity, you may need to add several 120v and 240v circuits. Again, calculate the loads involved.
Two important points: First, the NEC allows you to tap into a general-use or lighting circuit only. You may not tap into circuits feeding kitchen-countertop receptacles or bathroom receptacles or into any dedicated circuits that supply power to air-conditioners, clothes washers or dryers, or other power-hungry appliances. Second, if you discover that the circuit you'd like to tap into is wired with nongrounded NM cable, BX armored cable, or knob-and-tube—don't tap into that circuit. The new extension may not be properly protected. Instead, run a new grounded circuit from the panel. In addition, don't forget weatherproof housings or covers and GFCI protection.
Finally, take your plans for new circuits or extensions to existing line-voltage circuits to the local building department and have them sign off before you start.
Outdoor Safety: Checking Codes and Utilities
Outdoor outlets and fixtures are exposed to weather; because moisture greatly increases the chance of electrical shocks, local codes are strict about what materials you can use and how they must be installed. In general, you don't need a permit to install low-voltage lights because the chance of shock is low, but if you want to add an outdoor receptacle or a light fixture that uses line voltage (120v or 240v), you'll need a permit.
If you'll be running cable underground, check with local utilities before you dig. Call 811 (or visit www.call811.com). There may be water pipes, gas lines, telephone or cable lines, or electrical cables buried in the yard. Often, utilities will send out a technician to show you where such lines are located. If your lawn has a sprinkler system, note where sprinkler heads are and try to avoid the water pipes that feed them. Remember that only a licensed electrician should install hot tubs and  swimming pools and the like because such installations require special grounding methods.
---
Excerpted from Wiring Complete, 3rd Edition (The Taunton Press, 2017) by Michael Litchfield and Michael McAlister
Available in the Taunton Store and at Amazon.com.
Next:
Stripping UF-B cable