Design
Kitchen Lighting Design
With the right fixtures in the right places, you can create anything from a soft glow to clear task lighting.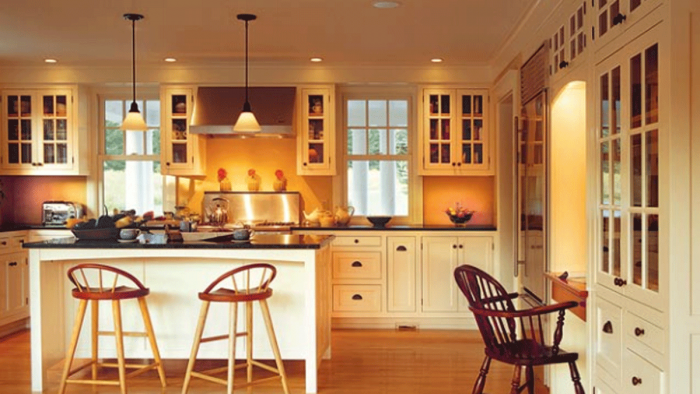 Synopsis: According to writer Matthew Teague, layers are the secret to effective kitchen lighting. A well-lit kitchen has a mix of direct (sconces, pendants, chandeliers) and indirect (undercabinet, cove) lighting . Teague offers a shorthand guide to the four ways to light a kitchen (with ambient, task, decorative, and accent lighting) and also provides examples of fixtures on the market today, including recessed lights, undercabinet lighting, pendants, chandeliers, flexible track fixtures, and wall sconces. He doesn't skip the topic of energy-efficient lighting either.
---
With open floor plans, personalized storage and appliance options, designated workstations and social areas, even offices and kid zones, the kitchen has evolved. As such, a single, surface-mount light fixture centered in the kitchen ceiling is no longer sufficient. The truth is, it never was.
Fortunately, there has been progress in kitchen lighting as well, in both fixtures and design. Because no one fixture can provide the light necessary to create a kitchen that is both functional and comfortable, designers opt instead for a variety of light sources — some direct, some indirect — that work together to create layers and balance.
Layers are the secret to effective kitchen lighting
Like the single fixture that lit your grandmother's kitchen, the most common mistake today is to rely on recessed lights alone. Every designer has his or her own approach to lighting, but most agree that it takes layers to light a kitchen effectively.
At a minimum, you should have ambient and task lighting. In a simple kitchen plan, dimmable recessed fixtures can provide both. Aimed at art or an architectural fixture, a recessed light can even qualify as accent lighting. But it is the addition of decorative and hidden fixtures that make the difference between a functional space and a well-lit kitchen. To achieve this goal, you need to mix direct and indirect lighting. Sconces, pendants, and chandeliers are examples of direct lighting: The fixture is visible. Undercabinet and cove lights cast a glow without a visible fixture to create indirect lighting.
According to Joseph A. Rey-Barreau, AIA, director of education for the American Lighting Association, "The key to kitchen lighting is to start with the sink." The sink is a kitchen's most fundamental workstation, so Rey-Barreau likes to install a dedicated light for cleanup tasks. He often incorporates undercabinet fixtures and recessed lights next. With undercabinet lights illuminating the countertops and recessed fixtures around the kitchen's perimeter (about 30 in. from the walls, not the cabinet fronts), he covers task and ambient lighting for most of the kitchen. Finally, he chooses an overhead light for the center of the room, such as track lights or a trio of pendants over an island. With these fixtures, Rey-Barreau adds decorative lighting to the equation.
Dimmers control the mood
In some areas, like the kitchen table, you might want soft ambient light while eating meals and brighter task lighting while helping your kids with their homework. You also might want bright undercabinet lighting while you're chopping vegetables, but a softer glow on the backsplash while entertaining. All it takes is a dimmable fixture. Dimming not only makes the room more functional, but also adds dimension to the space. "If there are no dimmed zones, you're left with no accents and no contrast," says Doug Stewart, a certified lighting designer at Hermitage Lighting Gallery in Nashville, Tenn. "The kitchen will appear flat and less dimensional."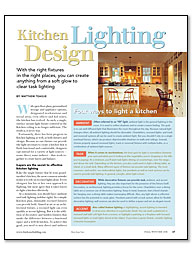 From Fine Homebuilding #199
For more photos and details, click the View PDF button below:
View PDF
Previous:
Kitchens Illuminated
Next:
Light a Bathroom Right