How-To
Problem-Solving Electrical Boxes
Cleverly designed boxes can get you out of trouble quickly during rough-ins and retrofits.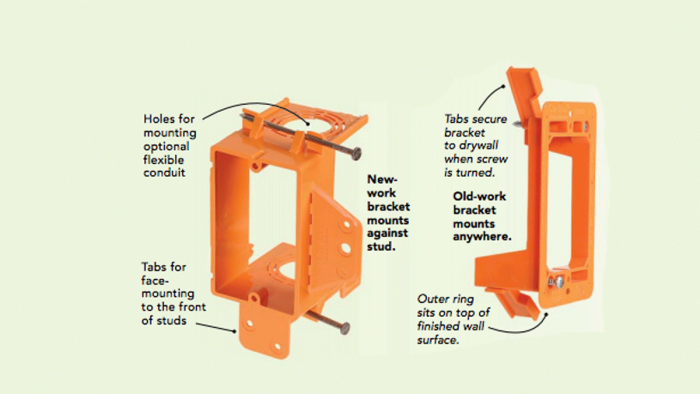 Synopsis: Years ago, installing electrical fixtures in older houses or accommodating modifications in new construction was time-consuming and difficult. Today, however, a big assortment of styles and sizes of electrical boxes has made renovation work a lot easier for electrical contractors. Licensed electrician George Socaris takes a look at the variety of electrical boxes that can solve problems in awkward situations. The boxes he features include old-work boxes that mount with tabs or brackets; adjustable-depth boxes and extensions that accommodate changing wall thicknesses; fan boxes that can be secured directly to joists; and boxes and brackets that keep electrical wiring separate from telephone, cable, Internet, and speaker wiring.
---
When I started in the electrical business 30 years ago, only a few types of electrical boxes were available, most of them the same shape, just different sizes. Installing new electrical fixtures in older homes and accommodating untimely modifications in new construction demanded a lot of head-scratching and plenty of messy, difficult work with a reciprocating saw and other tools. Cramped spaces, absent framing members, varying wall thicknesses, and indecisive homeowners are just a few of the factors that made me wish for innovative solutions.
Legions of frustrated electricians are probably responsible for the boxes shown here. Today, I'm grateful for the time and trouble I can save if I have the right selection of boxes on hand. Among the many different types of boxes that are currently available, the ones featured here are my favorites, mainly because of how frequently they help me to solve problems quickly and cleanly.
Metal-sheathed wire requires a metal box
When working in old houses, I often encounter old metal-sheathed wire called BX (armored) cable. BX cable is used exclusively in metal boxes because its sheathing acts as the ground. A special clamp secures the cable to the box and engages the metallic sheathing, grounding the box and the cable. A new version of armored cable, called MC (metal clad) cable, also must be installed in a metal box. MC cable is secured in a box with a special clamp, but the box is grounded by a separate green grounding wire that attaches to a screw inside the box. MC cable is most common in commercial applications, but it is used often in residential retrofits when adding wire in a box that already contains BX cable. Nonmetallic cable can be used in a metal box that contains either BX or MC cable. However, the proper clamps must be used to secure the NM cable in the box, and the uninsulated ground wire must be attached to it with a grounding screw.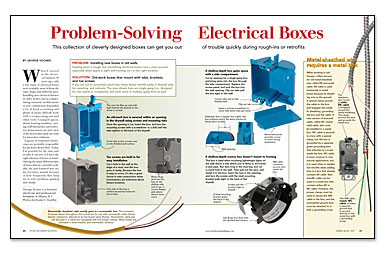 For more photos and details, click the View PDF button below. 
From Fine Homebuilding #186
View PDF
Previous:
Fixture Boxes
Next:
Materials for Rough-In