How-To
Electrical Outlets: Upside-Down or Right-Side-Up?
Master electrician Rex Cauldwell offers some insight into the controversial topic of which way you should orient wall receptacles when wiring a circuit in a house.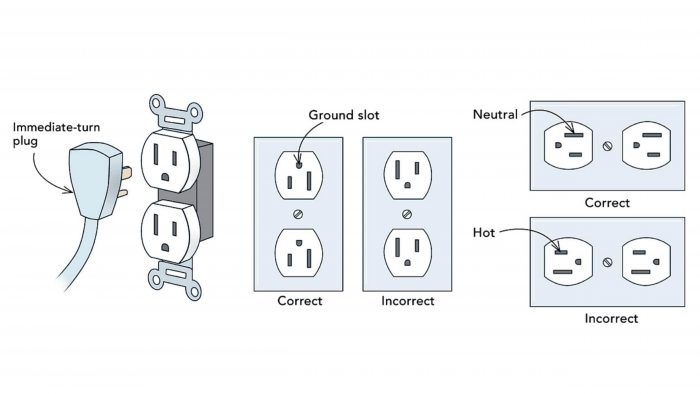 Q:
The outlets in my house are installed with the grounding prongs above the slots for the paired plug blades. Is this wrong?
Mary Walsh, Lawrence, KS
A:
Rex Cauldwell, a master electrician in Rocky Mount, Va., replies: There is no official right or wrong way to orient a receptacle—the National Electrical Code doesn't specify—but you can decide by using logic and common sense. Clothes washers, refrigerators, and window air conditioners typically have cords with immediate-turn plugs. For appliances with this type of plug, orient the receptacle so that the plug inserts without having to loop over itself. Otherwise, the downward pull of the cord tends to tug the plug from the receptacle.

For immediate-turn plugs, orient the outlet with the ground slot on the bottom.
For all other plugs, I put the grounding slot on top. If a plug is partially pulled from the receptacle, exposing the hot and neutral blades, and something metal falls on it (like a knife or a picture frame), a direct short won't occur because the grounding pin deflects the item from the terminals.

For horizontal receptacles, place the grounding slot to the left and the wide neutral slot on top. This way, if something metal falls on the partially exposed blades, the item will hit the grounded neutral blade instead of the hot blade.

More about residential wiring:
Electrical Outlets by the Numbers – Building codes dictate specific height and spacing measurements for receptacles and switches. Learn what the most common dimensions are and why.
9 Common Wiring Mistakes and Code Violations – Some are illegal, some are dangerous, and some are both—but all are simple to avoid.
Is Your Old Wiring Safe? – Inspect the electrical panel and exposed wiring throughout your house to identify safety risks, fire hazards, and upgrade options.
From Fine Homebuilding #193
Previous:
Should I Upgrade Ungrounded Outlets?
Next:
A Bad Splice Might Indicate More Problems