How to Reinforce Ceiling Joists to Handle Heavy Loads
Will this loft floor framing be strong enough to store heavy lumber, or should the builder upgrade to something stronger than 2x6 joists?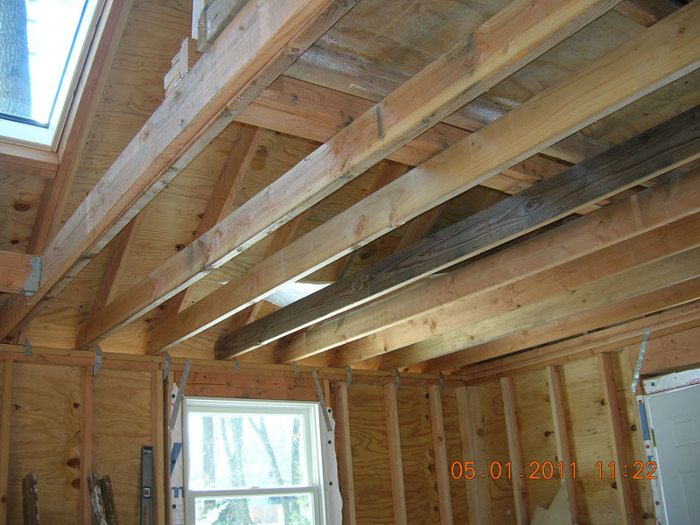 That's Leo's delimma, as he explains in this Fine Homebuilding forum post. The recently completed 16- by 24-foot building has 2×4 walls and a roof with a 2×10 ridge and 2×6 rafters.
It was only after the building was up did Leo realize he hadn't figured in the added weight of the lumber on the ceiling joists.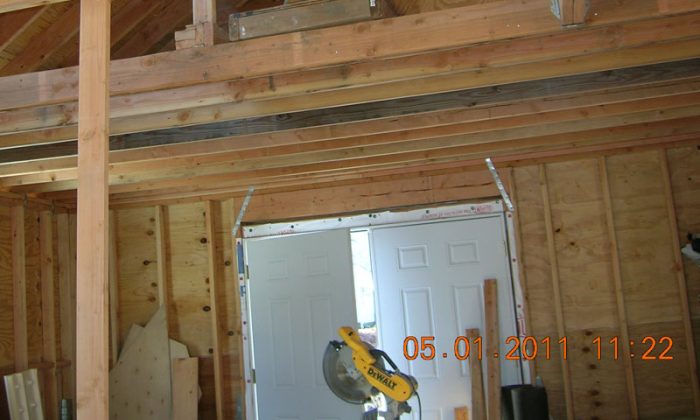 "The 16-ft. 2x6s are there to keep the 2×6 rafters from spreading," he writes. "This is a pretty basic design, designed by an engineer and approved by the town. I only wish I mentioned it earlier that the attic might be used for storage. If I had mentioned it earlier what would I have done differently? I don't want a beam or posts running down the middle for obvious reasons."
If he doubled up every other joist, would it be enough to handle the weight of "a lot of hardwood." His engineer is comfortable with this, but what does everyone else think?
A little sag, but it won't collapse
The 2×6 joists will sag, no doubt, says DanH. "They will probably not collapse, and the load will probably not compromise the structure. Many a garage has been loaded down for decades the way you suggest, and out-and-out failures are rare, in spite of the rather inferior garage construction techniques used 60-80 years ago."
But, DanH adds, that assumes Leom uses common sense and doesn't overload the overhead storage area with wood.
The sag could be reduced or eliminated by installing king posts, or Leom could sister 2x8s to the 2×6 joists to "roughly triple" the load-bearing capacity of the ceiling.
"Since this isn't a floor, then the allowable deflection tables don't really apply," adds Jigs-n-fixtures. "They are mostly there to keep people walking on the floor comfortable, or prevent inflexible flooring like ceramic tile, from being damaged. The structure would be sound with considerably more deflection."
Even a stack of wood a foot deep would mean a load of 50 lb. per sq. ft. (psf).
Engineer 10 is skeptical.
"Tell your engineer that another engineer says that doubling 2x6s doesn't work for heavy loads," he writes. "If he/she still insists that doubling is OK then ask for a signed and sealed letter to this effect."
Engineer 10 adds that a No. 2 2×6 over a 16-ft. span can carry 10 psf while a 2×8 will carry 20 psf. Sistering the two together means a load-carrying capacity of 30 psf.
"This is based on bending strength only not deflection, therefore a load larger than that will cause collapse," he writes. "The load can be considered permanent dead load since it will be there for months at a time which makes everything worse because of material fatigue.
"In addition to that the deflection will be so noticeable from below that it will look frightening to a casual observer."
I-joists would have been a good bet
Calvin suggests that I-joists would have been an alternative to consider at the start of the project. In his own garage, he used I-joists with 2×4 flanges for a 30-ft. clear span.
"No sistering or modification of I-joists to the existing situation," he says.
There's a problem with I-joists, Sandcastles points out. Leom is already concerned there isn't enough room between his double top plate and the roof to wedge in the additional 2x8s, and the minimum I-joist Sandcastles knows of is 9 1/4 in.
"You probably have to even more significantly trim the 9 1/4 I joist, cutting it more than manufacturers will allow," Sandcastles says.
Also, says Leom, the load rating for an I-joist is 100 psf live load, 20 psf for a dead load, and that doesn't help his situation much because lumber stored overhead for long periods of time is dead load.
Piffin had this variation on the I-joist option:
"What I would do is to add a 2×4 to the top and bottom of each joist, using glue and structural screws to convert each joist into an I-joist in place," Piffin writes.
"You could even possibly introduce a good crown to each by holding the bottom chord in place with a slightly long 2×4 post under the center as you install it. Do bottom chords first, then the tops. Leave posts in place until all fasters are in and the glue kicks well."
Or, use LVLs in a limited area
JAlden wonders whether Leom actually needs storage over the full 24-ft. length of the shop. Would, say, 8 ft of storage be enough for the amount of wood he has?
"If so, go buy 4 pieces of 9 1/4 inch [laminated venner lumber]," JAlden writes. "Last time I bought them they were about 3 bucks a foot so we are talking 200 dollars here.
"Cut the ends at the angle of your roof and see how long you can make them and still get some bearing on your top plates. You may get full bearing if you have some roof overhang to slide one side into. Get as much bearing as you can. Even half of the plate is sufficient.
"Sister these to every other 2×6 and you'll have 8 feet of beefed up area."
---
RELATED LINKS
6 Ways to Stiffen a Bouncy Floor – Bouncy floors are one of the most vexing problems faced in houses, both new and old. Contributing editor Mike Guertin teams up with structural engineer David Grandpré to detail six common, and not-so-common, ways to stiffen up the joists and keep the china cabinet from wobbling.
How to Repair a Butchered Floor Joist – The criticism is often undeserved, but plumbers nonetheless have a reputation for taking a recip saw to studs, joists and rafters when they get in the way of supply and drain lines. Learn how to repair a floor joist, if you ever do run into this problem.
Replace a Rotten Lally – A proper footing and post add floor support that will never fail again.
Stiffening a floor – In this Q. & A., Former associate editor Roe A. Osborn gives advice on hardwood floors and tips on how to stiffen hard wood floors.
Previous:
How to Replace a Rotted Mudsill
Next:
6 Ways to Stiffen a Bouncy Floor