How-To
Build a Timber-Frame Shed
What could be better? Learn the basics of timber-framing and get an outbuilding in the process.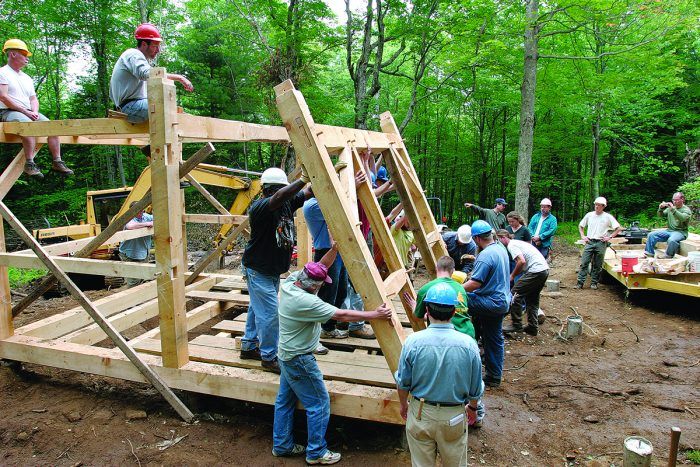 Synopsis: This timber-framing primer covers the construction of a 12-ft. by 16-ft. frame, with step-by-step photos covering the cutting of mortises and tenons and the assembly of all the pieces into a standing structure. An exploded drawing identifies all the frame parts, and another series of drawings covers the more complex joints in the frame.
---
There's something magical about timber-framing. It's difficult to describe or even identify the qualities that make it so. Maybe it's the result: a long-lasting, beautiful, strong structure. Or perhaps it's the process: teamwork, community, craftsmanship. I worked on my first timber frame back in 1980. Forty of us raised an entire house frame by hand in one day, and I was hooked for life.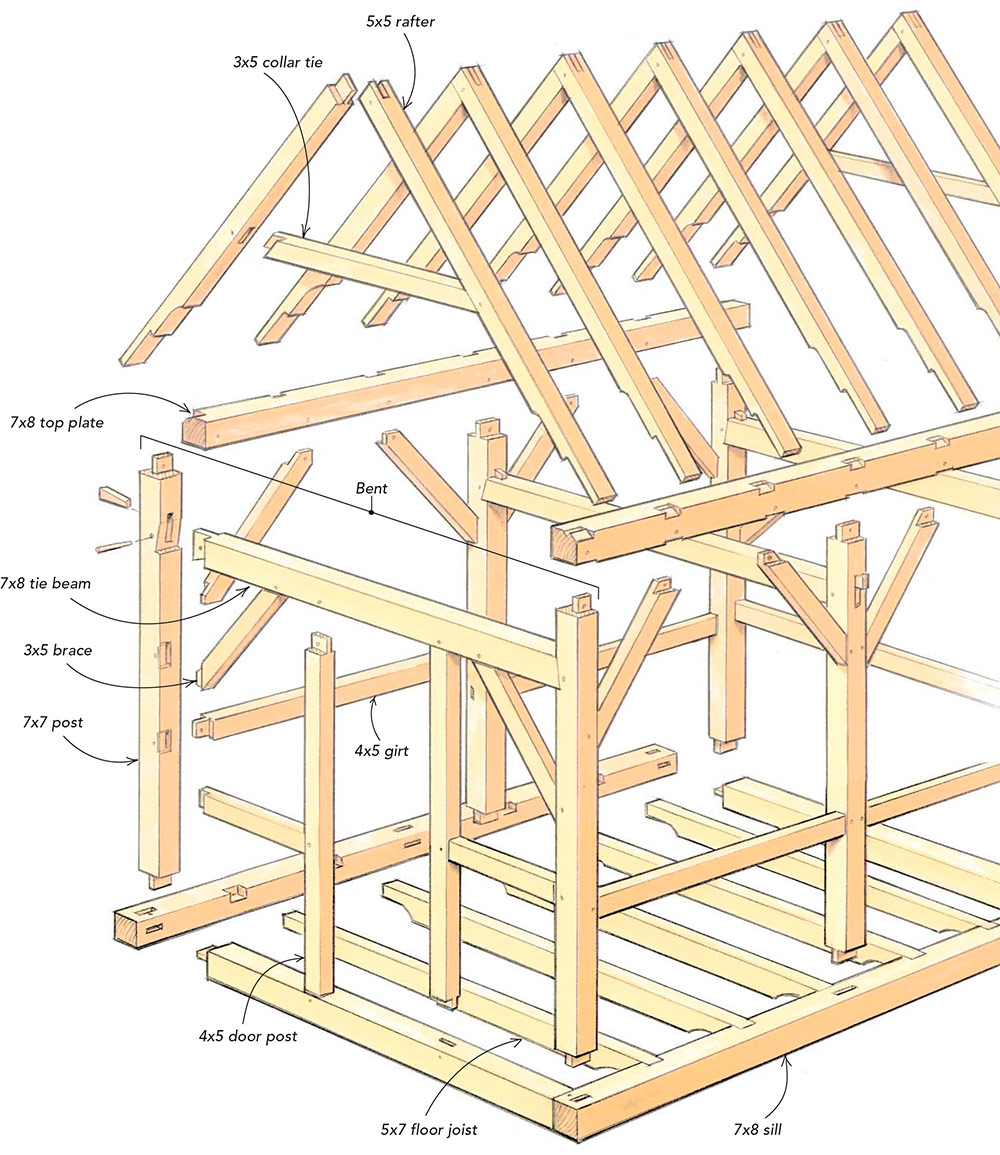 Like any building discipline, timber-framing is a complex subject that can't be described adequately in a book, let alone a magazine article. At the building school that I run, students build a 12-ft. by 16-ft. frame that involves all the major elements of timber-framing. Building that simple frame inspires many students to dig deeper and try their own projects. In this article, I'll describe that same frame and try to inspire readers as well. Please remember that for any building project, it's a good idea to consult a structural engineer and the local building inspector.
Select the right wood
Here in the Northeast, our favorite species for timber-framing is eastern white pine. It is lightweight, is easy to work with hand tools, and has one of the lowest shrinkage rates of all available woods. Red oak and Douglas fir also are popular woods valued for their strength and rich red color. Southern yellow pine is strong and a darker gold than white pine. White oak is also strong and stable, and it is highly resistant to rot, which makes it attractive for use in porches and outdoor structures. These five species account for the vast majority of timber frames that are built in the United States.
You can buy timber from a mill that will grade it or hire a grader to come in, but this step is not always required. Our local inspector (and code) requires only that timber be produced by a state-registered mill, that the timber be stamped for species (but not grade), and that the timbers be structurally sized as if they were #2.
How a timber frame works
A typical timber frame consists of posts (vertical members), beams (or girts, horizontal spanning members), and braces (for racking resistance). Ideally, the timber frame should be designed to make all joints carry only compressive loads after the frame is raised. This way, the mating surfaces, or shoulders of the joints, can handle the weight efficiently, and the tenons and pegs aren't subject to tensile forces that try to pull them apart. The main function of the pegs (also called pins or trunnels) is to draw the joint up tight during assembly and hold the joint together during raising. Diagonal braces help to stiffen the frame and to reduce stresses in the joints.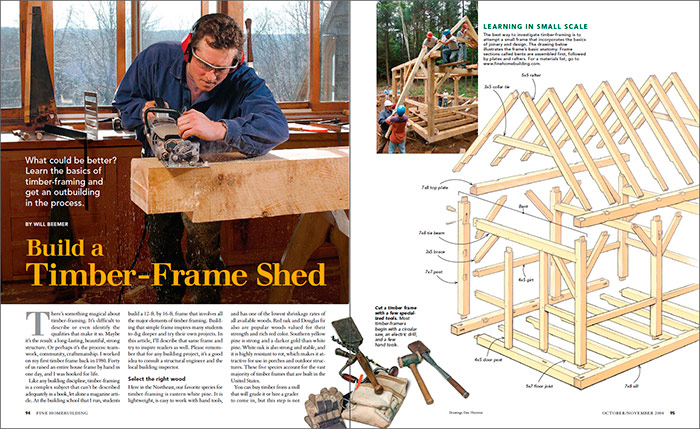 From Fine Homebuilding #166
To view the entire article, please click the View PDF button below.
View PDF
Previous:
Master Carpenter Video: How to Drill and Assemble a Timber-Frame Joint
Next:
21st-Century Timber Framing